Original URL: https://www.theregister.co.uk/2008/06/23/review_logitech_squeezebox_duet/
Logitech Squeezebox Duet multi-room music streamer
Slim Devices' winner revamp
Posted in Personal Tech, 23rd June 2008 11:02 GMT
Review Media streamers are all too often the jack of all trades yet the masters of none. Thankfully, no such blight tarnishes the Logitech Squeezebox Duet's shiny black carapace.
The first product to come from the Slim Devices team since its purchase by Logitech in 2007, the Duet has been developed to do one thing: stream music content from a computer to a hi-fi and do it well.
The Duet comes in two parts. The receiver is a small black unit that takes the incoming wireless signal and pumps it out through a 24-bit Wolfson digital-to-analogue convertor (DAC) to your hi-fi through the supplied RCA cable – or you can bypass the DAC and use the optical and coaxial digital outputs. The controller lets you choose what to play, mediating the actions of the receiver and the SqueezeCentre 7 media server software running on your PC, Mac or Linux box.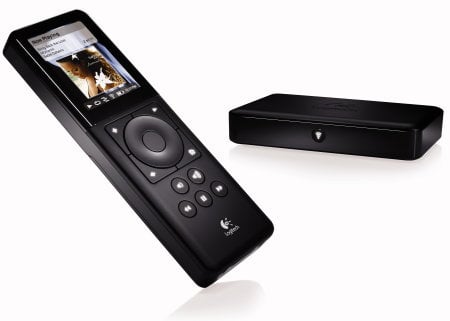 Logitech's Squeezebox Duet:
Essentially, Logitech's taken the screen off a Squeezebox 3 and integrated it into the remote instead.
The receiver is a rather hum-drum looking device, but as it'll be tucked away behind the stereo, who really cares? The controller, on the other hand, is rather swish. At 150 x 50 x 18mm, it isn't exactly small but it is perfectly sized to do the job demanded of it, namely to navigate through your music library, play your tunes and adjust the volume. The controller is powered by a rechargeable battery and comes with an equally well made metal stand/charger that shouldn't look out of place alongside even the most high-end of audio kit.
Once up and running, the controller is a lovely little thing to use. To start with, the 2.4in screen is both bright and clear, making album art and text very easy to see. Logitech has got the text sizes just right: it's easy to read but not so large you're forever scrolling up or down in the quest for more information. The standard Now Playing screen manages to squeeze in the title, artist, band/orchestra, composer, genre, year and artwork before you have to scroll down for such technical data as file format, bitrate, ID3 Tag version and the like.
The main, iPod-like revolving control wheel is nicely calibrated and allows you to zip up and down your artist or album lists with both ease and speed. A tap of the centre button takes you into the next menu or view. Surrounding the scroll wheel are four quadrant keys that allow you to add tracks to your playlists, move back to the previous screen, return to the main menu/switch on and off, and play the selected or next track. Below the scroll wheel sit the controls to raise and lower the volume, pause, fast forward and rewind.
It's all very straightforward and just plain works.

The controller sports a clear, well-designed display
The controller has of a number of nice peripheral touches too. It allows you to scroll over the hump from XYZ straight to ABC rather than having to run all the way back up the alphabet. And it has a motion sensor, so pick it up once the screen saver has engaged and it immediately comes back to life and brings up the main menu.
Don't like the screen saver? You can set the controller to pull in random images from Flickr if that is what lights your candle. Want to keep with with news? Check the built in RSS feed. Want annoy the hell out of the neighbours? Go to the Sounds and Effects menu, select Fog Horn, Ambulance or Rain & Thunder and turn the volume up LOUD.
Before we get too carried away, let's have a look at set up. Too many media streamers have one major drawback, namely the tendency of reduce buyers to gibbering wrecks who, after trying to decipher the farcical user manual, are forced to resort to yelling: 'Why won't you work, you unspeakable git?' at their newest purchase.
Step one is to throw away the enclosed User Guide, which leaves something to be desired and is likely to confuse the technically less adept. Step two is download the far more comprehensive manual from Slim Devices' web site. With this to hand, set up is a breeze. Essentially, you download and install the SqueezeCentre server software, follow some falling-off-a-log simple instructions to import your music library, hookup the receiver, charge up the controller, switch it on, enter any relevant network security codes, and you're done.
The SqueezeCentre software makes a very good job of importing media libraries. With a few clicks, we ended up with a near perfect recreation of our 7000-song iTunes music library on the Duet, complete with all our playlists. Album artwork import was a touch hit and miss, but no worse than we really expected. If for any reason you don't like the way SqueezeCentre does its thing with your media library there are a fair number of options that allow you set things up just so.

All the network and audio connections you could want
Every time you fire up SqueezeCentre it takes a quick shoofty in your pre-defined music folders and loads anything new into its library. All this takes place discreetly in the background, so as far the user is concerned the Duet's library is always bang up to date.
When it comes to playback quality, the bit rate and type of the files in your library, and the quality of the stereo, will have far more of an impact than anything the Duet does.
Stuffing 160Kb/s MP3 files in at one end and playing back through a pretty workaday LG 5.1-channel home cinema system isn't going to blow you out of your seat, though when we did exactly that we were pleasantly surprised by the quality of the sound. The fact, the receiver has built in amplification which helps things along no end. And no matter how we rigged the Duet up we never found ourselves wanting in the volume stakes.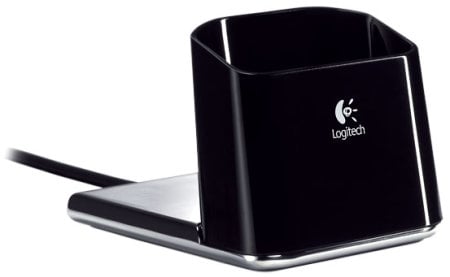 You'll need the controller's charging cradle frequently
File support isn't half bad, with the Duet supporting MP3, AAC, WMA, Ogg Vorbis, Flac, Apple and WMA compressed, and WAV, PCM and AIFF uncompressed music files. Of course, songs need to be non-DRM. If your music library is full of stuff you bought from iTunes rather than stuff you just store using iTunes, you'll be in for a bit of a disappointment.
The Duet has a few more strings to it's bow than straightforward media streaming from a hard drive. To start with, it will also stream internet radio stations - we were pleased to see El Reg's perennial fave, Radio Paradise, already loaded along with dozens of others. The Duet will also buddy up with the likes of Rhapsody, MP3tunes' Music Locker and Live Music Archive services. All of which means you can have tunes even when your computer is switched off.
The receiver also has an Ethernet port, so it can be used it as a wireless bridge - which could come in handy for PS3 or Xbox owners and the like - or it can be linked directly to your router if you live in a wireless-unfriendly dwelling.
Expanding your Duet network is straightforward: just hand over £99 a pop for one, two or three more receivers, and you can have the same music in lots of rooms or different music in them all at the same time. You can buy extra controllers too.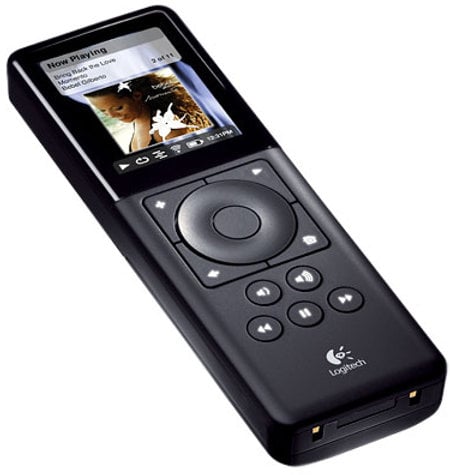 Chunky but fully featured
Downsides? Well, the battery life of the controller left a bit to be desired. We soon got into the habit of leaving our Duet running most of the day every day and found we needed to give the controller a few hours in the cradle every other day, at least. The controller also tended a get a little on the hot side when re-charging so leaving it in the cradle permanently wasn't something we were wholly comfortable with.
On a couple of occasions, always when playing from playlists set up on iTunes, the controller display would stick on a certain Now Playing screen even though the system had moved on to the next track. Other than these fairly minor issues, we've nothing else negative to report.
Verdict
A media streamer with absolutely no glaring deficiencies is a rarer thing than you'd think, but Logitech has come up with one. Set up is painless once you have the right set of instructions, even for the technophobic. In use, the Duet is a joy: simple, intuitive, reliable and very well made. At 270 notes, it's not cheap – though it compares well with kit from the likes of Sonos, and is worth every penny if you ask us.