Original URL: http://www.theregister.co.uk/2008/06/20/review_msi_wind/
MSI Wind Windows XP Edition sub-notebook
Size, it seems, is everything
Posted in Personal Tech, 20th June 2008 11:02 GMT
Review Nothing has caught the imagination of techies of late as much as the Asus Eee PC has. Its tiny dimensions, unique design and true bargain-basement price has rocked the laptop business to the core.
The first-generation Eee PC had more than its fair share of critics. The most common complains centred on its poor battery life and a screen so small it threatened to recalibrate your eyesight. In response, Asus briefly released the larger Eee PC 900, and on 1 July its successor, the Atom-equipped Eee PC 901, will make arrive over here. Asus may now have the near-perfect product, but its rivals are circling ominously.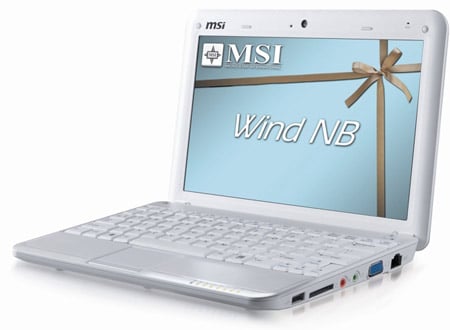 MSI's Wind: compact and bijou
Earlier this week, we tried the Eee PC 901 and declared it the best of the current crop. HP's MiniNote has an astoundingly good keyboard, but it's slow and comparatively pricey. The Acer Aspire One looks good and is excellent value, but it's lacking in quality and usability. Dell's upcoming machine ticks all the right boxes, but its launch has been delayed.
At this point, the MSI Wind breezes in, offering a mixture of style, affordability, usability and surprisingly good quality.
At £329, the Wind can't match the throw-away £229 price of the original Eee PC 701, and is still a tenner more expensive than the 901. But with a bigger, 10in screen and a good specification, it still represents a bargain in the world of ultraportable laptops. Granted – it's not a world away from cost of a 15.4in desktop replacement, but then it's not fighting for the same buyer. If you need portability above all else, the Wind promises plenty.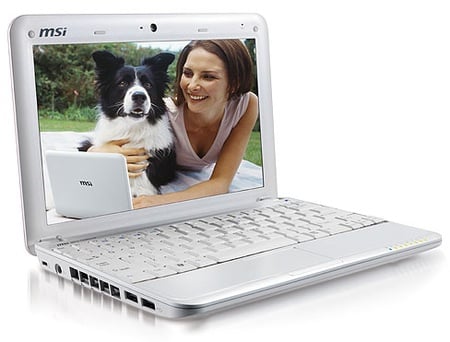 Pleasing 10in screen
The Wind's 10in display is surrounded by a thick bezel, which also houses a webcam and a single microphone. With a resolution of 1024 x 600 – the same as its 8.9in rivals – the Wind's display is sharp enough to show Windows XP without the need for some frantic scrolling. It's a lot brighter than the panels found on other Small, Cheap Computers, and colours are reproduced with impressive accuracy.
One of the major benefits of the larger chassis is a much better keyboard. The keys are bigger than those on all but the HP MiniNote, and even those with the stubbiest of fingers or disjointed of typing actions should get along fine. We found the board rigid and free from flex, and the firmly attached keys were responsive and featured a decent travel.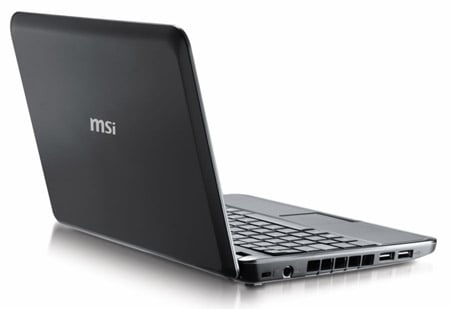 Available in white and black
The touchpad isn't the largest we've seen, but it's accurate, responsive and more than adequate for the job. Unlike the HP and the Acer, the touchpad buttons are placed in a more traditional location below the touchpad, which we found more comfortable to use.
Available in a range of colours, it will initially go on sale in either white or black. The chassis is slightly larger than that of its rivals. It measures 259 x 178 x 36mm - rising to 46mm if you add the six-cell battery - and weighs 1.3kg weight, so it's by far the heaviest SCC we've seen. The glossy design is tidy and cohesive – more so than the slightly fussy Eee PC 901 – and looks surprisingly expensive, putting other MSI models to shame.
The Wind's screen is attached by two slender hinges, which proved robust. The back of the screen is much thicker than the LED panels sported by more expensive ultra portables, like the Toshiba Portégé R500, but also offers a lot more resistance to pressure. As such, you'll be able to throw MSI in your bag without worrying too much about it.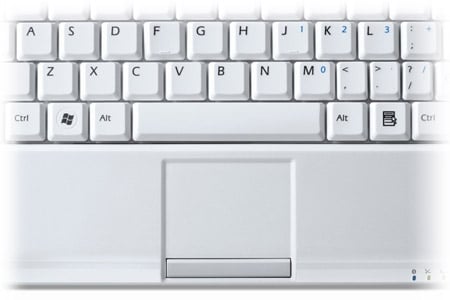 The touchpad isn't the largest we've seen, but it's accurate and responsive
Under use, warm air is expelled from an array of big air vents on the left side of the chassis, with cooling vents on the bottom. With the bottom of the chassis partially covered when used on our knees, the MSI stayed cool at all times, even after long and intense periods of use.
In addition to the the air vent on the left side of the chassis, the remaining space is dedicated to two USB ports, a jack for the power adaptor and a hole for connecting a Kensington lock. The back of the MSI is featureless, with space being occupied by the three-cell battery.

A fine selection of ports
The front of the MSI is completely devoid of ports or features. On the right side, you'll find one USB port, 3.5mm microphone and headphone sockets, VGA and a LAN connection. There's also a media card reader, capable of accepting four types of media card.

The Wind has some serious air vents - but it's no hair-dryer
Frustratingly, our review unit failed to accept SDHC cards – although with an 80GB hard drive on board, it's much less of a problem here than it would be in an Eee.
MSI's Wind is the second laptop we've reviewed that features Intel's much-touted Atom processor, an Atom N270 running at 1.6GHz. Those expecting a performance boost over the Celeron-based Eee PC 701 and 900 will be disappointed, but that's not the point of this processor.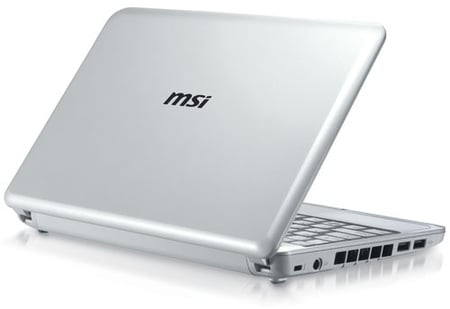 Performance to match the Eee PC 901
Instead, you'll find the Atom is far less power-hungry, with a TDP of just 2.5W, which is partly why the Wind stays so cool during use. It also offers a much needed boost in terms of battery life.
Our review unit came with an optional six-cell battery, which results in a slightly thicker machine. However, it's a neatly integrated package, and it looks like much less of an afterthought than the bulky battery offered for HP's MiniNote.
Battery Life Results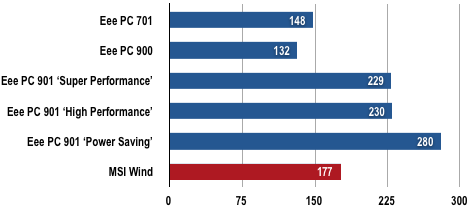 Battery life in minutes
Longer bars are better
With the screen dimmed to around 60 per cent brightness levels – which on this machine wasn't too far off the Eee PC on its brightest settings – we managed to get a useful six hours and 23 minutes of light use away from a power source. That was with Wi-Fi and Bluetooth turned off, but it's ideal for standard word processing tasks.
This dropped to around three hours when running a looped video, with the brightness turned up to full and with Wi-Fi activated. It's not quite a match for the Eee for overall battery life, then, and how much extra the six-cell battery costs remains to be seen.
The 1GB of DDR 2 memory copes fine with Windows XP, the OS booting in a reasonable amount of time. A second memory slot is allocated for a further 1GB. Unfortunately, we weren't able to put the Wind through its paces for benchmark results – firstly, because we had a pre-production sample, and also because the Wind's 1024 x 600 pixel resolution is below that of the minimum 1280 x 800 we use during PCMark and 3DMark tests.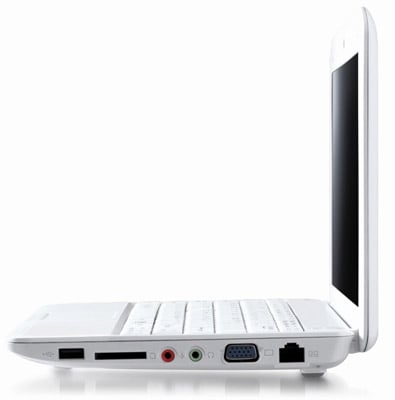 Curves courtesy of the MacBook Air?
The MSI offers 80GB of storage space as standard, verses a maximum of 20GB in the Asus 901, helping to level the cost difference if you do opt for the six-cell battery. In this case, it's a regular 80GB hard drive, rather than Flash, although a speed of 5400rpm is in-keeping with the average laptop.
An integrated Intel GMA 950 GPU deals with graphics, resulting in predictably limited 3D performance. You won't be able to play serious games - well, not natively, but there are other options - or carry out heavy video editing work then, but nor will you on any of the Wind's rivals. We had no trouble performing everyday tasks – from running an office suite to playing DivX video files, everything ran smoothly.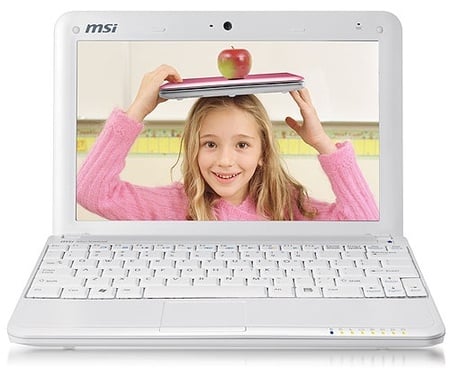 Kids get Wind, teachers get Apples
The 10in screen is more than capable when it comes to web browsing, with the need for horizontal scrolling now a thing of the past. The Wind even copes reasonably well with simple photo editing, although more intensive tasks resulted in a lag where you could literally wander off and make a sandwich.
Verdict
With the competition largely failing to deliver, the Wind's main rival remains the Asus Eee PC 901. As we mentioned in our review of the 901, the specifications and performance are very similar, and both machines have key advantages. If battery life tops your needs, the 901's standard six-cell unit is likely to swing things in its favour.
If outright battery life isn't a factor, however, or you don't mind shelling out for an optional six-cell battery, then the MSI is actually the better laptop. The keyboard is a lot more comfortable, with bigger keys and a more responsive action.
It's close then, but with quality, usability and one of the best screens also in its favour, we believe the MSI Wind is arguably the most complete sub-notebook currently available.