Original URL: https://www.theregister.co.uk/2008/06/19/review_nokia_n78/
Nokia N78
Nokia's newest N-series quad-band candybar
Posted in Personal Tech, 19th June 2008 10:53 GMT
Review Nokia's latest N-series "multmedia computer" bundles a 3.2-megapixel camera, music player, satnav and maps into a sleek go-anywhere, do-it-all device.
The N78 is certainly a classy looking handset, and the smart touch goes much deeper than its looks. Its sleek, gloss-black front may at first glance resemble the touch-sensitive minimalism of LG's oft-copied Chocolate series, but in use, all is not as it seems.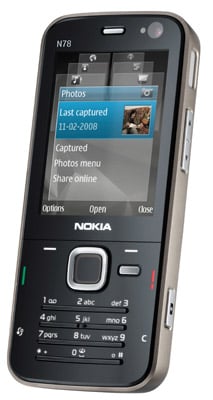 Nokia's N78: packs in feature after feature
To press the illuminated buttons you actually press the plastic casing inwards. The cover bends to accommodate your thumb rather than reacting purely to your touch. It might seem like a low-tech alternative, but in practice it seemed more reliable than the touch-sensitive option, which in our experience can be a bit temperamental.
Nokia's solution is a good combination of style and practicality. The numeric keypad is actually four raised plastic strips, with the numbers backlit just above them. It looks lovely, but takes a bit of getting used to, and it has to be said that this keypad is far from the best for rapid or prolonged texting.
The face of the phone oozes minimalist class, but strangely, the back feels like its made from low-grade material and creaks in your hand, which detracts from the cool image. There's another surprise hidden in the square navpad. Rubbing your thumb around the edge activates what Nokia calls the "navi-wheel", which moves the cursor around the screen without the need to press the pad.
Navi-wheel is a small innovation perhaps, but it's one that makes the navpad very intuitive to use and you end up using it without realising what a good job it's doing. You can access the menus via the usual Symbian menu button or a dedicated Applications button which stands out asymmetrically next to the navpad. This calls up an iPod Touch-style interface that allows you to flick through your applications the way the Touch lets you flick through your album covers. Nice. A long press on the side-mounted shutter button gets you into camera mode.
The 3.2-megapixel camera features a lens with the Carl Zeiss name that Nokia is always so fond of dropping. Whatever. Whether it's the lens or something else, the pictures are clear and generally sharp, with rich colours and a good sense of scale. It has a proper LED flash too, rather than a photo light, though you'll still need to be fairly close to your subject for it to be effective.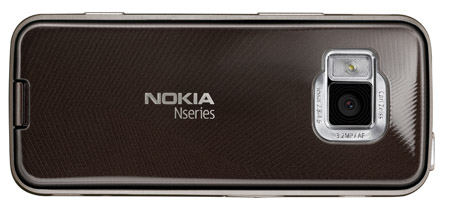 The 3.2 megapixel camera is complemented by an LED flash
The usual editing options we've come to expect from the N-series are all there, allowing you to add effects, text, crop and rotate your pics as well as reduce red-eye – a neat little on-board editing suite in other words. There are also options for shutter timer, burst mode, brightness settings and an on-screen grid that helps you centre your composition when you're lining up your snaps.
All it needs is the multi-shot BestPic facility from Sony Ericsson's Cyber-shot range and you've got pretty much everything you'd expect from a modern cameraphone - bar a couple more million pixels maybe.
And this being a 3G phone, there's also a secondary camera at the front for video calling.
The N78's Assisted GPS (A-GPS) system not only tells you where you are, but can also automatically add location data to any pictures you take – handy for uploading to sites like Flickr or Nokia's own Share On Ovi online piccy service. The Nokia Maps feature is well integrated with the satnav, and the bundled 2GB Micro SD card comes with an impressive library of world maps.
Tap in an address and the N78 will show it on a clearly laid-out, simplified map that's ideal for navigating. It can also plot routes between addresses and landmarks, and turn-by-turn voice guidance is available for a fee, although Nokia offers an initial three-month usage period for free.
The music player is equally impressive. It displays cover art if available, and you can search by artist, track, album, playlist or genre, though there's also a slightly pretentious 'composers' search option and a dedicated space for downloaded podcasts.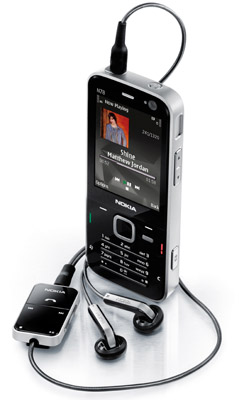 At last, a phone with a standard 3.5mm headphone jack
The supplied headphones are better than many bundled sets, but there's also a 3.5mm socket so you can add your own 'phones if you feel the need. There are two speakers - one on the front, the other on the back - but unusually they're placed at opposite ends of the handset. It might seem a bit odd, but spreading the speakers as far apart as possible goes some way to enhancing the stereo image when you're playing music. It does work, sort of, though it's a bit disconcerting that you can never have both speakers facing you at any time.
The sound is fairly clear and not too tinny, though you don't get much bass, of course. There's a basic graphic equaliser with five pre-sets for bass booster, classical, jazz, pop and rock. As usual with these things, there's little logic to the naming convention – why should 'Jazz' mean removing the bass and boosting the high end, for example?
There's 70MB of memory on board, as well as the option to add more with the Micro SD card slot. Nokia's rather excellent FM radio is present and correct, but you can also access Nokia's internet radio service, which gives a taste of the wealth of internet radio stations from around the world. If money's no object that is – live streaming can soon run up your data bills, unless you connect by Wi-Fi.
You can also do the iTrip thing with the built-in FM transmitter and beam your music to your car radio. Incidentally, the Navi-wheel really comes into its own as you scroll through your music playlists, behaving like a tiny version of Apple's scroll wheel. Hmmm, are we sensing a pattern here?
Of the few problems we encountered with this phone, there were the usual Symbian issues of running slowly when you've got several applications open at once, but it was nippy enough when we stuck to doing one or two things at a time and it was easy to switch off background applications using the aforementioned Applications button.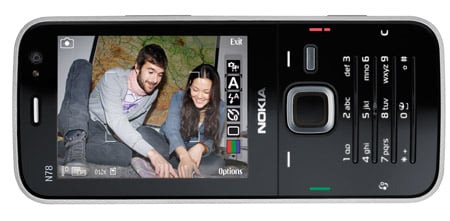 70MB of memory on board - plus a Micro SD slot for more
If the 3.6Mb/s HSDPA connection isn't fast enough, you can also connect over Wi-Fi. The usual N-series web browser is here in full effect, with options for viewing in landscape or portrait mode, plus zoom and the ability to flick through previously viewed pages. There's also a PDF viewer and QuickOffice for viewing Microsoft Office documents, though if you want to create them you'll have to pay for the full Office suite.
And as a Symbian phone there are of course plenty more third-party apps available.
Battery life was pretty good, and we got a good three days of moderate use out of it, though heavy browsing will of course reduce this quite dramatically.
Verdict
From its sleek, minimalist good looks to its raft of impressively well-integrated features, the N78 is a gorgeous little number. The 3.2-megapixel camera, feature-packed music player, A-GPS and maps, quality web browser plus documents readers and email make it an ideal travelling companion for business or pleasure.