Original URL: https://www.theregister.co.uk/2008/06/18/review_amd_phenom_x3_x4/
AMD CPU shoot-out: Phenom X3 and X4
Intel killers?
Posted in Personal Tech, 18th June 2008 11:55 GMT
Review The birth of AMD's quad-core Phenom processor was plagued with problems. After a gestation period more akin to an elephant than a CPU, the new silicon popped out puking and bawling but was clearly a bit of a runt.
The problem was the now-infamous TLB error that crippled performance and reduced clock speed with the result that the B2 stepping of Phenom was only available in two models.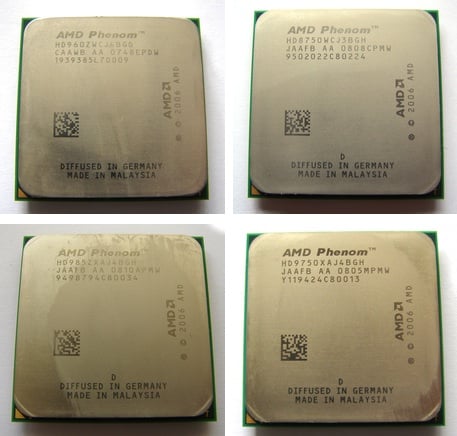 AMD's Phenoms: (clockwise from top left) 9600, X3 8750, X4 9750, X4 9850
Neither the 2.2GHz Phenom 9500 nor the 2.3GHz 9600 delivered enough performance to trouble Intel's Core 2 Quad Q6600, which was a direct competitor at the same price. As an added kick in the teeth, Phenom would barely overclock while the Intel processor could manage a clock speed of 3GHz without breaking a sweat.
AMD fixed the TLB problem with its B3 stepping and also got a bit creative with the model codes that it used. Phenom X4 9x50 denotes a quad-core B3 that effectively replaces the original Phenom. The Phenom X3 8x50 is also a B3 but is unusual in that it's a tri-core processor. Phenom is similar to Core 2 Quad in many respects but there is one significant difference as Phenom is a native quad-core design with all four cores on the same die. By contrast Core 2 Quad is a dual-core design, so Intel uses two processor dice to cobble together its four-core CPUs.
Naturally, AMD touts this difference as a major advantage for Phenom as it allows HyperTransport to strut its stuff, while Core 2 is theoretically crippled by a lousy communication path through the frontside bus and then off to the northbridge of the chipset to the memory controller.
The flip-side is that AMD doesn't have a cheap dual-core Phenom to compete with Core 2 Duo, which is undoubtedly the reason for the introduction for the tri-core X3.
On paper, Phenom has significant advantages if you want to make your multi-core processor highly efficient and especially if you want to gang up a number of multi-core CPUs in a workstation or server.
Testing Phenom presented us with a dilemma as the natural partner is the AMD 790FX chipset, which supports the quad-core processor with up to four GPUs in CrossFireX mode. We get the impression that gamers aren't the least bit fussed about CrossFireX, and decided that it made more sense to focus on the budget nature of Phenom by testing with an Asus M3A-H motherboard with AMD 780G integrated graphics.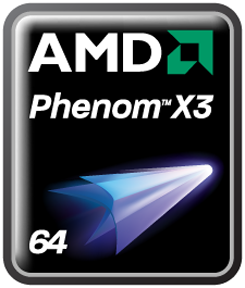 The memory controller in Phenom supports 1066MHz DDR 2 memory so we used 2GB of Corsair Dominator CM2X1024-9136C5D that runs at speeds up to 1142MHz. The Asus' Bios gives a choice of enabling or disabling the TLB fix in the B3 Phenom but we left the fix enabled throughout our testing.
AMD makes quite a feature of its Cool'n'Quiet power-saving technology, which certainly has some benefits. However, it requires you to leave the voltage settings locked to automatic. This makes the prospect of overclocking distinctly unlikely so we did an initial set of test runs on each CPU with Cool'n'Quiet enabled and a second run with the technology turned off. After that, we tried to overclock each Phenom by raising the 200MHz reference clock as far as it would go which, to be frank, wasn't very far but we'll come to that shortly.
The test results show that both the Phenom 9500 and 9600 were disappointments. Graphics performance in PCMark05 was poor, although it was OK in 3DMark Vantage, and the frame rate in Crysis was very low, crawling along at 14-15f/s. This was something of a surprise and we jumped back and forth between B2 and B3 CPUs a few times and the results were consistent.
PCMark05 Results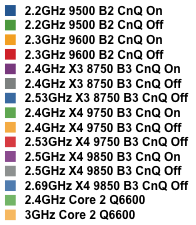 Longer bars are better
Neither the 9500 nor the 9600 would return a memory latency figure in SiSoft Sandra and neither overclocked by more than the tiniest margin.
Switching to the Phenom X3 8750 showed mixed results. In pure CPU tests such as POV-Ray and the CPU element of PCMark05, the triple-core architecture had little impact but in the main the X3 8750 kicked the 9500 and 9600 all over the shop.
3DMark Vantage Results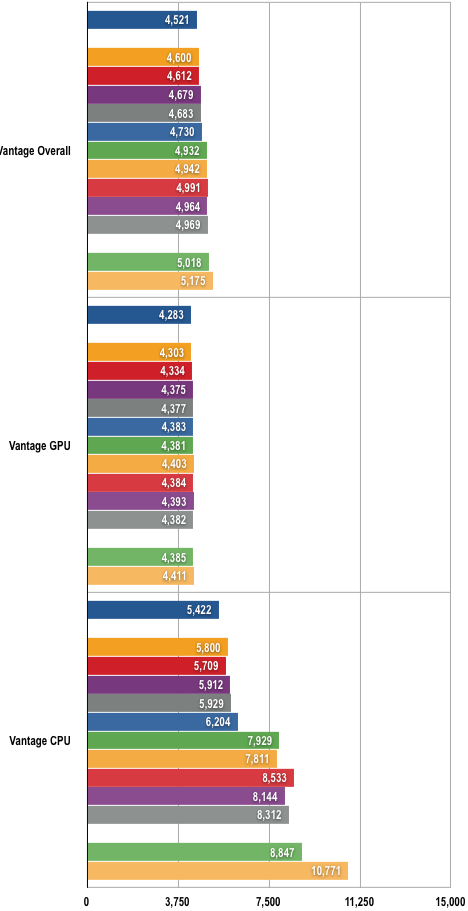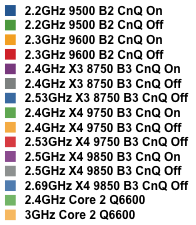 Longer bars are better
Blank lines indicate test failed to complete
Crysis Results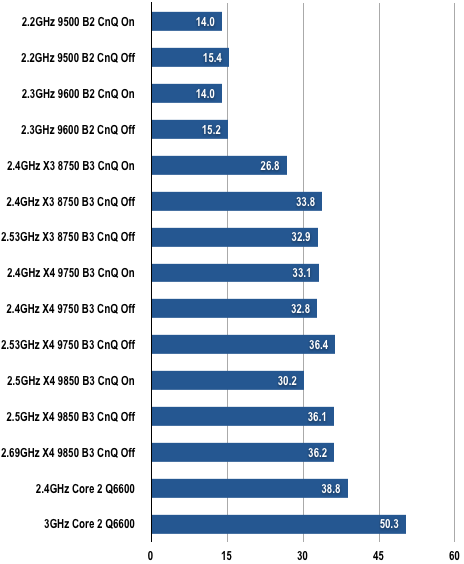 Results in frames per second
Longer bars are better
POV-Ray Results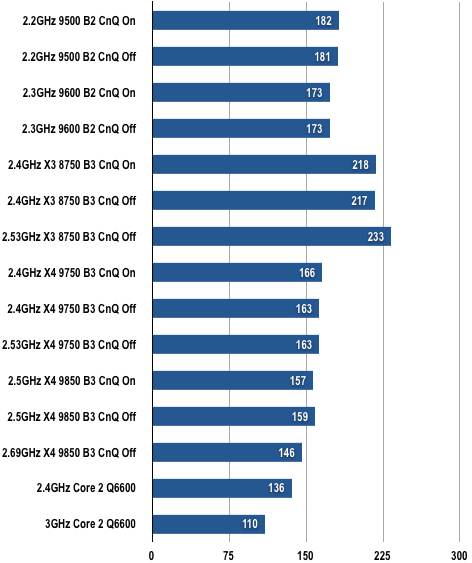 Rendering time in seconds
Shorter bars are better
Overclocking, the X3 8750 delivered a small bonus as we were able to raise the 200MHz clock to 210MHz and could successfully run our benchmark tests.
Power Consumption Results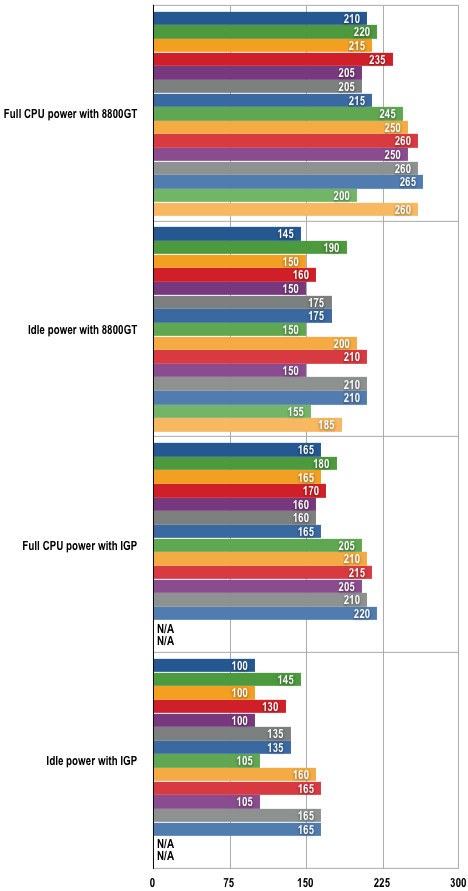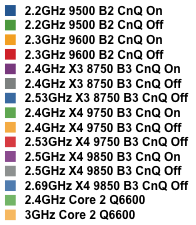 Power consumption in W
It was time for the Phenom X4 9850, and we weren't surprised to see that performance was a distinct improvement on the X3 8750 in every respect with the exception of pure graphics tests that only stress the graphics card. The X4 draws 40W more than the X3 which makes it fairly easy to deduce how much power each core in a Phenom requires. The quad-core overclocked slightly better than the tri-core but neither was impressive in that department.
The thing that caused us some surprise, however, is the similarity in price. You only pay £10 more for the X4 so why on Earth would you choose the X3?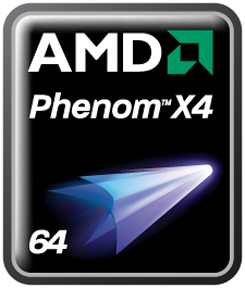 Finally, we come to the Phenom X4 9850, which only runs 100MHz faster than the X4 9750 - 2.5GHz - but there are a couple of other changes. The X4 9750 has a TDP of 95W and HyperTransport speed of 1.8GHz while the X4 9850 has a TDP of 125W and a HyperTransport speed of 2GHz which rather suggests that the X4 9850 is buzzing along at the limits of the B3 architecture.
We had heard great things of the X4 9850, with at least one reviewer claiming a clock speed of more than 3GHz. However, we had nothing like that degree of success. With the 200MHz clock raised to 225MHz we immediately suffered a blue screen after Windows had loaded, and that was with a clock speed just over 2.8GHz.
The system was pretty much OK with a clock speed of 220MHz (2.75GHz CPU speed) although 3DMark Vantage refused to run however the X4 9850 required more cooling than the other Phenoms. Indeed we had to remove the add-in fan controller from the CPU cooler to get the fan speed high enough to cool the CPU properly.
That's all well and good but just take a look at our test results for Core 2 Quad Q6600. On its stock speed of 2.4GHz it wiped the floor with Phenom and when we overclocked it to 3.0GHz it made the AMD silicon look rather limp.
Verdict
The B3 stepping of Phenom is a distinct improvement over the original B2 but that's not saying much. Intel has cut the price of Core 2 to such an extent that there is no compelling reason to buy a Phenom beyond the fact that you might not like Intel very much. Fair enough, we'd say, but for everyone else, Intel has grabbed the initiative. Over to you, AMD.