Original URL: https://www.theregister.co.uk/2008/06/16/review_sansa_fuze/
SanDisk Sansa Fuze
Small but perfectly formed
Posted in Personal Tech, 16th June 2008 12:09 GMT
Review Even though SanDisk tells us the future of MP3 players is devoid of built-in storage...the future isn't here yet. The new Fuze player slots into the Sansa range and comes with either 2, 4 or 8GB of internal memory.
Measuring 78 x 48 x 8mm and weighing really not much at all - the spec sheet doesn't actually give a weight, and we don't having a set of apothecary's scales to hand – while also having with a 1.9in screen, the Fuze clearly has the perennial iPod Nano in its sights.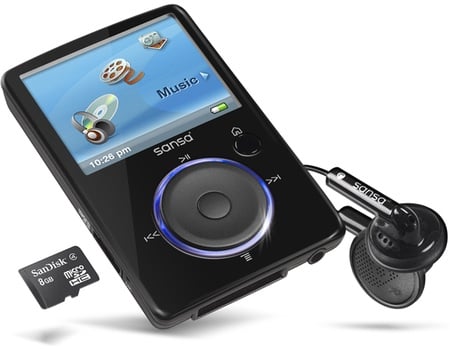 SanDisk's Sansa Fuze: impressive, most impressive
When you first get your paws on the Fuze it's hard not to be just a little impressed. The front of the player is made of a fine-looking glossy plastic with a fully flush screen, while the sides and back are in the same colour but with a matt finish making for a better grip.
The round control wheel – which actually spins – and select button are fabricated from a similar matt plastic giving the the Fuze the feel of a very high-quality product. Our review unit came in black, a colour that lends itself particularly well to the Fuze's design aesthetic.
External controls consist of said navigation wheel and 'home' button on the front, and an on/off/lock switch on the right side. At the bottom is a 3.5mm 'phones socket and the bespoke SanDisk USB port. The only other external feature is the most important" the Micro SDHC card slot on the left side.
That card slot is really what the Fuze is all about, its party trick being that it fully integrates any media held on the card with that held on the player. In effect, you aren't buying a 2, 4 or 8GB player but rather a machine that can be expanded by up to 8, 16 or - soon - 32GB.
Thankfully, the Fuze doesn't make much of a palaver of integrating the memory card data with content held in the main memory. We filled our 4GB test player then slotted in an equally full 4GB Micro SDHC card in. The player took 20 seconds or so to get its act together and combine the two into a single media library. That figure will probably rise - a lot - when it comes to combining larger amounts of on-board and memory-card data, but as it only does this when a change is made to the media content rather than whenever the player is powered up, we reckon it's something users will learn to live with and i a small price to pay for the end benefit.
The Micro SD slot is recessed to just the right degree: easy to get your cards in and out, highly unlikely to be press by anything accidentally and spit cards out at inopportune moments.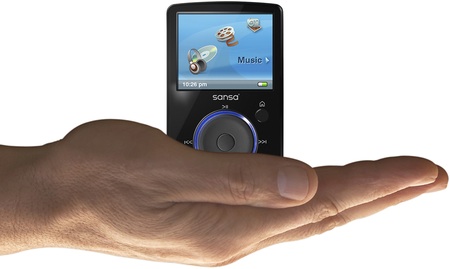 Small but plenty of storage
Feature-wise the Fuze comes with an FM radio that lacks RDS but lets you pre-set your 40 favourite stations, and a voice recorder that's coupled to an excellent built-in microphone. You can set the duration of radio recordings to snag your favourite radio shows, which is a handy little feature. Recordings though are stored as WAV files, which seems a touch unnecessary. If you plan on recording anything of length make sure you have space in the internal memory as a ten-minute recording is going to take up about 55MB.
The user interface is a more-than-decent bit of design with very few flaws. The scrollwheel allows you the move through the straightforward menu structure without lag or delay, while basic navigation is aided by the presence of the 'home' button. Hit this key at any time and you're taken straight to the main menu. Hit it while you're looking at the main menu and it takes you to the Now Playing page. This is not exactly rocket science, but it isn't half useful.
When checking out the music menu, we were relieved to find that clicking on Artist took us to the list of each artist's albums rather than directly to the list of all his or her songs. Chalk one up for common sense!
For those users who feel the need to zip through their operas or audio books to the best bits, the rewind and fast-forward audio scan ramps up its speed nicely, depending on how long you hold the control down, allowing you to skip through even the longest recordings with ease. Though you can't bookmark audio, the Fuze will ask you if you would like to resume the last audio book file you accessed from the point where you stopped it. Similarly, if you switch the player off mid-track it will resume at the same place when you switch it back on.
The only slight menu-related glitch we noted was that the successful importing of album artwork seemed a touch random. When transferred onto the player, some folders took their artwork with them, others didn't. This really only bears mention as the Fuze has two settings for viewing content by album, one that shows six albums per screen with no art and one that shows four but each with a thumbnail of the cover. It's a nice idea, but only if you can get the artwork to show up in the first place.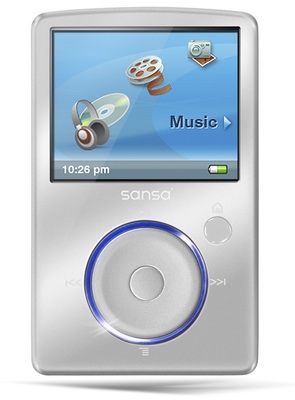 Nice songs - shame about the video
Currently, audio file support is limited to MP3, WMA, Audible and WAV, but a promised firmware support will soon add Ogg Vorbis and Flac to that list. The latter is particularly valuable as SanDisk has long made a song and dance about being the only mp3 player manufacturer to make its own audio chips. Relevant or not, such a claim was a little pointless when its players wouldn't support a broader range of codecs than any other chip maker's offerings.
The Fuze comes without of any bells-and-whistles sound modifiers, making do instead with ten pre-set and one customisable EQ settings. This is one instance of less definitely being more. With the EQ set to Normal, the Fuze pumps out a solid and coherent sound with plenty of bass. Listening to the epically pompous, but still fun, Pandora's Box Original Sin project from Jim Steinman underlined this - from thunderous drum lines, through avalanches of tortured guitars to grand pianos being abused in a way that would make a Steinway engineer cry, the Fuze never missed a step, always presenting a lucid and balanced sound.
A selection of Beethoven piano sonatas performed by Wilhelm Kempff showed the Fuze to be no less talented when it came to serious music, the tone being little short of perfect. In short, the Fuze is easily a match for the Samsung YP-P2 in the sound stakes, and that's quite a compliment in our book.
Sad to say that the bundled phones are a bit two-bob. Stick 'em in the bin and buy a decent pair.
Video playback from the 224 x 176 screen is rather limited. To get anything to play on the Fuze you will need to transcode it using Sansa Media Converter which can be downloaded from the SanDisk site. The Converter pumps everything out as MPEG 4 20f/s DivX, which looks OK but no more. Let's be honest, who actually buys an MP3 player with a 1.9in screen to watch video anyway? The Fuze also supports JPEG image files.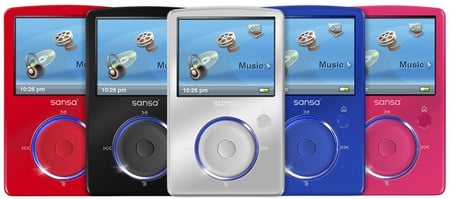 Colours to suit all moods
Media transfer is straightforward. The player can be set to either MTP, MSC or Auto-Detect so you can either sync up via a desktop media player; drag and drop if you are using Windows; or just drag and drop if you are a Mac or Linux aficionado. The Fuze also comes with a handy on-the-go playlist feature - adding a track simply requires you to hold down the centre button while it's playing.
SanDisk claims the Fuze delivers 24 hours' continuous play from a full battery charge. We got 21, so no complaints on that front.
In the value for money stakes, the Fuze compares well with the iPod Nano being about £20 cheaper like for like. Of course, you can currently get an 8GB Micro SDHC card for less than £50 which means you could end up with a 16GB player for less than £150, and that isn't bad at all.
Verdict
SanDisk is excited by the idea that we'll soon all be hot-swapping our media from our phones to our cars to our hi-fi systems to our MP3 players. Maybe. In the meantime, we just like the idea of a small Flash-based MP3 player that sounds great and comes with the option to add a shedload of extra memory yet doesn't make us go poking about deep into the player's menu structire to find the content it holds, as we had to do with iRiver's E100.