Original URL: https://www.theregister.co.uk/2008/06/16/intel_versus_amd_vmware_benchmark/
Intel quad-core Xeon server virtualization score booted by VMware
Opteron box now top of the VMmark heap
Posted in The Channel, 16th June 2008 23:56 GMT
AMD's quad-core Opteron chip has silently topped Intel's similarly endowed Xeon processor as the leader of VMware's server virtualization performance benchmark.
The usurping, however, isn't a result of a new system or chip. The Intel-based system that was formally king of the VMmark 16-core server scores has been disqualified.
Dell's submission of its 4-socket PowerEdge R900, published May 2008, was unceremoniously heaved last week due to the results not being "in compliance with the VMmark run and reporting rules."
"Specifically, this result used a configuration that was not fully disclosed...," the withdrawn result now cites. VMware adds it has updated its rules to clarify what types of optimization is permitted before running the benchmark.
Previously, the Intel-based R900 led the 4-socket benchmarks with a VMmark score of 14.23@10 tiles. The AMD-based R905 was second with a score of 14.17@10 tiles. Third was the IBM System x3850 with 13.16@9 tiles.
The new top system is now the AMD-based PowerEdge R905, which had the system score submitted by Dell at the same time as a refreshed R900. An older benchmark of the Intel-based R900 is now relegated to the number four spot.
Intel tells us it believes the withdrawal was a result of a technicality — and justifiably notes it was Dell which submitted the benchmark in the first place. VMware meanwhile is playing the change as an exercise for its benchmarking guidelines. We haven't heard back from Dell.
So will Intel update its Xeon virtualization performance page on its website to reflect the disqualification?
Probably not any time soon. You see, Intel has been pretty comfortable living in a convenient fragment of time/space on its site and even with some advertising: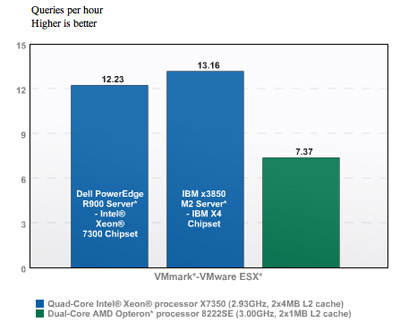 Hey wait a minute — that a quad-core Xeon versus a dual-core Opteron!
To be fair, it could be as innocent as laziness in the marketing department. Intel did have to wait a good six months before the quad-core Opterons were out in the wild for comparisons. Maybe the guy in charge of the charts silently passed away in his cubicle without anyone noticing.
Or maybe our Sherlock Holmes caps are covered in tinfoil for a good reason. ®