Original URL: http://www.theregister.co.uk/2008/06/16/gtx_200_series_gpu_launch/
Nvidia launches GTX 200 series GPUs
Massive chip for high-end gaming rigs
Posted in The Channel, 16th June 2008 12:35 GMT
Nvidia today rolled out its next-generation 200-series GPUs, the GeForce GTX 260 and GTX 280.
The series name is at last a concession to the bewildering naming scheme Nvidia has played with in the vast array of GeForce graphics chips. That is — starting now. Customers will still wade through the convoluted model numbers with older offerings.
The 200-series GPUs are fabricated by the Taiwan foundry, TSMC, on a 65nm process that uses 1.4 billion transistors. It's an enormous 576 square millimeters chip and the largest GPU that TSMC has manufactured to date. To compare, the G92 chip (used in the GeForce 8800 and 9800 GPUs) measures 330 square millimeters.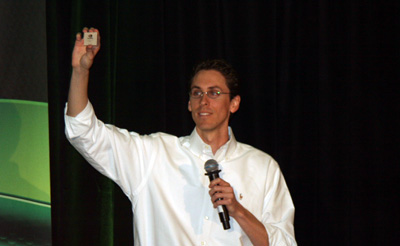 Tony Tamasi holds up the 200-series chip
Of course, the wafer real estate required for each chip means greater manufacturing cost, and you can probably guess where that expense is ultimately shouldered. That said, the GPUs pack a lot of punch.
They use a double-slot design that measures 26.67cm (10.5 inches) in length. You might want to break out the measuring tape on your box, and also make sure you've got 6-pin and 8-pin power connectors to feed the GTX 280 board's 236W demands. The GTX 260, meanwhile, needs two 6-pin connectors for 182 watts board power.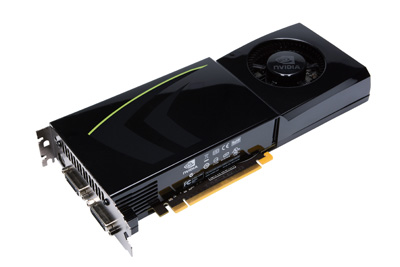 GeForce GTX 280
The big GTX 280 sports a 512-bit memory controller — an upgrade from the previous generation 384-bit controller — connected to 1,024MB GDDR3 memory running at 1107MHz. The chip has 240 processing cores (which used to be called shader units) and 32 edROPs (raster operations processors), and clocks at 1296MHz. Nvidia is selling its new big GPU for $649 (£333) beginning tomorrow.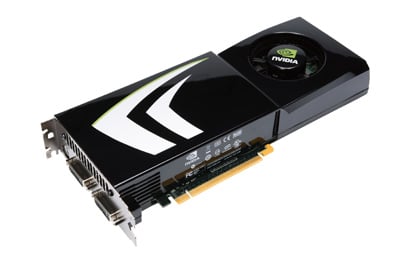 GeForce GTX 260
The GTX 260 has a 448-bit memory controller connected to 896MB GDDR3 memory clocked at 999MHz. The chip has 192 processing cores and 28 ROPs, running at 1242MHz (that's pretty darn close to the GTX 280.) The smaller GPU is $399 (~ £205) and goes on sale June 26.
All said, Nvidia claims the GPUs on average give a 1.5x performance boost over GeForce 8 or 9 series GPUs.
| | | |
| --- | --- | --- |
| | GTX 260 | GTX 280 |
| Processor cores | 192 | 240 |
| Graphics clock | 576MHz | 602MHz |
| Processor clock | 1242MHz | 1296MHz |
| Memory clock | 999MHz | 1107MHz |
| Memory (GDDR3) | 896MB | 1GB |
| Power connectors | 6-pins + 6-pin | 6-pin + 8-pin |
| Board power | 182W | 236W |
| Cost | $399 | $649 |
GeForce GXT 200 GPUs support DirectX 10 and Open GL 2.1. The cards support two flavors of SLI. There's the standard connection of two GPU boards and a new 3-way SLI if you really feel like overdoing things.
The chip architecture consists of a number of texture processing clusters (TPCs), which is made up of a number of streaming multiprocessors (SMs). Each SM contains eight processor cores and texture filtering processors used in graphics processing.
GTX 280 improves on G80 and G92 designs by increasing the number of SMs per TCP from two to three. It also increases the maximum number of TCPs per chip from eight to 10. So where the GeForce 8 and 9 series had a total of 128 processing cores, the GTX 200 series has a max of 240.
To address more complex shaders in modern games, Nvidia has shifted the GPU balance to a higher shader to texture ratio. By adding one more SM to each TCP and keeping texturing hardware constant, the shader to texture ratio is increased by 50 per cent.
Another new addition is double-precision, 64-bit floating point computation support. That's good news for high-end scientific, engineering, and financial computing applications, a market that Nvidia is focusing more and more attention on with each generation of chip. Each SM incorporates a double-precision 64-bit floating math unit, for a total of 30 double-precision 64-bit processing cores.
Nvidia has also employed a more flexible power management than previous GPU incarnations. Using a HybridPower-capable nForce motherboard, the GTX 200 GPU can be fully powered off when not performing graphics-intensive operations. Nvidia also estimates Blu-ray DVD playback mode takes about 35W, and idle mode without HybridPower takes up 25W.
Meanwhile AMD is readying its Radeon HD 4800 series, starting with the 4850 at a starting price of $299. Later it will roll out the 4870 at $349. This summer will certainly prove to be an interesting time for the graphics card market. ®