Original URL: https://www.theregister.co.uk/2008/06/11/review_motorola_z10/
Motorola Z10 'kick slider' media phone
Media monster mobile Mk II
Posted in Personal Tech, 11th June 2008 12:26 GMT
Review It's take two for Motorola's kick slider concept. With the Z10, the phone maker has refined the back-bending sliderphone quirkiness of last year's Z8 with an upgraded features list and a more sober design.
The Z10 is geared up with high-speed HSDPA 3G data connectivity; a 3.2-megapixel camera with enhanced imaging and video software; and is powered by the Symbian operating system and UIQ user interface.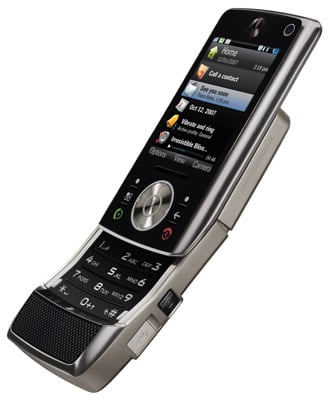 Motorola's Z10: kick-slider is still a kick-arse concept
Then there's Motorola's kick slider – a mutation of the conventional slider that, as it opens, hinges the phone into a curved, more face-fitting shape. This clever engineering supposedly improves call quality by bringing the microphone closer to the mouth. Its other important role, of course, is as a neat bit of gaze-grabbing gadgetry. Speaking of which, Motorola has reworked the Z8's lime green livery with a more mainstream chrome-edged, silver and black look
Motorola is pushing the Z10 as a movie-making mobile, including a reasonable video capture facility and an ArcSoft Media Editor software suite to edit video clips in-phone. Users can then upload them directly to YouTube or a host of other sites online straight from the phone using a Shozu application.
But while you may not be able to shoot Hollywood quality movies on the Z10, you can watch them. Motorola has packaged a 1GB Micro SD card with the device - on board, the three movies in the Bourne trilogy. The Z10 also supports downloadable full length movies from Motorola's recently launched digital movie service with Paramount Digital Entertainment.
Movie watching isn't quite the big screen experience. The Z10 has a 2.2in, 320 x 240, 16m-colour display that could be larger - it's smaller than those on recent Nokia smartphones and a host of touchscreen mobiles. Yet the Z10 is no tiny-proportioned phone, measuring a stocky 109.7 x 50.7 x 15.8mm and weighing 119g.
Watching videos is fine on the full screen, and smoothly rendered at 30 frames per second by the MobiClip software, but with video playback high on Motorola's pitch list, you might have expected more screen space.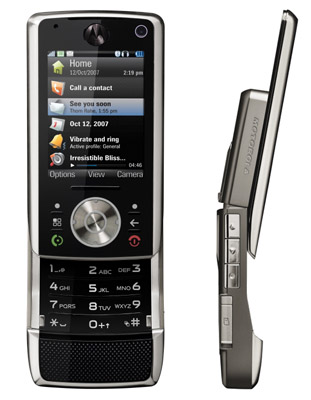 Video is high on the agenda with this handset
Beneath the display are the Z10's main control button array: a typical circular navpad that has been improved from the Z8's, and a batch of keys surrounding it. These – main menu, soft-menu, call and end, and a back button – are on a single plastic panel, with grooves separating them efficiently enough. They do feel a touch unresponsive, though, and need to be pressed firmly.
The numberpad has been reworked slightly too, giving more room for key pressing than the Z8 provided. The rectangular keys are ever so slightly raised too, so your fingers can differentiate between them. Quick pressing is again undermined by a slightly heaviness of touch.
The slick kick-slider mechanism has been well executed, and you may well find yourself thumbing the phone's spring-loaded screen more often than strictly necessary. Its hinge mechanism feels as sturdy as the metal-cased phone itself, which is reassuring. The back panel has a camera-style look, with an LED photo light above the lens. A secondary low-res camera for video calling and self portraits perches above the front display.
Strangely, when you press the camera key on the Z10's side when the slider is open, the front camera is automatically engaged - you have to have the phone closed for main camera action. This isn't in itself problematic – you only have to slide the phone to close it – but it's nonetheless an odd decision by Motorola, as self-portraits are hardly first choice for the vast majority of snapping occasions.
Along with a multi-purpose mini USB socket for charging, data connection and headphones, the Z10's side panel contains a Micro SD card slot, supporting memory cards with up to 32GB of storage to supplement the 70MB of on-board space. Fast access to the media player is possible from a button just above it.
The menu layout and structure is more straightforward than many previous Motorola handsets. The standby page is laid out with plug-ins for quick access to and information from apps and features, such as calendar, messaging, media player and profiles. These can be switched on or off to suit individual tastes.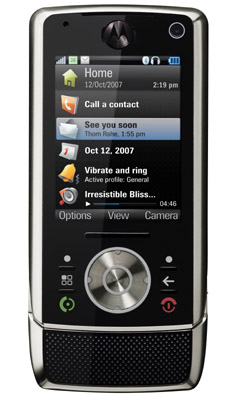 Navigation seems logical enough
The main menu is the usual grid of application icons, though this can easily be switched to lists – an easier option for navigating some longer sub-menus that use unfamiliar icon labels. This is fine to use, with a bit of playing around getting you comfortable with any unfamiliar conventions fairly rapidly.
The phone's default keypad lock is quite quick to come on, which is handy if you want to avoid unwanted button pressing, but sometimes frustrating if you're simply pausing to check something – like a web address or number - before inputting.
Although generally easy to manage, we found that the menu system on our review sample could sometimes be sluggish to react to button presses, taking a touch longer to respond than we'd expect, particularly if other applications were open. Occasionally, too, we experienced odd software glitches that suggested memory was full, requiring us to switch the phone off and then on again. These were rare, but we hope Motorola will be on top of these issues in short order.
The Z10's 3.2-megapixel camera has an effective autofocus system that enables you to take very pleasing shots, including close-ups as near at 10cm from the subject.
Images have rich colour rendition and are crisp, with very good results possible in bright lighting conditions. Low light and night shots aren't quite as impressive, as the LED flash has limited power and delivers negligible illumination beyond a few feet from a subject. The pixel-count may not be up with the best quality cameraphones around, but you can get some decent snaps from the camera.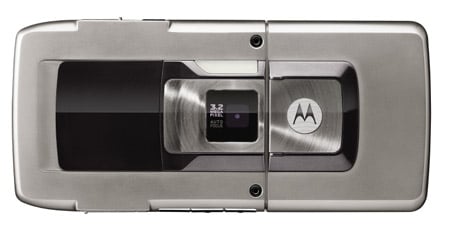 The 3.2-megapixel camera has an effective autofocus system
The Z10 can shoot video at a smooth 30 frames per second QVGA quality that'll play back well on the phone and OK on a PC screen. The phone's editing app enables you to play with both images and video clips, so you can create reasonably sophisticated in-phone mobile videos; you can use storyboards, cut and past clips, add transitions, captions and music. It's simple then to share with friends or upload straight to the internet via the integrated Shozu application.
While it's not cutting-edge phone imaging quality, both snaps and video clip functions are nicely implemented and produce decent results.
The media player functionality on the Z10 includes a multi-format music player, supporting MP3, AAC, AAC+, eAAC +, WAV, AMR NB, MP4, WMA, MIDI, iMelody and G.726 file formats. It's straightforward to use if basic for a sophisticated smartphone, with categories limited to playlists, artists, tracks and albums. The player interface is attractive, with the navpad providing the music controls, and can support cover art as well as offering the usual track information.
The phone can be synced with Windows Media Player 11, or files can copied over using Motorola's PCSync software and the supplied USB cable. You can also use mass storage mode to drag and drop files to the phone's memory card. Mac users will have to make do with Bluetooth or loading up the memory card using a card reader – there's no support for Macs, even in mass storage mode.
The audio performance of the Z10 is limited, however, by an average set of earphones that present too much top end rather than a well-rounded sound. These connect into the mini USB port rather than a standard 3.5mm headphone jack, so it's not straightforward to slip in your own 'phones, for which you'll need an adaptor. You could try wireless Bluetooth stereo headphones as an alternative, as A2DP is supported. It's a shame Motorola didn't offer a better ear-wear, however.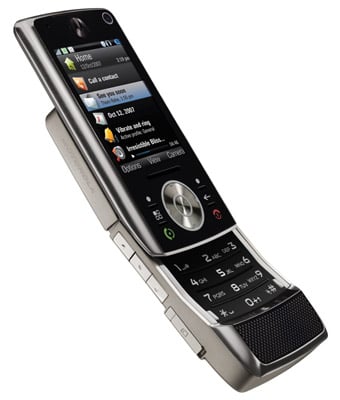 Audio quality hindered by weak earphones
There is a front loudspeaker option – but while it's loud, it's also bass-light, in typical mobile fashion.
As well as transferring content from a PC, the phone's HSDPA connectivity offers download and streaming speeds of up to 3.6Mb/s for video, audio and other content. This enables speedy loading of tracks over the air from network operator music services.
The lack of Wi-Fi does come as a disappointment. It would have been a good addition as a high-speed non-mobile network alternative for downloading content and browsing, and would also allow faster uploading of video clips from the phone.
However, HSDPA-speed browsing on the pre-loaded Opera 8.65 browser is fast and pleasant. You can get full page view or a mobile optimised formatting of pages to aid scrolling through pages. Zippy zooming is also included, with a good spread of useful bookmarks pre-loaded for kick-off.
Subscribers to Sky TV will also welcome the Sky Anytime application, which enables users to view listings and set programmes on their Sky+ system remotely from the phone. A video viewing and content sharing app, vTap, enables Z10 users to browse, search and watch video content from a range of website sources, and automatically get updates for new video content that matches your profile.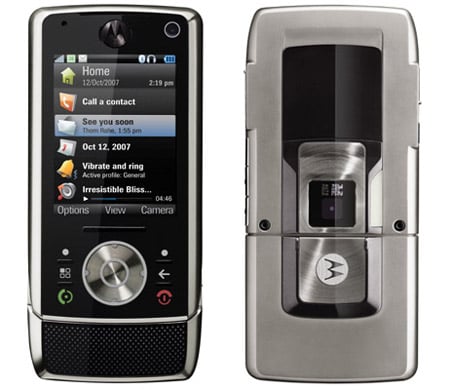 HSPDA yes. Wi-Fi no
The Z10's use of Symbian and UIQ means you can customise the phone with a wide range of software, although the non-touchscreen implementation of the platform on this mobile will limit some of the apps you might enjoy on the Sony Ericsson P-series UIQ models. Still, you can browse and download applications straight from Motorola's bookmarked apps site on the Z10, or visit sites like Handango.com to find third-party Z10 apps.
Alongside the entertainment applications, there's a good assortment of organiser and productivity applications. Push email is supported, with document viewer for attachments, and you can sync email, contacts, and agenda, and back up content using the Motorola PCSync software supplied. Other regular mobile tools include a voice recorder, to-do lists, calculator, jotter and various clock functions. Motorola has an auto set-up option too, for easy reconfiguring of phone settings and backing up contacts over the air. One 3D game is pre-installed, a fun motor-racing game, Asphalt 2.
Motorola quotes up to four hours' talktime on 3G networks or seven hours on GSM, with estimated standby time of up to 400 hours. What you get will, of course, depend on how much you'll be playing around with the multimedia functionality, as plenty of movie watching or music listening will sap the battery more than average. Still, with our average usage we clocked up between two to three days comfortably, which is acceptable on a phone of this type.
Verdict
The Z10 is a step up from the original kick sliding Z8, but it's still not up there with the best smartphones. Top-level features like integrated GPS and Wi-Fi support are absent on this phone. The camera is decent but not a top-notch shooter. There's the size factor too - you may expect a larger display given the phone's footprint. General phone performance was good but there were issues with occasional software glitches and sometimes sluggish keypad responsiveness on our review sample.