Original URL: https://www.theregister.co.uk/2008/06/10/review_roomba_560_robot_vacuum_cleaner/
iRobot Roomba 560 robot vacuum cleaner
Clean quietly... or there will be... trouble
Posted in Science, 10th June 2008 11:09 GMT
Review Robots. Everybody loves them, but not many of us - unless we're members of the armed forces, cybernetics profs, supervillains etc - actually get to own one. Unless you invest in a domestic droid from iRobot.
Which brings us to the Roomba 560. We've been trying this out for about a week now, having sorted out an initial technical hitch. When it arrived, a nameless individual at Register Hardware plugged the Roomba's power brick directly into the wall using an ordinary US-UK adapter. Be warned: doing this caused the brick to emit smoke and die, necessitating a replacement.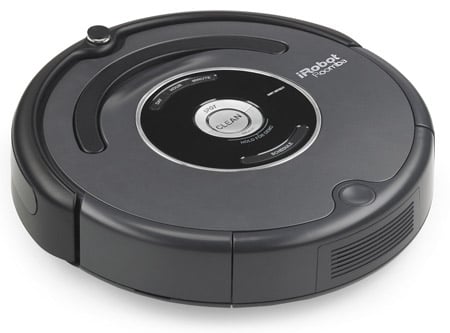 iRobot's Roomba 560: three laws safe
An adjustable-output laptop power gizmo set to the same voltage won't cut it, by the way. The Roomba's battery-management kit won't put up with anything but the company's approved amount of juice.
The correct solution for readers in Blighty is the purchase of a UK-to-US converter, which delivers a lower-voltage supply much like that across the Pond. The iRobot brick can cope with this, and the Roomba can then be charged up. The first time it does so, the machine's software needs to condition the battery and takes about 16 hours to do it, so don't expect to get going straight away.
Once charged, the Roomba is simplicity itself to operate. Just plonk it down in the area you'd like cleaned, and press the button marked Clean. The flat, low-slung unit laughs at most sofas, chairs etc, happily trundling about beneath them.
It doesn't laugh at much else, unfortunately. Contrary to the iRobot blurb, ordinary rug edges tend to cause snags and fringed ones are a total no-no. Untidy floors with toys, beer cans or similar debris scattered about lead to trouble - either the machine shunts the stuff about or it gets stuck trying to run things over.
Electrical cables or lamp stands can ruin the Roomba's day, and over-fluffy floor surfaces are bad too. A lot of fairly ordinary rooms will need significant reorganising and/or tidying up before the Roomba can cope with them.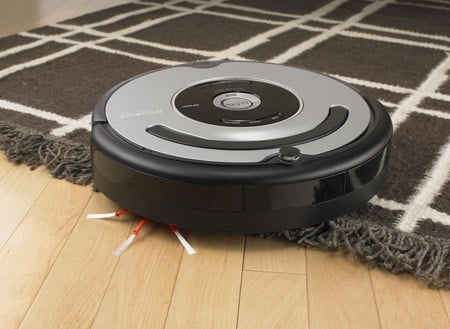 This isn't the droid we're looking for
Provided the room is suitable for the Roomba, however, you can close the door and leave the thing to its own devices. It scans the floor beneath it for dirt as it goes, and decides when it can't usefully clean any more.
With regard to stairs and entrances, some nifty options exist other than just shutting the door. The 560 comes with a pair of virtual-barrier/lighthouse devices. These can operate, as their name implies, as barriers - telling the machine not to cross a given line. Alternatively, in "lighthouse" mode, they serve instead to break up a work area.
Say you have two rooms with a doorway between. If you set up a lighthouse in the doorway, the Roomba does one room completely before moving into the other. Because of the way the machine's routing software works, this saves a lot of time and battery power.
The Roomba will do a few normal rooms completely without running flat, but if you've set up lighthouses around a whole floor it may need to recharge before finishing. In theory, you can plug the power brick into a docking station, which the Roomba will automatically head back to for a charge.
Our Roomba found the dock easily enough and snuggled up to it happily, but couldn't get any nourishment once it had done so. If the dock had been working, we'd have been able to set the 560 to clean at scheduled times, perhaps at night, returning to recharge itself afterwards - potentially offering completely autonomous cleaning of one entire floor of a house, with a few "lighthouses" in play. You'd still have to empty the rather small dust tray pretty often, however.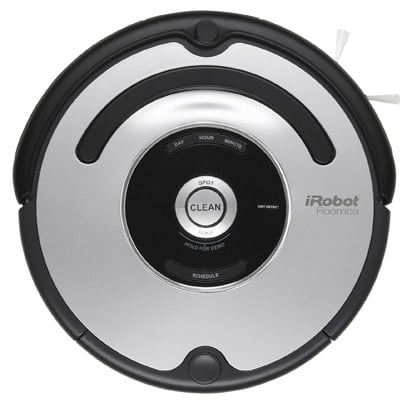 Clean quietly... or there will be... trouble
The Roomba is cleverly programmed, and it's a treat to watch it skimming along next to a skirting board, its little side brush whirling to scoop all the crud from the edge of the room. It does a lot better than you'd think at getting into corners, too.
All in all, it's a nice piece of engineering, though in many ways the simplicity of the controls is rather a disappointment. For a gadget this expensive, you're almost expecting to be offered a Wi-Fi web interface or an icon moving around on a map of your house or something.
You'd be totally out of luck with that last one, as the Roomba doesn't know where it is. It detects walls and so on at short range, and the little IR beacons on the virtual-barrier/lighthouse units and the power dock from across a room, but otherwise it's blind.
But how does it do at actually cleaning the floor? That mundane task is what it's supposedly for, after all.
In short: not very well. Roomba certainly didn't pass the wife acceptance test, and in this case we can see where she's coming from. The machine takes its time, going over every bit of floor repeatedly before it's satisfied, but the results after it eventually gives up are frankly unimpressive.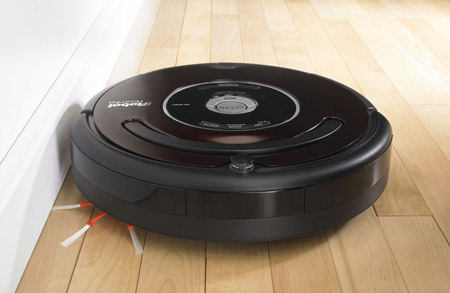 Inspired by The Fifth Element?
We saw best performance on a smooth tile floor, but even here an ordinary broom seriously outclassed the pricey robot - and you'll still have to mop tiles occasionally, if the 560 is your only robot. In some rooms, the time taken to get rugs etc out of the machine's way and put them back afterwards meant that an ordinary vacuum actually demanded less user time as well as doing a much better job. The only area where the Roomba really scored was in cleaning under beds, sofas etc.
As a plastic pal that's fun to be with, the 560 is great - as a way of cleaning floors, not so much.
Verdict
There are plenty of reasons to buy a Roomba. Buy it because you want to bring the day of the proper robot butler a bit closer; buy it because you like neat gadgets; buy it because you'd like to own a nice piece of animatronic artwork, which is elegant and fun to watch. Even if you live in a single-level house with smooth floors and no obstacles, though, £250 is a lot to pay for a distinctly lackadaisical cleaning robot which will still need frequent help from you.
All that said, if your current domestic situation is such that any cleaning at all would be an improvement (bachelor flat, perhaps?) the Roomba 560 could help. At least until the dirt tray fills up - or it gets trapped under all the pizza boxes.