Original URL: https://www.theregister.co.uk/2008/06/06/review_sony_a200_dslr/
Sony Alpha 200 digital SLR
Surprise super snapper from Sony
Posted in Personal Tech, 6th June 2008 11:02 GMT
Review Sony came to the digital SLR party late, with its first model, the Alpha 100 - launched in 2006. Its successor, the Alpha 200 (A200), is also aimed at the entry-level market. First announced in January, Sony recently sent one over for a more in-depth look.
That isn't to say that the A200 is a basic camera – no sireee – but it has enough automatic and semi-automatic features to satisfy anyone new to digital SLR photography.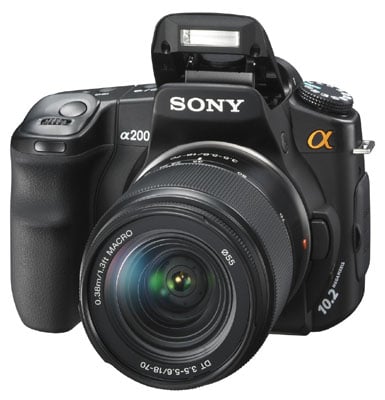 Sony's Alpha 200: an 18-70mm lens is included
Take the A200 out its box, attach the supplied 18-70mm F3.5-5.6 lens and you're presented with a very handsome camera. Measuring 130.8 x 98.5 x 71.3mm and weighing 532g and you also have a fairly compact machine too.
At the top is a large mode dial, a pop-up flash, a small drive mode/self timer button, ISO button, shutter button and small dial for adjusting parameters such as shutter speed and aperture setting. On the back is a power on/off slider and two small buttons for adjusting, respectively, the exposure compensation and the AE Lock.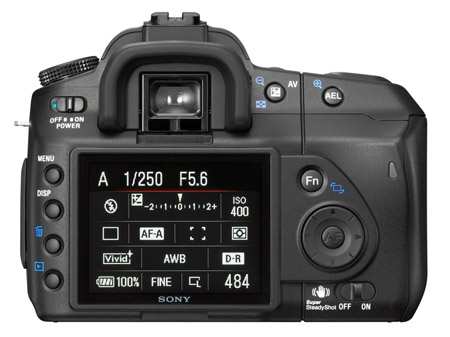 The Alpha 200 has a bigger display than its predecessor
Below these are a large, 2.7in LCD screen; rocker selection switch; and Super Steady Shot on/off slider. There's also a handy function button that makes it dead easy to adjust a range of settings including flash mode, autofocus mode, metering mode and white balance. On the left hand is a vertical row of four small buttons for the menu, display mode, deleting pics and playback.
On the right of the camera is a flap for a Type I and II Compact Flash card, but this being a Sony camera, you can also use various types of Memory Stick Duo cards with a CF card adaptor. At the bottom is a battery cover: the A200 uses a Sony "stamina" battery, which is claimed to offer up to 750 shots. It certainly seems about right, because after we had shot almost 250 images, there was still more than 70 per cent capacity left in the cell.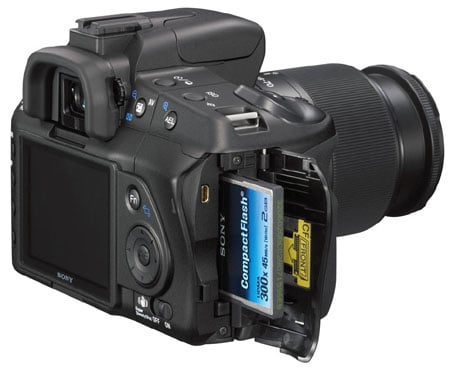 Pictures are stored on CompactFlash cards
Like its predecessor, the A200 has a 10.2-megapixel CCD. The ISO range has been extended to 3200 (the lowest setting is ISO 100) and the shutter speed range is 30-1/4000 sec. You can shoot JPEG or RAW files or both together if you want - Sony provides RAW converter software; more on this later - and the file sizes available are 3880 x 2600 pixels (RAW) with JPEG images available in three formats: large (3872 x 2592), medium 2896 x 1936 and small (1920 x 1280).
Other goodies include image stabilisation, a dust-removal system that not only has the CCD coated with anti-static indium tin oxide but also shakes the sensor every time the A200 is switched off. This, Sony says, will cast off any stray dust particles. There's also a D-Range Optimizer, which is designed to balance the exposure when shooting a subject against a backlight.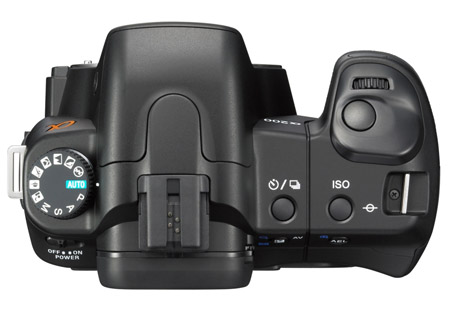 The A200 is ready to shoot in less than a second
Switch on the A200 and it's ready to shoot within a second – there's no hanging around with this camera. There's hardly any shutter lag either. We really liked the way this camera handled. Using a bit of old technology from Minolta, the A200's autofocus system can be activated by simply putting your eye to the viewfinder - you can turn this mode off - an action that also switches off the LCD.
The A200's menu screen is clear, bright and very informative, providing a wealth of useful information including flash mode, exposure compensation setting, ISO, white balance and the number of shots available. If that's too much information for you, press the display button and you can either reduce it or switch it off completely. The function button even lets you adjust the colour temperature on the white balance control.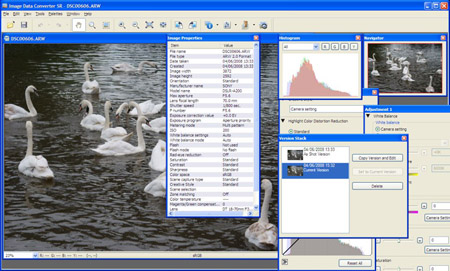 Sony's Image Data Converter SR software lets you make adjustments to RAW images and then save them in various file formats
Naturally, there are plenty of camera modes, including auto, program auto, aperture priority, shutter priority, manual and pre-sets for sport, landscape, macro, portrait, sunset and night view. Sadly, only icons are provided for these modes - on the mode dial and screen display. We think it would be helpful if there was just a short text description too as some of the icons are rather vague when it comes to indicating what a particular mode is.
But this is just nit-picking, because the A200 was a delight to use. We especially liked the playback options, including one that displays the previous four or next four pictures as tiny thumbprint images above the main image, making it easy to select images. The camera grip is comfortable and the A200 feels well balanced in the hands. The viewfinder gives you a good view of the scene and provides useful information like shutter speed and aperture setting. The tabbed menu system is straightforward to use too.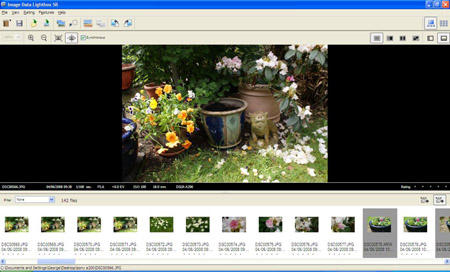 Image Data Lightbox software lets you display and organise images on your PC
When it came to performance, the A200 didn't let us down either – well not too much, anyway. In auto mode, you're more than likely to get good shots, whatever the shooting situation. Picture noise was low, and even at ISO 1600, images weren't plagued with noise. The exposure compensation control works well and the nine-point AF system was swift and accurate. The sport mode, which causes the A200 to shoot continuously at 3 frames per second, the camera locked on to the target well and the AF system coped as we panned around quickly.
Sample shots
Click for full-size images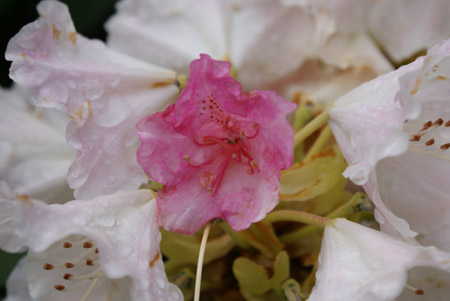 You can take some nice close-up shots, but the camera struggled at times in the macro mode

We adjusted the contrast with the supplied RAW software to make the water look black rather than the muddy version in the original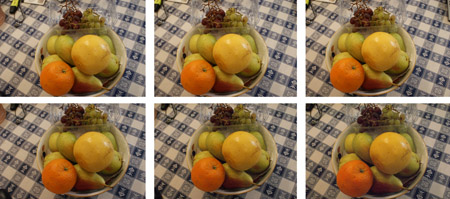 We were impressed with the low noise level (clockwise from top left: ISO 100, 200, 400, 3200, 1600, 800)
We liked using the A200 for landscape shots in particular

Even when shooting in auto mode, you have a fair degree over the exposure level using the exposure compensation setting
The macro mode wasn't bad, but the A200 struggled at times with close-up shooting and we often had to move a fair bit back from the subject to get a sharp image - or, in the case of auto mode, to get the A200 to even take a shot. We weren't that impressed with the D-Range system either, which didn't seem to make a lot of difference when we shot against a backlight.
But these gripes aside, the A200's image quality was very good indeed. We also liked the software that came with the camera – the Picture Motion Browser lets you organise your images on a calendar, as well as retouch, print or save to disc. The Image Data Lightbox offers a good way of displaying and sorting images on your PC, while the Image Data Converter is a neat way of displaying, editing and converting RAW images.
The software lets you tweak a number of parameters, including white balance, hue, saturation and contrast, and once tweaked, you can save the edited image as a RAW, JPEG or TIFF file. It's quick, simple and very useful for various image adjustments.
Verdict
This is an impressive camera that is ideal for anyone starting on the road to digital SLR photography. It's got a fair spec and performs well, but it's in the handling department that this camera really shines. It won't confuse you with lots of bells and whistles or confusing menu systems, but it will let you take good pictures with little effort.