Original URL: http://www.theregister.co.uk/2008/06/06/horrible_science_abominations/
What hell hath science wrought lately?
A quick guide to man's abominations
Posted in Science, 6th June 2008 23:48 GMT
In the beginning, things were simple. That's arguably because people were far more stupid, but let's not split hairs.
The point is, along came scientists with their fancy protractors, Bunsen burners and diesel-powered speedboats to complicate everything. Today there are scientific abominations all around us — and yes — they are coming to get you. (And we were hoping to keep this from you a bit longer, but they are also coming for your loved ones and family pet too.)
Seeing as how things move so quickly in this day in age, we thought it worthwhile compile a short list of some of things you need to worry about over the weekend.
Quoth Illidan: You are not prepared.
Chimeras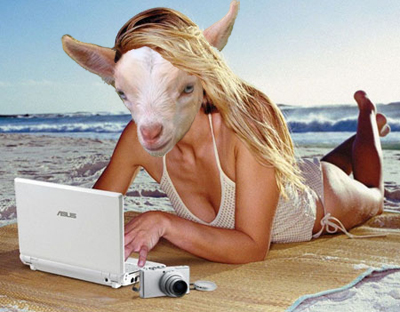 Science will ruin everything. Everything.
Scientists at the University of Nevada say they've figured out how make a human-sheep chimera. That's a sheep with 85 per cent animal cells and 15 per cent human cells.
It's done by an elegant process of sucking stem cells out from a person's bone marrow and injecting them into the unripe belly of a sheep fetus. The apparent point is to one day let animals rather courteously grow our organs for human transplant.
Here's the deal — the only place where human bone marrow and sheep fetuses should be mixed together is the grinder in a hotdog factory. And sheepmen? Really? We'll bet a good portion of our readers have turned off the filtering on Google Image Search and accidentally seen drawings of what some people fantasize doing to human/animal hybrid creatures. (And Mrs. Buttersworth too, apparently. I still have nightmares.)
If all that's not enough to scare you, this author has a handy little reference manual called a "D&D sourcebook" and it flat-out says Chimera are by nature chaotic evil. And 2d6+4 bite attacks aren't something our children should be exposed to. Ever.
Call me old fashion.
But back to the organ thing. A lot of us sleep better knowing, worst comes to worst, there's a guy that knows a guy who will pay a lot of money for a human kidney — no questions asked. Suddenly Joe Renal Disease can upgrade to an A-grade sheep organ for a song. Where does that leave us growing organs au naturel? These creatures are coming for our rent money too.
Danger level: 3/5
Boston Dynamics walking robotic horror
Robots, oh my yes, now here's a subject ripe with abominations every which way you look. Gaze upon the terrifying rubbery face of the future and despair. Know how easily robots turn on their masters and even attempt to indoctrinate our children. Nasty pieces of work, robots.
And yet, robots have a terrible secret.
Lean in closer, they may be watching.
OK, most robots aren't just cumbersome, they're cumberall. Completely full of cumber. They're nature's tortoises — ah — or something. Look, friend, the analogies aren't important here. What we're getting at is that one good kick and a Gort is down and dreaming of electric sheep.
The all mighty foot was going to be our secret weapon for the nearing robot apocalypse until scientists mucked everything up. Again. Enter Boston Dynamics's BigDog quadruped robot.
Watch the video. Not only is the goat-legged robot just straight-up unsettling, it can take a gigantic sole-studded heave — while walking on ice no less — and makes a dainty recovery.
We'd like to think the folks at Boston Dynamics are a responsible group. We'd like to think that. But all it takes is one person with a clever idea to install some spare cyclone dreadlord missile launchers or plasma bolt guns laying around and we're all completely done for.
At least with BigDog's horrible buzzing noise, the quadruped doesn't stand much of a chance sneaking up on a human. That can make all the difference in a battle to the death [We're using the fight between Captain Kirk and the Gorn as a model - Ed].
Danger level: 2/5
Chinese open 36-kilometer bridge
The 36-kilometer long Hangzhou Bay Bridge was opened to the public last month, and is considered the longest sea-crossing bridge in the world. Oh wonderful. People love big landmarks.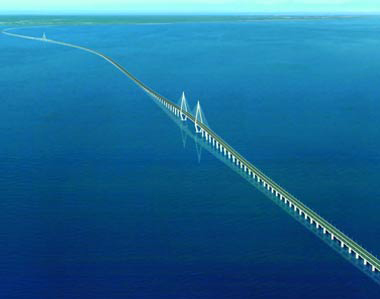 Hangzhou Bay Bridge
Oh hey, you know what also loves landmarks? Giant monsters. And do you know where giant monsters live? The sea.
Thanks, China, for tempting any evil behemoth slumbering beneath the briny depths in a 1,000 kilometer radius to say hello. We give this bridge five months tops before Dagahra goes on world tour.
Danger level: 5/5
DHS Brainscan
The US Department of Homeland Security (DHS) no doubt has many scientific horrors in mind for the nation's citizens. Yet few are quite so obviously sinister as dreaming up "Project Hostile Intent."
The proposed device, developed by the Human Factors Division of the DHS Science & Technology directorate — scared yet? — is to probe airline passengers for signs of deception or hostility.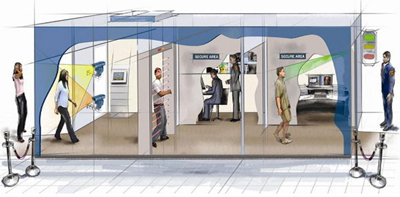 Isn't this how Sylvester McMonkey McBean changed star-bellied Sneeches?
But perhaps you live in, oh, northern Liechtenstein and don't plan on visiting the US any time soon. Nobody's about to plumb your precious noggin, right? Well, perhaps. That depends on where you stick it. But even the most vigilant chap or lassie isn't safe.
Here's how your life will end: [spoiler alert] Who seethes with more repressed hostility and deception than your average IT worker? Just have a look at our comments section for proof. Fact is, this contraption will be shipping America's tech industry to Guantanamo faster than you can say Sweet Land of Liberty.
Pow. A major piece of the web's infrastructure grinds to a halt. And with it goes a few thousand zombie systems spamming ads for knockoff Rolex watches and Viagra. Now the idiot living one house over is late for work, sexually unsatisfied, and has money burning a hole in his pocket. It's only a matter of time before he buys a gun and shoots you in the face. Maybe you should have trimmed that tree branch creeping over his lawn after all. Guess that makes you the jerk.
Danger level: 2/5
European Space Shuttles
NASA boss Michael Griffin has recently tried to persuade Europe to build its own manned space vessels. This is an extremely dangerous idea.
He claims that during the period between 2010 and 2015, no Western nation will have technology able to carry people into space. That's because the US is retiring its current shuttles at that time and won't be ready with the new Orion program gear for five years.
Apparently the US doesn't want to rely on China or Russia to give their astronauts a ride to work. Not surprising. Americans were never big on public transportation.
How does this affect you? Space debris, my friend. Space debris.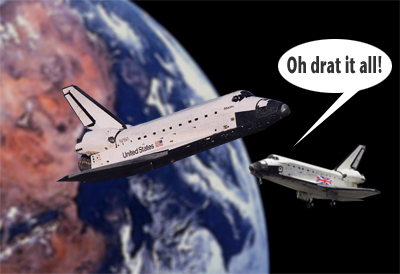 Liberate Tutemet Ex Infernis, over.
Thus far, only one person on record has been hit by man made space debris. In 1997, an Oklahoma woman was smacked on the shoulder by a 10x13cm chunk of fuel tank from a Delta II rocket.
So here we have a chap, who is by all accounts an intelligent man, telling a continent of people who don't even drive on the correct side of the road to navigate space?
The last thing we need is US, Chinese, and Russian pilots surprised by an EU rocket spinning in on a counter-clockwise orbit just to be different. It's going to be a bloodbath up there. And we won't be held responsible when all hell rains down from the skies!
Danger level:

®