Original URL: https://www.theregister.co.uk/2008/06/04/chinook_nao_distracts_from_real_helicopter_problems/
Time to move on from Chinook to the real MoD cock-ups
Dead horse floggers lack guts to face live nightmares
Posted in Policy, 4th June 2008 12:36 GMT
Comment The British government has issued yet another damning report into a famous and long-running Ministry of Defence clusterfuck, the case of the Mark 3 Chinook helicopters. Meanwhile, far more expensive procurement errors - in which the chance to improve matters didn't pass by long ago - continue to be largely ignored.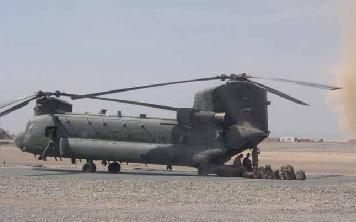 Not actually the problem child.
The Chinook story is well known. Way back in 1995, the British forces, desperately short of general-purpose lift helicopters, managed to free up some cash in an attempt to get some more. Twenty-two British-Italian Merlins, each capable of lifting about four tons, were ordered - they wound up costing around £35m each (around £750m all up) and to this day are plagued by low availability.
In addition fourteen new American Chinooks were ordered, able to lift ten tons apiece, for £20m each (total spend £280m, a quarter of the helicopter money). Those Chinooks which managed to join the RAF's existing fleet showed good availability, so much so that an RAF Chinook in recent years has been about twice as likely to be available for use as an RAF Merlin.
All this means that Merlins offer about one-sixth of the capability for the same money as Chinooks do. This was known in advance; back in 1995 senior MoD officials insisted on orders in writing before ordering the Merlins, as this plainly offered poor value for money. This has never been widely reported.
What has been widely reported is what happened with the Chinooks. Eight of them were intended for use by the UK's special forces, and the MoD told the manufacturers to kit them out with a customised, unique cockpit avionics fit. Boeing did so, fulfilling the contract spec. At this stage, the MoD needed to certify the special choppers - designated HC3 - as airworthy (the civil aviation authority doesn't handle military aircraft). After much internal wrangling, the MoD decided that it couldn't clear the special Chinooks for instrument flight, meaning that they could fly only in daytime and nice weather. This rendered the HC3s useless, and as a result they have sat in hangars in the UK for the past seven years while the MoD argued with itself about what to do. (The other six ordinary HC2 Chinooks went to war without trouble).
Over the years, various politicians and Whitehall officials have vied with one another in issuing colourful condemnations of the idiotic Chinook HC3 buy. ("The MoD might as well have bought eight turkeys", "the most incompetent procurement of all time", "gold-plated cock-up" etc.) It has become a fashionable target for abuse.
While all this has been going on, the UK has plunged into two large wars in which helicopter lift has not only been a major limiting factor on achieving anything, it has also been the difference between life and death for many of our troops.
The Merlin isn't much good in the hot-and-high conditions of Afghanistan, where only the most powerful helicopters - like the Chinook - can lift a useful load. It hasn't done much good in Iraq, either, largely because of its amazingly low availability - in recent times, the whole fleet of 22 has often been able to deploy no more than five choppers to Iraq. Even these five have suffered 20 per cent downtime. This has on at least one verifiable occasion led to an otherwise unnecessary ground convoy setting out and being hit by roadside bombs, causing the death of Major Matthew Bacon and the horrific maiming of two other British soldiers.
No apologies are offered for repeating the statement of Major Bacon's family, which we gave the last time we covered the shameful state of British military helicopter lift.
Matthew was just 34 ... He was just reaching his full potential and had everything to live for. His life was full of happiness... The real tragedy is that he had been booked to go on the regular helicopter flight between those two places. If it were not for the breakdown because of a fault with the hydraulic systems of the Merlin helicopter that was due to collect him and 20 others from Basra Palace at 7am that morning he would be alive today ... To us, his parents, his brother and his soul mate he was truly a hero.

We cannot imagine how life can go on without him.
Just before Christmas, the MoD announced that it would short-circuit the unbelievably tortuous process it was following towards getting the eight custom-ruined Chinooks cleared to fly. It will now take a quick and dirty path, bringing the birds into service from 2009 at an extra cost of £11m each. Some pilots are unhappy with this plan, as new displays will somewhat obscure the view from the cockpit - they'd have preferred a longer-drawn-out route delivering a nicer instrument layout. Tough, frankly. The MoD has had more than enough time to fiddle with those helicopters.
So the eight duff Chinooks will wind up having cost around £31m apiece - still cheaper than a Merlin, still more than twice as powerful, still much easier and cheaper to maintain. The RAF Chinook fleet will continue to be the best, most in-demand, most available, hardest working and most cost-effective helicopter type in British service.
The Chinook HC3 story is a noteworthy cock-up, right enough. Some eighty or ninety million pounds were wasted, and desperately-needed lift was delayed for years. But the Chinook HC3 saga was over last year.
By contrast, Merlin and Westland madness continues. The last MoD procurement chief (and UK arms industry glove-puppet) Lord Drayson decided to sort out the Merlin's awful availability by simply hosing down the Westland factory (now Italian owned, as AgustaWestland) with even more cash, under a "Strategic Partnership" deal. He ordered even more Merlins, too. Not content with that, he also gave AgustaWestland a billion pounds in 2006 - almost as much as the whole 1995 buy - for which the Army and Navy will get a fleet of 70 small Lynx helicopters for £14m each, delivery from 2011.
Just for comparison, Sikorsky took an order the following November from the US Navy for 10 Seahawk choppers, each twice as powerful as a Lynx, for about £6m each. These copters are being delivered now.
The Future Lynx deal is Merlin all over again. If we'd spent the Merlin money on Chinooks in 1995, we'd have more than doubled our Chinook fleet and seriously addressed our lift problems. We could take the Future Lynx money, buy an equal number of Seahawks instead, get them sooner and still have £580m left - with which we could buy another twenty Chinooks, minimum.
Perhaps the National Audit Office should be doing a report into that now, while the Future Lynx deal could still be scrapped, rather than raking over Chinook HC3 yet again. Perhaps the caustic Edward Leigh MP - chairman of Parliament's public accounts committee - might like to polish up a few soundbites on something that's happening now, rather than a cock-up made in the late 1990s.
Of course, that would involve a clash with powerful British industrial interests. There would be political costs. AgustaWestland would fire British arms workers if their ridiculously expensive contracts were taken away. Mr Leigh, the NAO et al would all have a most unpleasant and stressful time if they followed such a course.
But not as unpleasant a time as Major Bacon's comrades and family are having. Not to mention all our other dead and crippled service people, and all their families, and all their comrades in combat overseas right now - all paying the bloody price of missing helicopter lift. ®