Original URL: http://www.theregister.co.uk/2008/06/02/review_iriver_e100_mp3_player/
iRiver E100 MP3 player
Low price, low quality?
Posted in Personal Tech, 2nd June 2008 12:14 GMT
Review In recent years, iRiver has established a reputation for knocking out good media players aimed at the slightly more discerning audience. With the E100 it's trying to move a little more into the mass market.
The all-plastic casing of the E100 is a clear indication that what we have here is a device built down to a price. Having said that, the plastic is of a high quality and it doesn't squeak, creak or bend no matter how you abuse it. The player weighs an unremarkable 59g and measures up an equally unremarkable 93 x 48 x 11mm in size.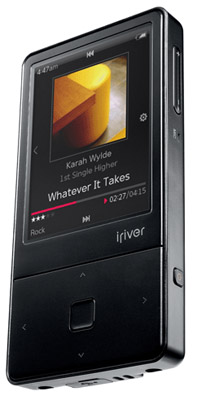 iRiver's E100: built down to a price?
External controls are limited to a volume rocker that falls easily to hand on the right side of the unit; an on/off button below it; and a control-lock slider on the opposite side.
The MicroSD card slot at the top of the player and the mini USB slot at the bottom both have plastic covers that unclip easily enough with even the shortest of fingernails. The base is also home to a 3.5mm headphones jack and a similarly-sized line-in socket. The bundled white earphones look a bit like those supplied with an iPod, and are of a similar quality.
Something you will need to be careful of is the Micro SD slot cover. It doesn't sit quite flush with the surround and if you push it down the memory card has a nasty habit of popping up out of its housing.
The E100's technical spec is typically iRiver-thorough. File support extends to MP3, ASF, Ogg, Flac and WMA on the audio front; and WMV and Xvid AVI on the video. Hardware-wise you get two small built-in speakers, an FM radio - which needs the earphones cord for an aerial - and a record facility that will work via either the internal microphone or via the line-in jack. Recordings are stored as WMA files at either 192, 128 or 96Kb/s. The E100 also supports Jpeg, BMP, PNG and GIF picture files and has a TXT file viewer.
Controlling the E100 is straightforward enough. All settings bar volume are accessed using the four-way navpad and central 'OK' button, situated below the screen. Everything is easy to find with the exception of the sound settings menu: you access that by holding down the right side of the navpad, but you have to read to manual very, very carefully to discover this. Or discover it by accident.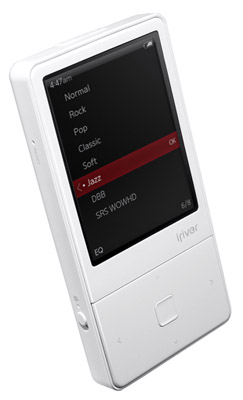 Lacks tactile satisfaction
While the navpad controls work just fine, the 'click' action at the four compass points feels and sounds cheap, and is wholly devoid of anything that could be described as tactile satisfaction.
The menu arrangement is generally fine, and a handy little arrow or icon appears on screen to let you what you can do by pushing on any of the navpad's four sides in any given view. One feature did irk us though: when you click on Artist, you get all the tracks listed - admittedly in the correct order - album by album, but without any indication of where one album ends and another begins. This state of affairs is aggravated by the fact that menu navigation is just a little on the sluggish side, making scrolling up and down long lists of songs a rather tedious operation.
By way of example, scrolling through the entire Simon and Garfunkel discography took over ten seconds. Not a vast amount of time, we grant you, but then again S&G only turned out five relatively short studio albums in their recording career. Far better for all concerned if clicking on S&G took you to the five album titles, iPod fashion.
Another aspect of day-to-day navigation that aroused our curiosity was that rewind and fast forward are activated by pressing on the top and bottom edge of the navpad rather than the left and right sides as common sense would perhaps dictate.
Audio quality is an area in which you wouldn't expect the E100 to disappoint, and it doesn't, producing a sound that is clear, punchy, well balanced and with plenty of volume. The main bells and whistles sound modifier is SRS' WOW HD with TruBass. Silly names aside, it's one of the less obviously intrusive sound modification systems we can have come across on an MP3 player and opens out the sound without making things sound hopelessly artificial.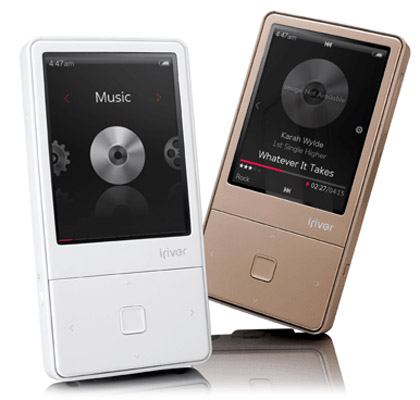 External and internal memories not integrated
Being able to make tracks fade in and out when started or stopped is a nice, if ultimately peripheral, bit of functionality.
The E100's 2.4in, 320 x 240 pixel, 262,000-colour screen is nothing out of the ordinary being rather susceptible to changes in viewing angle and having rather poor contrast. Dark colours could also look darker and less pixelated. Even so, a 15f/s AVI file of The Incredibles proved fairly watchable as did a one-hour DVD rip of an episode of Band of Brothers that we encoded to WMV at 30f/s using the bundled iRiver Movie Converter.
Now for an important announcement. For reasons best known to iRiver, the E100 doesn't integrate media stored on the Micro SD card with the contents of its internal memory. So, assuming you have an memory card that matches the memory capacity of your player you will only be able to access half the files via the main Artist, Albums and Genres menus, the other half will have to be accessed via the 'Dir List' external memory menu.
This sucks, quite frankly, and rather knocks for six one of the main reasons for buying an E100 in the first place.
There may be a good reason for this glaring omission, but it sure isn't anything to do with the time taken for the player to sort out content once loaded. The E100 is pretty slow on this front taking a good half-a-dozen seconds to get its act together and rebuild its contents database following the addition of files.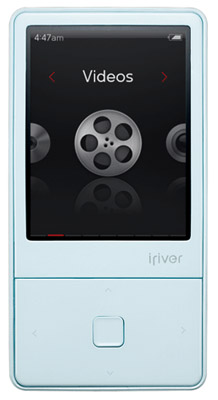 The E100's audio quality does not disappoint
Another niggle is the fast forward and rewind facility, which is annoyingly jerky irrespective of speed, leaping ahead by seemingly random numbers of seconds. When we upgraded our E100's firmware from version 1.03 to 1.06 we did see an improvement in smoothness in the x2 and x4 scan speeds, but the x8, x16 and x32 speed settings remained erratic.
This may not be much of an issue when zipping through a three-minute pop track, but it is a major pain in the backside if you want to skip smoothly through something longer as we did with Górecki's O Domino Nostra, which runs to over 21m 30s.
Having to go into the Settings menu every time you want to change the scan speed hardly helps matters, either.
On-the-go playlists are something iRiver has seen fit not to bless the E100 with, so you have to set them up via the supplied iRiver Plus 3 media management software. You will also need to make sure your music files have ID3 v2.3 or later tags or songs and albums will end up in the 'unknown' zone.
iRiver quotes 17 hours of playback per charge. Leaving it on repeat play overnight, we got 15-and-a-half hours out of it before it died. Charge is officially conveyed only through a USB cable, but in the spirit of enquiry and adventure we stuck an HTC USB phone charger into it and are happy to report the E100 charged up nicely without exploding.
The E100 is available in 2, 4 and 8GB versions, and in a range of pretty horrific colours including a Zune-like brown.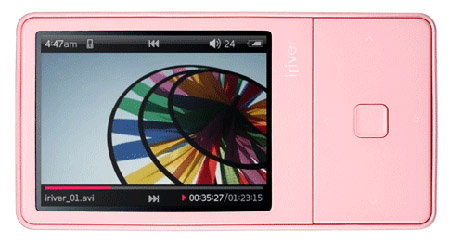 The E100 is available in a range of quite hideous colours
On a closing note, the word out of Korea is that iRiver will release a revamped E100 later in the summer with an aluminium case and upgraded screen, but minus the built in speakers - which apparently makes it a little slimmer. No news on how much the E100 2.0 will cost, or if the memory integration issues will be addressed, but it's probably wise to wait and see until you part with your hard earned on the current incarnation. The speed with which the E100 Mk. II has surfaced suggests iRiver know they have got the Mk. 1 wrong in a number of ways.
Verdict
Not a bad box of tricks performance wise, and blessed with better-than-average file support and Micro SD storage expansion. But you really have to not mind your media being presented to you in two separate chunks. It's bad enough if you're using a 2 or 4 GB memory card, but imagine using a 16GB one? You'd have two-thirds of the player's musical content only accessible through a basic Directory menu. No thanks.