Original URL: https://www.theregister.co.uk/2008/06/01/san_jose_internet_filter_demonstration/
The Reg surfs for porn with a San Jose councilman
City's libraries oppose filters
Posted in Policy, 1st June 2008 08:02 GMT
It was probably the most tits and ass the San Jose, California city hall has hosted in recent memory. By official means, anyhow.
In the center of Silicon Valley on Friday evening, about two dozen people sat in the public chamber watching city councilman Pete Constant cruise the internet for porn.
With a satisfied look on his face, Constant queried "orgasm" into Google — while the audience watched on three huge projection screens placed in the room. Then he tried "women's asses," then "bush tits".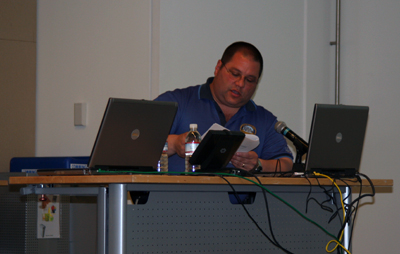 Councilman Pete Constant
Constant has been fighting since October for the city to overturn its current policy, which was adopted in 1997, to allow unfiltered internet access at local libraries. His demonstration was to show that content-control software has come a long way in accurately censoring inappropriate excesses of skin, while leaving legitimate websites alone.
The demonstration went well enough through a list of naughty and nice sites previously given by his opposition at the city's libraries. But things got a little rocky when audience members began submitting comment cards with sites and search words to test the WebSense filter.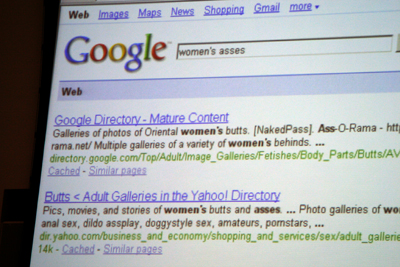 For purely demonstrative purposes, of course....
The filter was successful in leaving searches like "magic stick" (a 2003 single by artist, Lil' Kim) and, yes, "great tits" well enough alone.
But a search for "panocha" gave up a racy picture of a be-thonged young lady bending over in an extremely explicit fashion. Results for "art nudes" was a mixed bag black and white photographs of splayed naked women and blocked sites. The filter successfully blocked porn videos under the query "whore," but also blocked a Gothic clothing shop and other innocuous sites.
(And if you ever get the chance to see images of STD-infected genitals simultaneously blown up on three giant screens — pass that deal up.)
Oddly enough, this reporter was the only audience member attending with a laptop in tow to verify if the blocked sites were actual pornography or not. Constant claimed several successes when in fact, upon personal inspection (sometimes this job is terrific), they were legitimate web sites.
Regardless, it appeared that the demonstration left both sides unmoved from their positions.
Constant's indignation over a lack of filtering was sparked after a local television news "investigation team" did a hidden-cam expose on inappropriate computer use at the city's main library. It filmed several people browsing porn, and sometimes when children were within range of seeing it.
Since then, Constant has crusaded at his local beat against what he calls "second-hand porn", and a policy he claims has made the city's libraries a bastion for men viewing porn and exposing themselves in public. And, in fact, there have been some problems. In the city libraries' 2006-2007 budget year, there were 12 arrests for computer-related sex crimes.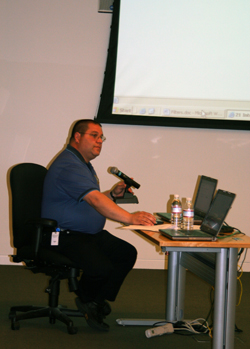 Constant declined to discuss policy
But opponents say that's an extremely small percentage of the thousands who use the computers, and installing and maintaining the software is costly and ultimately ineffective. Primarily, the issue is freedom of speech. Many are concerned over the software blocking legitimate information in the public computers, such as health and research sites. And then there's handing a software company the authority to say what is pornographic and what is not.
Among those fighting a filtering policy are officials from the San Jose State University, which jointly runs the city's major libraries. The city attorney also expressed worries over possible civil liberty violations.
Most of the admittedly small attending audience at Friday's demo appeared to oppose the idea as well. While a handful of folks rose to challenge Constant's cause, he refused to discuss policy until the city takes its official vote on June 17.
"Fascist pig," growled one young man as he stormed out of the chamber.
"This is censorship, Mr. Constant," said resident Dave Breithaupt.
Also at the demonstration was the local chapter of the American Civil Liberties Union. "We were really just here to observe," said Skyler Porras, San Jose director of the ACLU of Northern California. "We remain concerned, incredibly concerned."
Porras said she was unimpressed by the demonstration, saying it was far from a scientific study. And even then, there were several examples of sites that should have gotten through that didn't.
Constant did have some support in the crowd, however, like Larry Pegram, former councilman and president of a group called the Values Advocacy Council.
"I thought the demonstration went exceeding well," said Pegram. "While the whole First Amendment issue is important, the US Supreme Court has said communities have the right to control the content of what is on the screens of their public libraries."
"The issue that has to be decided by the council is if they want to continue to display pornography in their local library or not," said Pegram.
Pegram wasn't troubled over sites that were erroneously blocked. "Nothing's perfect," he said. "There's no perfect system out there." ®