Original URL: http://www.theregister.co.uk/2008/05/30/review_jawbone_bluetooth_headset/
Aliph Jawbone Bluetooth headset
We'll be sticking fish in our ears next
Posted in Hardware, 30th May 2008 12:12 GMT
Exclusive Review Hands-free headsets are a boon for mobile users. Not only can you pretend to be Lieutenant Uhura, but you can write while you're on the blower or drive more safely. And legally.
Last year, Aliph released the Jawbone, a Bluetooth headset that was different from most earlier devices because it was sufficiently stylish for you not to feel a like plonker, and because it was easy to set up.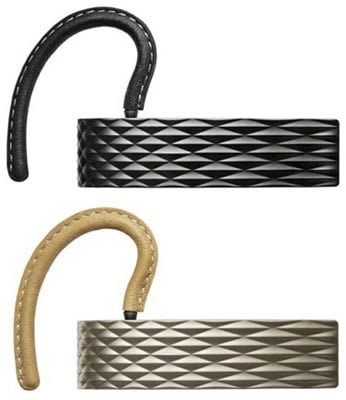 Already available in the US and Australia in black, silver and rose gold
Where previous headsets had proved challenging to pair and stay paired with a phone, Jawbone was simple and effective. It even had pretensions to being cool because its noise-cancelling technology had been developed for an American military defence agency.
Now, Aliph has refined the design and the technology to deliver a more powerful and neater new Jawbone. The new one is noticeably smaller, half as wide, much less thick and a little shorter. Although the MK1 wasn't huge, many will find the latest size-zero model preferable. Measuring 5.5 x 2.5 x 1.5cms and weighing around 10g, it's certainly much lighter, to the extent that you aren't as aware that it's there.
Still, since the sight of a guy wandering around with lights flashing on a headset permanently in place is not exactly something to imitate, forgetting it's there may not be an unalloyed advantage. At least the indicator light is subtle, a tiny white blip that flashes only occasionally and is otherwise invisible behind the matt-black, textured surface.
This disappearing light is impressive, but also brings up the Jawbone's first flaw. You switch it on by pressing on the casing for a second or two. The white light appears to tell you it's been activated, but it's positioned not quite halfway down the unit, exactly where we found ourselves placing a thumb. It's not a big problem, and it's easy to learn where to press so you can see the confirming flash, but it's not as simple as it was in the first incarnation.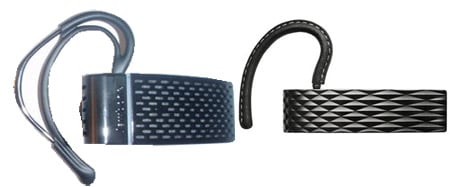 Old and new. Left and right, respectively
The other main change to the look of the machine is you no longer need to wear an over-the-ear hook. While the first version worked, just, if you screwed it into your shell-like without the hook, this lighter version is a big improvement, holding steady without extra assistance. Mind you, if you prefer the extra security of the hook, a selection of improved, thinner attachments is supplied. You can choose between medium or large ear hook (both supplied in leather and wiry rubber variants).
They're easy to fit and choosing the right one makes a lot of difference. And for your lughole itself, there are small, medium or large earpieces to ensure the perfect fit. This level of attention to detail is even reflected in the design of the charger. It's grey, to stand out from the endless black plugs and connectors littering modern living rooms. You can charge from the wall or through USB and the Jawbone attaches to the cable by magnet. Apple uses this for good safety reasons on its laptops, of course, but here it's just cool.
The Noise Shield on the earlier model was effective, but not perfect. Standing in the park on a windy day left a lot to be desired, as did driving with the window open. Thankfully, this has been largely improved in the new model.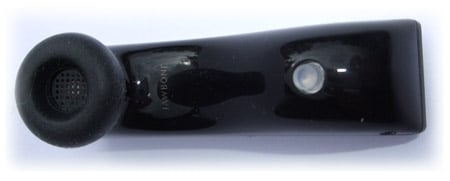 A sensor detects your own jaw bone move as you talk
It works by means of a sensor that rests on your cheek and can feel your actual jaw bone vibrate as you talk. The ear hook on the earlier device worked partly as a spring to hold the sensor against the cheek. The lighter, newer model doesn't need this extra assistance. This sensor, alongside two other microphones that monitor the environment, helps the device determine what's you and what's background noise. It's these other mikes that picked up blustery noises before, as they were direction mikes, though this has been changed in the latest iteration, making it more wind-immune.
The technology has changed names, too. Noise Shield is gone - it's now called Noise Assassin, which sounds like it belongs on a ninja warrior. What next, Noise Nuke? Noise Obliterator? Suddenly it all begins to sound like the bellicose Looney Tunes alien, Commander X-2 and his Explosive Space Modulator.
Back on Earth, the Jawbone's noise-reduction system in switched on by default, but if you find it's not helping you, pressing the back end of the device - another cunningly hidden button and in a different orientation than last time around - switches it off. In practice, handling the Jawbone while it's in your ear takes care. It's easy to accidentally power down with an over excessive shove while sticking it into your ear.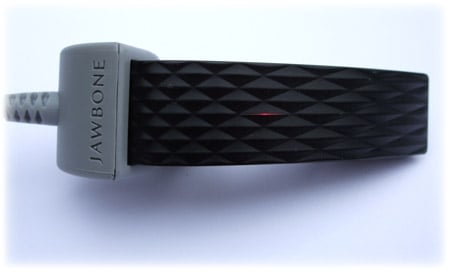 You can charge from the wall or through USB
The Noise Assassin button also works as the volume control. Rather than having two buttons to turn the volume up and one down, you use one button to scroll through the available settings from low to high and back. Needless to say this takes getting used to. The first time you switch on, the Jawbone goes into pairing mode so you can actually use it.
Every other time you need to make it available to pair up, you simply press both buttons together for a couple of seconds. Pairing Bluetooth devices used to be a real pain, and thankfully the Jawbone keeps it nice and easy.
In our tests, sound quality was good at distances of more than five metres, though at the full 10 metres that Bluetooth claims it sounded a little crackly. Charging times have been reduced, with Aliph claiming that you can charge the Jawbone to 80 per cent in half an hour or so. The earlier model had exceptional standby time, and there's a neat extra power-saving function here: if you and your phone move out of range of the Jawbone, after 15 minutes it switches itself off.
Verdict
Fans of the earlier Jawbone - and there were deservedly many for what was the coolest-looking, most reliable and easiest-to-use Bluetooth headset around - will enjoy the smaller, subtler new model with significant improvements to call quality. The buttons take a little getting used to and only one button to scroll through volume settings is disappointing, but this is an efficient, effective headset that matches or beats the best of the competition.
The Jawbone Bluetooth headset is available in the UK from June 3rd.