Original URL: https://www.theregister.co.uk/2008/05/29/review_samsung_soul_sgh_u900/
Samsung Soul SGH-U900
Immortal inner spirit, on sale from Seoul
Posted in Personal Tech, 29th May 2008 11:02 GMT
Review With touch control, a slim slider design, HSDPA mobile broadband and a 5-megapixel camera, the flagship Samsung Soul is aimed squarely at the hearts and wallets of style-conscious mobile buyers.
Working from the blueprint of its ultra thin-as-you-can phone family, Samsung has created a premium mobile with a more substantial build, and a heftier feature count that includes a 5 megapixel camera, high-speed HSDPA 3G connectivity – and Samsung's new Magical Touch user interface.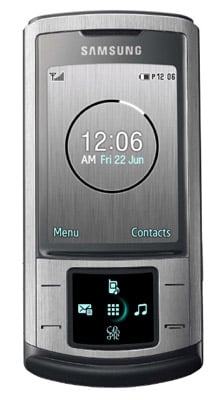 Samsung Soul SGH-U900: buzzing feedback
Touch control is nothing new for Samsung; it has a fast expanding range of fully touchscreen models. However, Magical Touch isn't a full-screen tap-to-control system, it's effectively a touchpad alternative to a conventional navigation pad.
Located where you'd normally get a D-pad control on a mobile, the touchpad features illuminated touch sensitive icons that change according to function or application is being used – it presents feature shortcuts in standby mode, shooting controls when the camera's in action, music player buttons when the tune player is engaged, and so on.
Haptic feedback provides a buzzing acknowledgment that touchpad buttons have been pressed, and usefully you can adjust the sensitivity of the pad to suit your touch tastes. Touchpad icon colours can be switched, too, with a spectrum of colours to choose from.
Unlike the LG KF600's similar-in-principle InteractPad touch control, the Soul's main control panel doesn't rely solely on a touch sensitive pad. Alongside it are standard pressable softkeys plus call and end keys. Initially this appears a bit odd and jarring as you move between feather-light touch and normal finger pressure, but you quickly get used to it.
Functionally, too, that makes it easier to regard the Magical Touch pad system as a smart D-pad control rather than anything more complicated you have to figure out. As such, it's a simple, intuitive way of working your way around the phone with which most mobile users will feel immediately familiar.
There is, however, the usual touchpad issue of accidental button pressing in a way that would be more difficult with a conventional navigation pad. The auto slider lock reduces the chance of this, but when you're holding open the phone you have to be careful not to let digits stray too close to the pad. It's rarely a disaster but unintentionally launching the music player or browser can be a tad irritating.
The menu system is straightforward stuff, with a typical Samsung menu set-up fronted by a grid of main menu options (that can be switched to a list, if preferred). Sub-menus can be negotiated by scrolling with the touchpad, or tapping keys for numbered options. The Soul's 2.2in, 16 million colour, QVGA display provides a decent enough platform for viewing content and working the phone.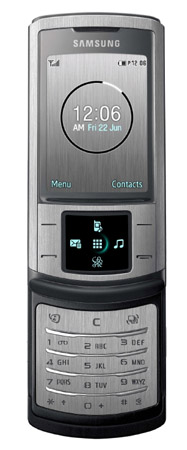 Classy casing, but hulky in the hand
The casing provides a higher quality feel than other Ultra phones. The brushed metal and rubberised plastic build look classy, although its 112g weight and 105.9 x 49.5mm dimensions make it feel more substantial than its 12.9mm thin profile might otherwise suggest.
The slider numberpad is a good size for digits, and although it has a flush surface, keys are adequately separated for easy texting. As well as the usual alphanumeric pad array, there's also a handy multi-function switching key, and a dedicated video call button – the Soul has a secondary camera for face-to-face calls above the display.
The 5 megapixel camera is tucked away under the casing when closed, so the slider has to be extended fully for any main camera action. Its five million-pixel shooter puts it in a category with the highest resolution cameraphones, but it's not quite as sophisticated as Samsung's imaging-intensive G800, which has an optical zoom, and it doesn't have a star-brand lens optics from the likes of Carl Zeiss.
Nonetheless, it's still capable of taking some high quality images. It has a sensitive and responsive autofocus system, with a 2-step capture button, which enables you to take more precise shots, and a macro shooting mode that can deliver excellent close up shots.
Additional shooting gadgetry includes a face detection software option, helping you to focus automatically on faces when composing shots, an anti-shake digital image stabiliser for improved handling (particularly good for lower light shots), and a Wide Dynamic Range feature for upping the quality of images shot in complicated lighting situations.
A wide selection of Samsung cameraphone settings adjustment options and effects are included, giving you plenty of tweakery to optimise your shots if you want more than quick-fire snaps. There's an LED flash next to the lens, which does offer some basic illumination, but not with the strength or effectiveness of Xenon flashes we've seen on other mobiles.
There's a dedicated camera button on the side of the phone, and the screen/viewfinder immediately switches to landscape when pressed. Holding the fully open phone like this doesn't feel right for a high-end cameraphone, although we appreciate that the design helps protect the lens without widening the girth. The zoom – on the opposite side to the capture button, on the bottom – is where you'd naturally grip the phone with your thumb, but once you realise this you can easily get by without accidentally pressing it.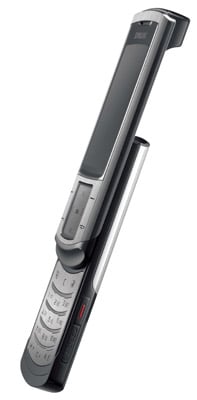 It's not the best cameraphone we've seen, but it can take some decent pics
The Magical Touch pad plays well with the camera; four icons appear for camera setting options – macro mode, timer, exposure adjustment, and flash on/off. On other phones, these might be shortcuts you could use by tapping the numberpad or D-pad, but the touchpad icons do make it simpler and quicker than most.
The majority of the detailed settings options are pulled up onscreen by softkey and touchpad combinations, much like a conventional cameraphone with its navigation pad.
The camera itself is capable of finely detailed shots, and colour rendition and exposure metering is generally of a high standard. Lower light conditions don't suit it, though, as the limited flash lacks punch for longer shots and can also overwhelm close subjects. Without the flash, subdued lighting introduces more picture noise and reduces picture quality.
Nevertheless, while it's not up there with the very best photo-centric 5-megapixel cameraphones, it still has the capacity for capturing some very decent quality images. Video capture quality isn't so good, however. It takes passable mobile footage, at QVGA quality, but is fairly average looking when replayed on a PC.
Unfortunately, the decision to supply average quality earphones with the Soul, and to provide no standard 3.5mm jack option for better quality headphones, considerably limits the phone's ear-pleasing potential. It's a real shame.
The loudspeaker is poor and tinny, but the earphones produce acceptable rather than impressive sound that's light on bass. You could try out a stereo Bluetooth pair as a wireless alternative if you want to improve sound without having to source a Samsung 3.5mm adapter. The music player interface is familiar stuff; song categories are of the usual type – artists, genres, albums, composers, podcasts, etc. – and the touchpad turns into a music control panel.
Similarly, the FM radio works effectively (with headphones plugged in), looks fine on the display, but isn't enhanced by having touch rather than navi-pad operation.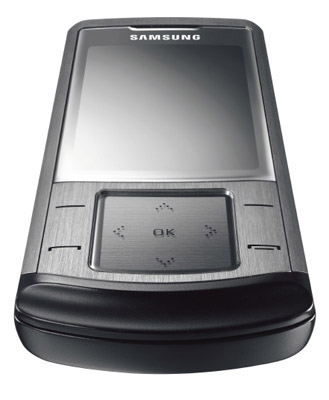 The casing provides a higher quality feel than other Ultra phones
Some 100MB of internal memory can be used for storing tunes and other content, though a side-mounted MicroSD card slot allows you expand this with cards up to 8GB in capacity. The phone can sync with Windows Media Player 11 on a PC, or you can use in-box Samsung PC Suite Multimedia Manager software and USB cable to load up tracks. Mass storage drag and dropping is another alternative, particularly if you're a Mac user – 'cause there's no software sync support for Apple.
High-speed HSDPA 3G data connectivity means you can download tracks at a fast lick too – up to 7.2Mb/s if supported by your network operator. Anyone hoping for Wi-Fi connectivity will be disappointed though – this mobile keeps the high-speed connectivity strictly mobile network based. Video clips can be downloaded or streamed too, with decent quality playback on the phone's screen in landscape mode.
Mobile broadband connectivity also gives a boost to browsing speeds. The phone has a NetFront v3.4 browser onboard that works reasonably swiftly at resolving pages – there are 'Smart-fit' mobile optimised page view and full page 'Desktop' view options, plus zoom controls to help navigate pages.
Battery life is quoted by Samsung at up to 4 hours talktime, or in standby up to 400 hours on standard GSM/GPRS networks or 250 hours on 3G. With the touchpad working in conjunction with a larger display, power consumption is potentially an issue. With moderate use, we had to charge up every 2 to 3 days, although more music player usage will increase charging frequency. It's not the best 3G phone for battery life, but it didn't appear to guzzle juice either.
Verdict
The Magical Touch touchpad will obviously draw attention, but while it is useful to have changing icons as you switch functions, the control system basics haven't changed that radically from a conventional navigation pad. It doesn't revolutionise the way you do stuff, it's just some functions are better illustrated. While that might appeal to some, it's not a must-have in our book. Touch sensitivity can also be a love-it-or-hate-it experience too, so we'd advise having a go before you buy. Pitched as a flagship phone, some may expect this premium mobile to pack in Wi-Fi, smartphone functionality or GPS satellite navigation. It doesn't. But despite a few issues, it's decently equipped for a mid-tier handset.