Original URL: https://www.theregister.co.uk/2008/05/27/virgin_atlantic_organisational_performance/
Virgin Atlantic site reveals sky-high employee disgruntlement
'Quick! The boss is coming!!'
Posted in Bootnotes, 27th May 2008 10:33 GMT
Times are hard and friends are few for the civil aviation industry. Airlines are going titsup left and right, while fuel prices rocket and passengers tighten their belts, metaphorically speaking.
Now comes shocking evidence from inside one of the world's leading carriers that the malaise is even more serious than we'd imagined, causing an under-performance in levels of "fun".
The news comes courtesy of Virgin Atlantic's recruitment pages. A chart has been posted to the site behind a button at the bottom of the left-hand navigation bar labelled "Quick! The boss is coming!!":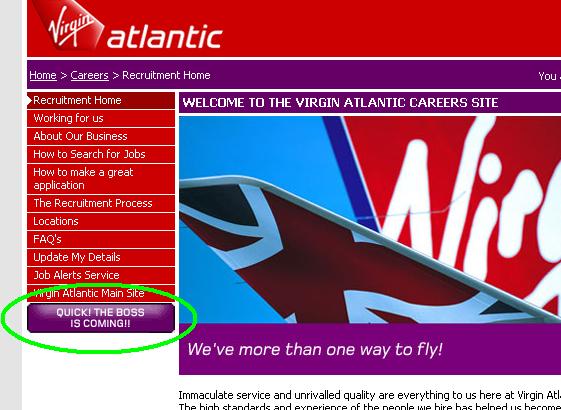 The chart purports to assess Virgin Atlantic's current organisational performance in categories including profit, morale (low), and boredom (high).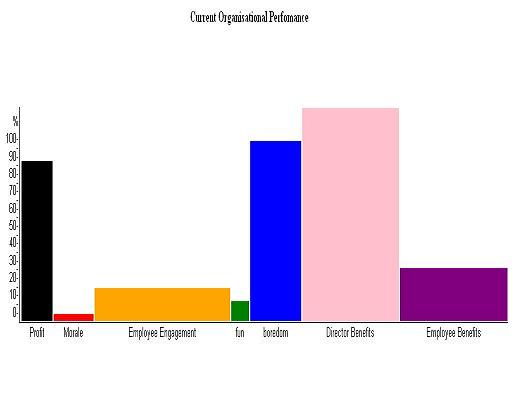 According to the figures, director benefits are performing at greater than 100 per cent, while employee benefits languish around the 25 per cent mark. Sounds about right, although we're certain the boss is on his way right now to demand removal of the chart, and to place its creators on secondment to baggage handling at Luton airport for the next six months. ®
Bootnote
An extra mini-bag of peanuts to Matt for the tip-off.
Update
Yes, we know it's a boss screen.