Original URL: https://www.theregister.co.uk/2008/05/27/philips_sensory_tv/
Philips' feedback telly watches your vital signs
TV adapts lights, sound and vibration to suit
Posted in Personal Tech, 27th May 2008 19:02 GMT
Philips may have found the perfect use for its blood pressure monitoring pants – a TV range that provides physical and visual feedback according to your body's changing vital signs.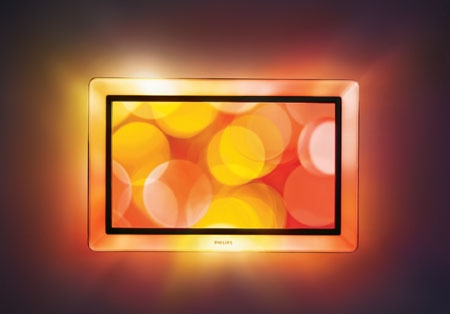 Philips' RelaxTV expands on Aurea's (above) features by adapting light, sound and vibration according to your body's vital signs
According to one source, the range is called RelaxTV. Although technical details are still scarce, it's believed the TV will adapt its Aurea LCD-esque external lighting and sound effects according to changes in the watcher's heart rate and body temperature.
The TV could also be connected to a chair that would rumble in response to, say, rapid bursts of on-screen gunfire or a car simply driving over a cattle grate. It's not clear how the TV responds if several people watching the same film react in different ways.
Exactly how the telly will monitor your vital signs hasn't been mentioned. But last week Register Hardware brought you brief news of a pair of Philip's pants featuring sensors sewn into the waistband. These sensors measure the wearer's pulse wave velocity - the rate at which pulses of blood stream through a person's circulatory system - making them perfect for use with Philips' RelaxTV.
Philips is keen to provide a full sensory experience, no matter what you're doing. Last year the company launched amBX – a range of gaming peripherals, including a "wrist rumbler" and light-up satellite speakers, which provide physical feedback in response to in-game action.
It's not yet known when the first RelaxTV will appear, or how much it'll cost.