Original URL: http://www.theregister.co.uk/2008/05/27/patrick_curran_jcp_roadmap/
Suits could soon lose grip on Java
JCP chief cautious on roadmap
Posted in The Channel, 27th May 2008 05:02 GMT
A roadmap for reform, potentially exposing the Java Community Processes' inner workings to external scrutiny and ending a culture of closed-door meetings, could be made public in the next few months.
That's according to recently elected chairman Patrick Curran, who told Reg Dev he believes a set of milestones to update the 10-year-old organization could be in place and enacted this year.
Curran did not go into details of what could change when we talked, but he has met with JCP executive committee members in Paris in recent weeks, where the topic of reform was on the table.
"I hope within a few months we could publish a roadmap, which will probably cover two to three milestones - non controversial stuff, then the more substantial reforms," Curran told us.
"The goal will be to make us a little more agile, a little more open... and to counter some of the criticism, some of which is justified but some of which is based on peoples' misunderstandings."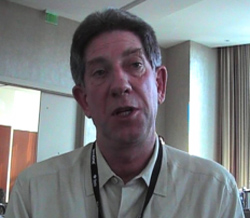 Curran: JCP more agile, more open
He faces an uphill task, as some changes recently called for by grassroots developers could see the very companies that dominate the JCP's powerful 31-member executive committees relinquish their control and - potentially - the rights on their code in Java.
Developers participating in a JavaOne panel this month called for greater representation of individuals in JCP voting and on the executive committees. Another massive hurdle is open sourcing of Java Compatibility Kits, which accompany each Java implementation and that help ensure compatibility. These kits include vendors' intellectual property so what you're really asking is for vendors building JCKs to make their IP available under open source license - that's enough to make most corporate lawyers choke on their cornflakes.
"When you have a significant number of corporations each with their own business process model and lawyers, making such a change requires getting all the lawyers together to discuss and agree - and that takes time," Curran said.
And voting changes? "You can probably guess there may be a little resistance to radical change that might turn the existing order upside down," Curran said.
Curran unequivocally believes in the need for change at the JCP. Among the things that need updating is the tendency for meetings on Java specs to take place in "smoke-filled" rooms, with closed discussions and email lists.
A 20-year employee of Sun Microsystems, Curran believes Sun - which leads 30 per cent of Java specs - could take a lead on making these discussions open, by mandating that all email lists on specs are open and that all email questions get an answer.
Currently such openness is at the individual spec lead's discretion. That's something that's at odds with the way most many source projects are run and has more in common with the way vendor consortia of old work.
"Sun is still the major player on spec leads," Curran said. "If Sun was to commit to doing things in an open manner, it's almost like everyone else would have to follow. That's something we are working on."
Some other complaints raised about the JCP are, Curran believes, more matters of "perception" than realty although he feels steps should be taken that change the perception. Among these, the "perception" the JCP is a big-boys club and favors corporations in its voting and membership. He believes the JCP can take steps to become more welcoming to individuals.
He sounds particularly keen to lower one of the hurdles to individuals from the open source community joining - individuals that like to blog and discuss. He favors reform of the Java Specification Participation Agreement (JSPA), something Curran feels can be changed relatively quickly.
The JSPA is an onerous and confusingly worded 20-page legal contract with Sun that says what you can - and can't - talk about outside the JCP. That's seen as a gag individuals break at their own legal risk. Curran believes the wording can be greatly simplified and the document reduced to one or a few pages.
How open is "open"?
A veteran of industry consortia including the World Wide Web Consortium (W3C) and the Organization for the Advancement of Structured information Standards (OASIS), Curran is familiar with the potential obstacles that institutionalized bureaucracy and corporate vested interest can throw up to any roadmap for change.
He cautioned even these seemingly "non-controversial" milestones such as opening up meetings could see the JCP's door cracked, rather than thrown, open.
"With regard to how open [expert groups] should be in their membership, that's a bit more difficult. I'm not sure I should mandate anyone who comes knocking on the door can join, because there's a limit on how effective you could be," Curran said.
Even the JSPA could get pushed back. "It's on the list... as to when we get there is another matter," Curran said.
"We have to negotiate this among ourselves first... we have many large corporates with particular business interests and ways of doing business for whom the existing mechanism and process works for them. Not everybody is convinced of the value of opening things up," Curran said without naming names.
"I'm trying to negotiate between the different opinions... and reach a consensus."®