Original URL: https://www.theregister.co.uk/2008/05/23/china_cheap_eee_clone/
Chinese supplier offers 'cheapest' Linux laptop
Got £111 to spare for an Eee PC clone?
Posted in Personal Tech, 23rd May 2008 11:19 GMT
Linux-based sub-notebook for $219 (£111/€139), anyone? That's what Hong Kong-based Bestlink is currently offering - if you're prepared to buy in bulk.
Dubbed the Alpha 400, the Eee PC-like machine sports a 7in, 800 x 480 display but is based not on an x86 processor but a 400MHz, 32-bit XBurst chip. It's got 128MB of memory and 1GB of Flash storage.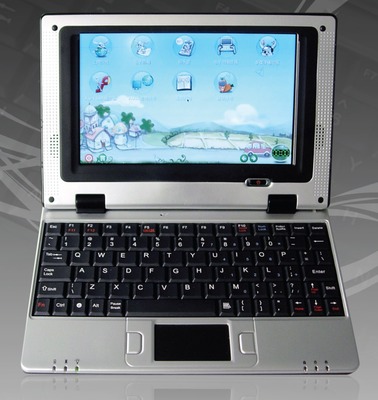 Bestlink's Alpha 400: Eee beater?
It has a 10/100Mb/s Ethernet port, an SDHC card reader and a pair of USB 2.0 ports - one of which can take the bundled optional Wi-Fi dongle. Depending on which version of the manufacturer's spec you read, there may be a third USB port.
The feature list also mentions optional CDMA and GPRS connectivity, and we suspect that, like Wi-Fi comes from add-on devices.
The machine weighs just 700g and measures 21.2 x 14.2 x 3.3cm. It's apparently available in a choice of colours: red, blue, green, salmon and black. There's no indication what the laptop's battery life is, but it comes with office and comms software a-plenty, Bestlink's site indicates.
Bestlink wants $219 for the Alpha 400, but that's before shipping. The base price works out as £111 - which is the cheapest Linux sub-laptop we've seen apart from Elonex's promised £99 machine, though that's not actually available yet and won't be until next month.