Original URL: https://www.theregister.co.uk/2008/05/23/cat_keynes_mobile_money/
Mobile money - a helping hand for the poor?
Ring around the Western Union
Posted in Networks, 23rd May 2008 15:39 GMT
Opinion Browsing the NARS counter at Selfridges, I was quite taken by some eye shadow and was just picturing myself as Elizabeth Taylor in Cleopatra when my friend Rod called from Cairo. I'm a bit psychic like that.
He was at the GSMA mobile payments conference investigating the future of NFC. Apparently there are loads of trials going on and it's about to be the next big thing. Yup, another Groundhog Day technology.
He was full of the wonders of local infrastructure. Not the modern networks but the rather older infrastructure of Sphinxes and Pyramids. The ancient Egyptians managed to build huge buildings, work out that a year was 365¼ days long and make some of the most beautiful jewellery when we Brits were wearing skins and throwing rocks at each other.
The Egyptians were the dominant empire of their time. But empires fall, and the metaphorical shadow of the Pyramids was the ideal place for a middle-Eastern union of banks, regulators and operators.
The empire that no one can tell if it's a friend or foe is Western Union. For some it's easy to make up their minds. Plenty of people have a problem transferring cash through an American company. They tend to live in places that America has bombed recently. Or people who've left their home and families to work for low wages in the West to send something back, who see 15 per cent of what they've scrimped together line the coffers of a $17bn corporation.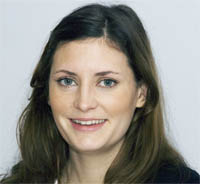 Or the vast numbers of people who've been defrauded by tricksters who use Western Union because of the lack of accountability. The 419 scammers and people who put bargains that don't exist on eBay. It's not Western Union's fault these people are dishonest, but it can appear to victims that it does little to help the cheated track down the criminals.
It's less obvious for the mobile phone networks, which see Western Union as the leading candidate for the glue which holds international money transfer together. That's because the networks don't recognise their own strength. Sony Ericsson has sold more Walkman phones than Apple has iPods. Nokia is the world's biggest camera manufacturer. The Nokia 3310 series the most successful mass-produced product ever.
For the operators, Western Union has a number of deals at different prices, but a fixed rate of $10 per transaction is typical. Vodafone's M-Pesa has a fixed rate too: about 50 cents. OK, so one is international and one national, it's not quite apples and apples - but it is a twentyfold difference.
Unless Western Union re-invents itself, ideally as a currency exchange with operators handling the mobile phone end, the phone industry will do to Western Union what Nokia has to Polaroid. In a year, in one country – Kenya – the Vodafone M-Pesa system has grown to 40,000 transactions an hour and half as many users as the country has bank accounts.
One country, one year. Vodafone's reach is huge, it has nearly 300 million subscribers and has already licenced M-Pesa to the first non-Vodafone network.
The incentive for the mobile phone networks to offer money transfer is very different to that of the banks. Banks are in it purely for the money. Networks want the money but they'll compromise on fat profits for loyalty. The cost of customer acquisition in the mobile industry is high, and so is churn. Typically it's 20 per cent per year. People stick with their bank for life. You are statistically more likely to get divorced than change bank. If banking loyalty can rub off on mobile phone networks it will make them happy. People who receive payments by M-Pesa are very likely to sign up for the service, and spend more on using their phones, perhaps because it is easier to top up and perhaps because by joining the world of the banked they earn more and can afford to use their phones more. Happier, wealthier, more loyal customers are just what a mobile phone network wants.
The banks, and I include Western Union in this, might be exploiting the poor, but it is the regulators who are allowing, no, encouraging it to happen. They want anti-money laundering regulations designed for the first world applied to the third world. Try opening a bank account and you'll have to take along your passport, driving licence and a utility bill. Subsistence farmers and transient factory workers don't have these things. So they are denied the right to receive money electronically from relatives in the West without having to walk for hours to an agent of Western Union. People who are working 14 hour days just to earn enough to eat.
The rules were designed for credit cards. A mobile phone payment system provides accountability. If the money is sent to a phone you know not just who received it but which cells they hang out around and who they call. If you suspect someone of being a terrorist you can get a legal intercept and listen to his or her phone calls. Indeed, joined-up enforcement and regulation should love the idea that the people they are after would want to carry around an electronic device that gives away where they are, who they are talking to and what they are saying. But the rules are designed to keep the banks in check, and the banks prosper by being skilled at working within the rules. There is no moving goalpost of technology, as there is in the phone industry, and when one comes along it turns out that the regulators are hellbent on an own-goal.
Of course the big success, M-Pesa, has bloomed in a place where there is little regulation and almost no banks.
Rod wasn't too interested in mobile money for poor people. He was after technology solutions and complained that most of the conference in Egypt was devoted to "people at the bottom of the Pyramid". He didn't get the joke, but maybe he'll laugh when he sees me wearing the gold eyeshadow.
Catherine Keynes is a electronic engineer turned consultant who works for IT and telecoms companies. This is a longer version of an article first posted at her blog, Cat Keynes.