Original URL: https://www.theregister.co.uk/2008/05/21/review_samsung_adidas_f110_micoach_sliderphone/
Samsung Adidas F110 miCoach personal trainer phone
Pint-sized Mr Motivator
Posted in Personal Tech, 21st May 2008 13:04 GMT
Review Many of us spend a fortune on gym membership only to join the gang of guilty no-shows after just a few weeks. So is a mobile phone capable of putting you on the fast track to personal fitness?
Samsung and Adidas think so. They've teamed up to produce the miCoach mobile phone and integrated personal coaching system. It's a sophisticated attempt at putting a virtual personal trainer in your phone, offering tailored training regimes to suit your fitness levels and goals.

Samsung's Adidas F110 miCoach: ahead of the field
Other manufacturers have attempted to combine a handset with a training device, but the Samsung and Adidas combo is way ahead of the field. The full miCoach package comes with a heart-rate monitor and a stride sensor that connect wirelessly to the phone. On-board software lets you to create a wide range of workouts, while audio instructions provide updates and training advice during runs. A quick couple of taps on the phone screen will also give you instant bulletins on how you're doing.
The phone's music player is woven into the fabric of the miCoach training software too. You can listen to tracks while you're running, and with a quick button press get one of your pre-chosen motivational songs when you need a boost.
By hooking up the phone to a PC, you can also sync the miCoach phone's training data with the miCoach website. You can set training goals, download your own personalised training schedule, and monitor your progress on a comprehensive display.
Unlike other training-music combos, such as the Nike+ iPod package, the miCoach has the natural advantage of mobile phone functionality. Samsung hasn't gone for the most hi-tech handset for this collaboration, offering quad-band GSM GPRS/Edge connectivity rather than 3G.
The miCoach's sliderphone design is attractively tactile, with a textured rubber-feel back and clever roughened navigation button panel that provides suitable purchase for sweaty fingers. Grooves separate the largish buttons to facilitate easy texting. It has a reasonable sized 2in, 262,000-colour display, but its modest 176 x 220 resolution really limits the graphical performance. The miCoach's predominantly monochrome user interface comes across as stylish, nonetheless.
The Adidas branding is subtly applied at the bottom of the screen – just enough for others to clock your phone's sporting pedigree. The navpad is familiar stuff, with quick keys in all directions, including an additional "My menu" list of personalised shortcuts, plus soft-menu keys below the display. Dedicated miCoach and music player buttons flank the navpad, providing quick access to this phone's main attractions.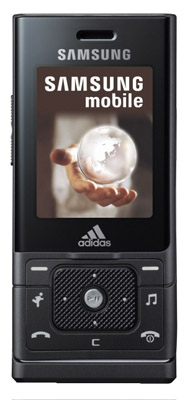 The branding is subtle, but enough to show your phone's sporting pedigree
At 101.5 x 45 x 14.5mm, the miCoach isn't particularly small, but its 80g weight makes it feel light in the hand - and in the Adidas-branded armband holder that comes with the device.
The miCoach user interface is nicely thought out. Tapping the runner button on the front slips you into the application, where you're presented with a carousel of six icons representing the coaching system's various elements.
You can load in vital statistics (age, weight, etc.) and then try an assessment run to judge your fitness level. Slip on the Adidas heart rate monitor, connect the running shoe stride sensor - both are automatically detected by the phone - plug in the supplied earphones for a running commentary or tune listening, and you're ready to go.
You can press blindly through the armband, as the miCoach's buttons are large enough to avoid fiddly mistakes. A voice guides you through the workout, giving you updates as you go along, and reporting on your performance at the end. You can compile a list of "motivation songs" for when you need that extra bit of effort – a long press of the central selection key will pull up one at random to give you that Eye of the Tiger moment.
When the workout's over, extensive data from your run is displayed and stored by the system, and each workout is added to a dedicated miCoach calendar. You can pull up info for any day, if you want to check your progress.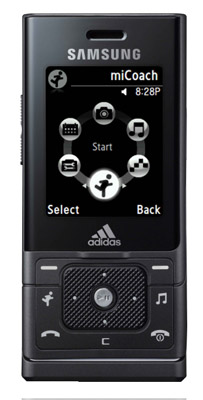 Tapping the runner-icon button produces a carousel of six icons
You can schedule a variety of different workouts yourself in the miCoach application, adjusting your goals with a complex series of settings adjustments. However, the real beauty of the miCoach system comes when you synchronise is with your PC - there's no Mac software - and the miCoach website.
Data from your run is uploaded and displayed on the site in detail – so you can monitor on graphs your heart rate, pace and over the course of individual workouts. More importantly, you can set goals for your training – whether it's to start running, get fit and stay fit, lose weight, get fit for a race, improve race times or boost speed. A coaching plan can be synced with your phone, taking into account your fitness level assessment, days you're able to workout and the goals you've set. The programme is then loaded onto your phone.
These coaching programmes can run for several months, with a wide variety of training runs included. The miCoach application is nothing if not ambitious.
The coaching extends to narration as you're running, with the app's voice advising you when to increase speed or slow down, and offering you guidance and updates as you progress through the session. For nearly all of us amateurs who assume you just have to keep running more to get fit, the system really helps by bring forward ever more refined training methods.
Sure, there may be more sophisticated dedicated pro-running systems out there, but there's nothing in the mainstream consumer gadget area – either MP3 players or phones – that comes close to the miCoach's impressive coaching complexity. It's a device you can use for its normal-hours, day-to-day job as a phone, but which will also encourage you to slip on those trainers to get fit.
Samsung has done a tidy job with the music player. It's well integrated with the miCoach system, as well as being usable on its own. The 1GB of on-board memory is enough for a couple of hundred tunes, but it's a shame the F110 doesn't have a memory card slot to boost that capacity further. Decent quality ear-gear is supplied with the miCoach phone - they hook around the ear with in-ear buds for a noise-reducing fit.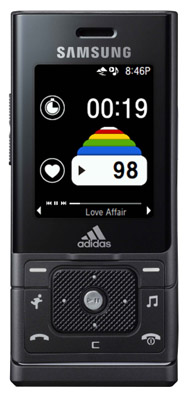 Samsung has done a tidy job with the music player
It's a two-part headset with a 3.5mm jack socket mid-way enabling you to add your own preferred headphones for running or more sedentary listening. The connector positioning on the side of the phone is aggravating, owing to the snag-factor you encounter when trying to remove it from the armband or, to a lesser extent, your pocket. The supplied earphones need a bit of adjustment too to ensure a snug fit when running, but produce fine audio playback once in place.
You can get some high quality sound out of this mobile. The user interface looks classy and is easy to use, with the navpad doubling up as the music player controls. As well as the more typical categories – albums, artists, genres, composers, most played, etc. - the music player includes workout-friendly categories – alongside your motivation songs, there are Tempo and Stride categories, plus an FM radio favourites slot.
You can classify tracks automatically by tempo - slow, medium or fast - sing the supplied Samsung PC Studio Multimedia Manager software on your PC before copying them to the phone. Stride tracks offering suitable pavement-pounding rhythms can be downloaded too. Alternatively, you can sync tunes with Windows Media Player 11, or drag and drop tracks over in mass-storage mode. Transferring by Bluetooth is another option – both for copying and stereo playback using wireless headphones or speakers.
In addition to tune-playing, the miCoach application also has space for a separate image gallery, should you wish to snap and file training related pics. These can be applied to individual workouts too, for visual reminders of where you ran - or how beat you looked afterwards.
The miCoach's two-megapixel camera isn't one of Samsung's top class shooters. It's a standard-issue snapper without any flash illumination or autofocus control.
The camera can take decent enough snaps in good lighting conditions, although the amount of detail you can get in images is limited. Colour rendition is pretty good, and generally vibrant. We noticed some exposure issues in trickier lighting conditions, and the camera sometimes struggles with indoors shots, deteriorating further in low light conditions. It's an average sort of performance, in short. Video capture too is quite average, shooting at 176 x 144 pixels maximum resolution.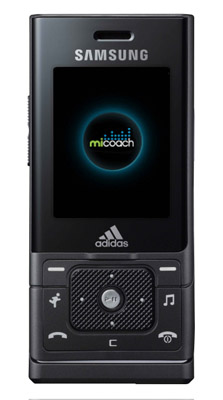 Drop and give me twenty
The miCoach uses Access' NetFront Browser 3.4, which offers a reasonable mobile internet experience for a non-3G device. You can get full page or mobile-tailored "Smart-fit" page views, and a page pilot function gives you an overview of pages to help navigate your way around. But some media rich pages don't load well and are slow to render.
The miCoach coaching software is impressive, but for most of the time your phone is likely to revert to its main role as a call maker and taker. Here, the performance is no-nonsense, with solid and reliable reception and call quality. No complaints at all in our tests. Samsung's estimated battery life figures – up to 2.5 hours of talktime, 250 hours of standby time or ten hours of music playback – are lower than you'd expect for a non-3G handset.
However, we found that with average usage, with a small amount of music listening – but with a couple of coaching runs - the phone kept going for around two-and-a-half to three days between charges. Using the music player more, when you're running for example, will reduce those figures accordingly.
Verdict
The Samsung Adidas F110 miCoach phone is very much a niche mobile. Its miCoach personal coaching system is impressive for a fitness application designed for a mainstream consumer gadget. Both on the phone and synced to the miCoach website, it offers a sophisticated experience that could get you fit and keep you on track. Its music player is a good performer, and is well integrated with the miCoach software. Its 1GB storage, however, is limited compared to what you can get on many music player and mobiles that can use memory cards.