Original URL: http://www.theregister.co.uk/2008/05/18/ibm_almaden_privacy/
Privacy? Forget it. Sell your brain and desires to the highest bidder
Web $9.95
Posted in Policy, 18th May 2008 21:14 GMT
Comment All around us the toasters are getting smarter. Sadly, we don't seem to be keeping up with the program. We remain poor schlubs.
In the good old days, a toaster was just a toaster. It warmed bread and issued the odd electrocution. Tomorrow's toaster, however, brings with it a new set of functions that travel well beyond bread.
As we hear it, the toaster of the future will contain more silicon and communications systems. It will have sensors that can detect an upcoming failure, and alert you, via e-mail perhaps, to order a new toaster. Or maybe the toaster will order a new version of itself from the internet if you've enabled the self-upgrade feature. That future toaster may also talk to other gadgets in the home. Perhaps they'll agree on when they should shut down to save energy or to avoid a fire. Maybe they'll agree on the next brand for their upgrade cycle and make sure you get matching stainless steel appliances throughout the home or that your current penchant for pastel kit is obeyed.
None of this should sound terribly new. Overzealous technology folks have predicted the age of the internet-enabled toaster and refrigerator for years. "You've been getting your weather reports from the newspaper, TV and Yahoo! for years like suckers. Once you move to utopia, the weather will be displayed on your fridge door or coffee machine. The revolution is at hand."
What's more intriguing about the toaster of the future is the communications it will have with folks other than you. Maybe Wal-Mart will notice a toaster has left its shelves thanks to a sensor network. The retail giant's data warehouse systems will then spring into action and tell a weary guy in China to wake up and make a new toaster.
In the meantime, some government machine will be tracking all of the toasters making their way from China to the US. Thanks to something called Stream Processing, the Feds will be able to recognize if an unusual amount of toasters have entered the Chicago area. The same processing technology will then grab the toaster recipients' addresses and compare them with credit card, hotel, flight and phone records. Perhaps a pattern will emerge - an awful lot of the toaster buyers seemed to visit Vancouver this year while also dialing a chap called Tom Tiburban. "We've nailed it, Jim. Osama is in the Windy City, and seems to have recruited an army of toaster buyers to make a fantastically huge shock machine. They're going to dump it in Lake Michigan and kill whatever fish remain. I won't let this happen on my watch."
And if the government isn't tracking the inner-workings of your toaster relationships, then a company like Wal-Mart, Amazon or Facebook is. Chris Meyer, the CEO of Monitor Networks, describes this Brave New World as "The Offer."
Speaking to a group of scientists, computer geeks and marketeers this month at IBM's Almaden research center in San Jose, Meyer presented The Offer as the underlying principle behind a world where there is "no product without service and no service without product."
The Offer concept is a bit vague, but you can think of it as a company forming a lifetime bond with you. No longer do you buy a toaster, throw it away and then buy another one. Instead, you buy the toaster, receive some firmware upgrade service that promises to improve future toasting (or perhaps a bagel expansion pack) and no doubt other wonderful services. "We notice that you toast a lot in the weeks leading up to a vacation. Can we offer you discounted travel from a partner after sensing heightened toaster activity? Or perhaps you'd like those photos of your children displayed on the side of the toaster. No problem. Hold down the toaster button for one minute to trigger the photo purchase and display sequence provided by our friends at TstrPic."
Behind The Offer is a process where products and services "sense, respond, learn and adapt." That process looks like this, according to Meyer.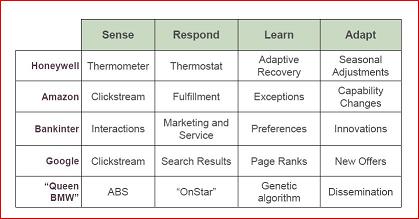 The Offer Lives
We don't want to freak you out too much, but part of this offer adaptation mechanism would involve, say, BMW pulling driving data from your cars. It will first use that information to help with your driving. Your car might use sensors to communicate with a nearby vehicle and discover that the driver of that car often breaks at the last minute. So, your car will, er, tighten up or something along those lines to deal with the crappy driver near it. Later on, BMW might collect all of the sensor data to produce cars for different regions that reflect the driving conditions of those locales.
Apparently, all of that would result in this: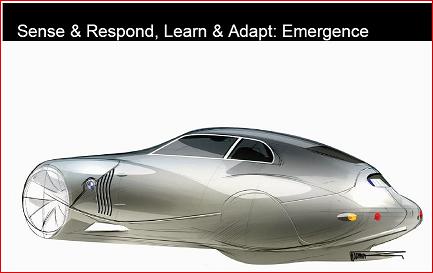 The Offer Car
We're too scared to show you what a post-Offer toaster looks like.
Peace through potting soil
The Offer feels a tad crazy. Can a toaster vendor really form a meaningful, lifelong relationship with a human? And what about a bag of potting soil?
But people are out there trying their hardest to make sure that sweaters - if not toasters - do bond with you. That's more or less the underlying goal of things like Facebook's Beacon, the eerie Phorm project and even Comscore's mouse peeping, to a degree.
IBM's recent Almaden Institute event explored the many ways that companies and people might use data in the coming years. We learned about the examples mentioned above and also discovered roadside sensors that can alert meter maids to law breaking cars, an oncoming torrent of scientific data fueled by the rise of supercomputing and all sorts of other people-tracking techniques.
Even though the discussions centered on exploiting data for new business models, the speakers were surprisingly measured. It may have been because most of them were researchers - folks forced to pretend they've got something to sell in order to keep their well-paying jobs.
You may be pleased to learn that the two-day event did include a session on privacy . . . from a Microsoft researcher . . . who thankfully seemed to want to protect your privacy. Go figure.
But what does privacy even mean in this world of intelligent toasters?
In the US, we have this charming yesteryear image of an off-the-grid fella sitting on his porch in a rocking chair somewhere in the backwoods of Kentucky. He's whittling. Or he's got a gun resting across the thighs - a relaxed pose complemented by the chirping birds and cheeky raccoons.
I'm pretty sure that's the idealized guy we think of during privacy discussions. He's his own man. He's untraceable to some degree, so long as he pays cash.
If you're reading this, then you've already given up on that whittling dream. But you've still got privacy concerns.You're probably most worried about people tracking your behavior online, cameras watching where you go and keeping medical information private.
Whoops. Oh well.
Or maybe you're really more concerned with maintaining some level of privacy within the home. "They can watch me on the streets, but they can't watch how I raise my kids or govern how many brownies I eat or look over my shoulder while I read. They sure as hell can't watch me provide a beef injection to the wife or monitor our home movies."
Well, that's a nice dream, although based on your grocery store purchase card, we can tell that you eat about 78 brownies a year and go through several vials of Viagra. Also, we've noticed that your children's' books aren't really the best for developing a fresh mind. Research shows that books by Constance Relegard drive intellectual stimulation. Can we ship you a package that includes brownies, Viagra and Relegard's complete works? Fifteen people in your neighborhood have already accepted this Offer. Also, we noticed that your toaster . . . .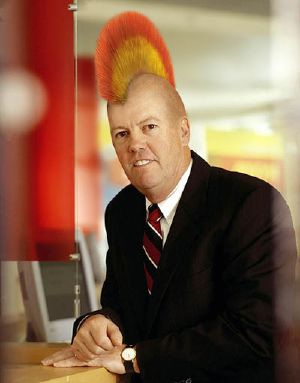 You have no privacy. Get over it
Author Nick Carr argues that we're putting an awful lot of information back into the network, feeding sensors and computers with data on our wants, desires and dreams. A select few folks are getting rich off this process. "My, Sergey, that's a nice plane."
That's really the next leap in the privacy discussion because your brain seems just about the last place remaining that's off-the-grid to some degree. Just about all of your external actions can be measured, while your inner-dialog stays inner to some degree – you know, until you get chipped.
It may take awhile for the network to learn your views on Marxism, but it's getting close.
"We've done some analysis on all Pomona College graduates who took a class on Marxism and then purchased goods on Amazon. Two per cent of these people went on to buy 10 or more books on Marxism during their professional lives. These people tend to like blue sweaters, red toasters and work for political organizations. Beware of the blue sweater people with red toasters and degrees from Pomona."
Tweet Me a Fortune
Ah, and what of all this tweeting and blogging.
Your blog probably has about five readers, including your cat, so you think it goes unnoticed. But, no, those semantic web and AI types are mining the hell out of the information.
Google looks like it will be the best at this stuff. It's tracking your searches, your trips around the web through Google Analytics, your interests in certain products, your e-mails, your chats, your photos, your documents, where you go around town and eventually your phone calls and exact location. Beware the Google Dildo – coming soon to a store near you.
Surely, if other people are getting rich off all this data, then we, the data providers should too.
Microsoft could take that $48bn it planned to spend on Yahoo! and direct it toward creating a new profit sharing search system. Every time you buy something that was targeted at you as the result of a search, an e-mail or an IM chat, you get a cut. I guarantee that one of the heavies will initiate a program like this eventually. It's only a matter of time.
And at this point in the whole tracking/privacy discussion, I'm starting to think that getting paid for our brains is the only rational course of action.
Tipping is the Point
Sadly, we've got some of the world's smartest people working on these tracking systems, while we have some of the world's dullest people serving as authorities/guides on the evolution of the internet, privacy and communications.
The BBC, for example, did a recent piece on the future of the web. For some strange reason, they decided to poll blogger Robert Scoble for his take on the issue. Here's the result.
Everything is moving so fast. If you look at what I am doing with my cell phone now, transmitting live video around the world, that's really different from just five months ago.

It's even going on with Twitter. There is a new tweet coming into my account every 15 seconds and 15 years from now what's that going to feel like? You are going to be able to do a lot more than 140 character messages.
More than 140 characters? Astonishing.
This guy sure isn't going to fight the toaster menace anytime soon.
Scoble is the least of anyone's worries, since few people with a pulse know he exists and those who do struggle to take him seriously. Much worse is a chap like Malcolm Gladwell who has managed to turn pop science into a mega-empire. Airports around the world now make me shudder due to the ever presence of his books Blink and The Tipping Point, which are in essence tributes to nonsense.
And yet it's folks like Gladwell that the public seems to look to for ideas on the future of science and technology. These types of hucksters distract the public with shiny objects, praising things like Twitter, Facebook and open source cookies, while the corporates hook more metal into the network.
God help us all if it comes down to these used brain salesmen versus the engineers. The public will be turning over every piece of information it can to the network just because some new Web 2.0 app popped up that seemed neat.
Many of these ideas are, of course, very, very old and very, very easy to grasp. You don't need to be George Orwell or William Gibson to get a sense of the direction things are heading toward or where they could end up.
But the point here could be that it's time to stop quibbling over bits and pieces of your data getting sucked up here and there by various companies. The reality of the situation is that the vacuum is turned on at high speed, and it's getting upgraded all the time.
The best course of action looks like the most rational one. Make a buck off your desires. Demand to be paid for your needs.
And don't be fooled by getting a cheaper toaster just because there's a service attached to it. You really don't want to sell out that easy.
It's very possible that your wants, desires and thoughts are worth more than the company selling you the toaster is getting for that annual bagel expansion pack subscription fee. ®