Original URL: https://www.theregister.co.uk/2008/05/14/review_xda_orbit_2/
O2 XDA Orbit 2 smartphone
Rather good?
Posted in Personal Tech, 14th May 2008 11:02 GMT
Review What we have here is basically a traditional Windows Mobile smartphone loaded to the gunwales with Wi-Fi, GPS, Bluetooth, 3.6Mb/s HSDPA, quad-band GSM/GPRS/Edge, three-megapixel camera, FM radio, 8GB-capable MicroSD slot and a touchscreen.
Under the hood the Orbit is driven by the same 400MHz chip as the Touch Dual, and comes with the same 256MB of program memory and 128MB of storage. It's once again powered by Windows Mobile 6 Professional.
The Orbit 2 doesn't look too shabby on paper, and it's not too shabby in the real world, either, the fully flush screen and surround combining to make the Orbit 2 look just a little out of the ordinary.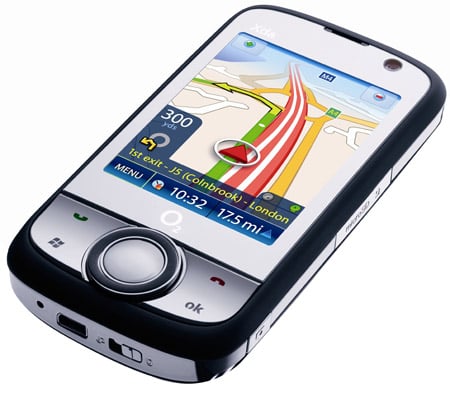 O2's XDA Orbit 2: not shabby
The Orbit 2 isn't that much more of a chunky monkey than its HTC Touch brethren, weighing 130g and measuring 110 x 58 x 15.5mm. The rubber-coated plastic back and front bezel gives a secure feel in even the sweatiest of palms, while the solid build quality is par for the HTC course. Centre-stage on the handset is a 2.8in, 240 x 320 screen below which sits a circular navigation pad flanked by buttons to start and end calls, a Start Menu button, and the customary Windows Mobile OK key.
The rim of the navigation pad rotates endlessly so you have the choice of either pressing the top or bottom of the pad to move up and down through menus or to roll your rim clockwise and anti-clockwise. OK, this is not a revolution in UI navigation, but it's a nice touch just the same.
There's no slide out keyboard, but that's not really a problem as text can be entered at a fair old clip using just your finger and the rather nifty new virtual keyboard.
The user interface is pretty much as per the HTC Touch and Touch Dual only now the TouchFlo 'cube' has a fourth side. So instead of one face presenting a 4 x 2 grid of application icons, you now have two 3 x 2 grids. The extra icons fire up CoPilot, Yahoo! search, the FM radio, Office Mobile and the alarm clock. The remaining faces of the cube are reserved for media management and contacts.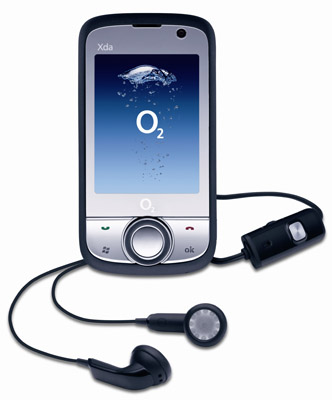 Why oh why won't HTC fit its devices with a 3.5mm socket?
Sadly, O2 has seen fit to have dispense with the HTC home screen. Sure the big LCD-ish clock looks a little odd and the built-in weather application can leave something to be desired in the accuracy stakes, but it lets you get to a fair number of functions easily and isn't an unpleasant thing to look at. The bog standard Windows 6 Professional home screen on the other hand is an unpleasant thing to look at and doesn't really lend itself to stylus-free operation.
With this is mind, users may want to consider buying Spb's Mobile Shell software, which is a sort of TouchFlo on steroids. We reckon £15 is a small price to pay for a home screen that no longer looks like it was designed in 1995. As luck would have it, the screen control to launch Mobile Shell is a down swipe from the top while the control to launch the Touch Flo cube is an up swipe from the bottom. So both will work on the same device at the same time with no clashing. Bonza.
The Spb software gives you another 15 contact short cuts to add to the nine that Touch Flo provides and also means that you as the user are even further away from having to get down and dirty with the underlying Windows GUI.
The Orbit 2 comes with a 1GB Micro SD card, half of which is taken up with the CoPilot Live 7 Western Europe maps and navigation software bundle. As far as satnav software goes, the CoPilot system is not at all bad. Destination search is straightforward and though the maps are a little basic they provide clear enough images of the route you're supposed to take. We found them perfectly usable.
CoPilot never once led us astray and gave us the skinny on every speed camera we came across. Route recalculation was rapid and unobtrusive, and we didn't experience any noticeable delays in picking up a GPS signal.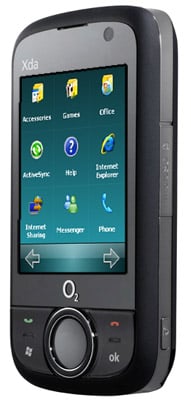 The touch screen interface is pretty much as per the HTC Touch and Touch Dual
Of course, a portrait 2.8in screen is never going to be the ideal format for a satnav display, and though the CoPilot keyboard is just about big enough for finger use finding a destination is definitely not something you can do with the Orbit 2 stuck to the windscreen in the mounting cradle. A device that is both phone and satnav is always going to be subject to these compromises.
Another issue we did have with the Orbit 2 as a satnav was the degree of reflection we got from the highly polished screen and flush silver face-plate. It never made the device unusable, but it was a source of annoyance during the daytime.
However, the supplied windscreen mounting cradle is a basic but functional affair that gets brownie points for the ease with which the Orbit 2 slips in and out of.
Vocal prompts sounded just a little tinny coming from the Orbit 2's speaker, but were clear enough once we cranked the volume up to 11. You get a selection of voice types: three male and three female. Just in case anyone is wondering, if you want to upgrade to a larger capacity Micro SD card just swap the data onto your desktop then back onto the larger card and, bingo, you're sorted.
For anyone who buys the Orbit 2 in its generic HTC Touch Cruise incarnation, the GPS system also works just fine with Google Maps. The graphic representation is, of course, rather basic but the vocal prompts are not noticeably worse than those on some navigation software rigs you actually have to pay for.
But we should say that the Orbit 2 looks a whole lot nicer than the angular Cruise.
The handset's three-megapixel auto-focus camera, while a leap forward from the rather hum-drum two-megapixel devices common on most recent HTC handsets, still isn't likely to inspire you to take photographs that could grace the pages of National Geographic.
Presumably HTC has a to-do list some place - it needs to get to the item that reads "give our phones decent cameras" sooner rather than later. Unless, of course, it has just come to the conclusion that 90 per cent of phone cameras are never used for anything remotely akin to even semi-serious photography.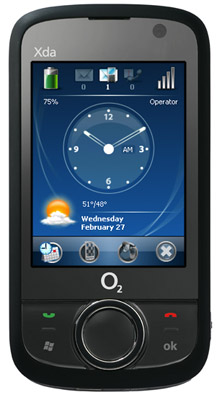 Sadly O2 has seen fit to have dispense with the HTC home screen
In day-to-day use as a phone, the Orbit 2 did everything asked of it. We downloaded and used Skype and Fring without any problems, while cellular call quality was more than acceptable. Web browsing is the usual Windows Mobile Explorer pain in the backside, but at least you can stream video from the likes of YouTube and internet radio through it these days.
Battery life as usual is wholly dependent on what you have running. We left the GPS, Bluetooth and Wi-Fi switched on and flattened a full battery in two hours and ten minutes. Being a little more considerate we got a full days usage, including an hour or so of talk time, half an hour of GPS usage, and an hour of Wi-Fi activity, all still with Bluetooth on.
Major bugbears? Only one, and its the usual one: no 3.5mm headphones jack. We are going to keep on pissing and moaning about this, loudly, until HTC decides to do something about it. Sort it out, guys.
Verdict
What's not to like about the O2 XDA Orbit 2? For the money, you're getting a perfectly decent Windows Mobile smartphone and a capable satnav system. When you consider that you can get the thing free with a £45-a-month contract or for only £50 with a £35-a-month contract and that it comes bundled with £80-odd worth of CoPilot 7 software, it's also quite the bargain.