Original URL: https://www.theregister.co.uk/2008/05/12/review_lg_kf700/
LG KF700 slider phone
Triple-action, touch-screen handset
Posted in Personal Tech, 12th May 2008 11:02 GMT
Review LG has come up with another touchscreen option to get your fingers working: the LG KF700 sliderphone, which combines a tap-to-control UI and dial-spin control with HSDPA 3G high-speed connectivity.
How many different ways can you package touch technology for mobiles? LG seems determined to find the answer, with a flurry of recent handsets offering different takes on touchscreen operation.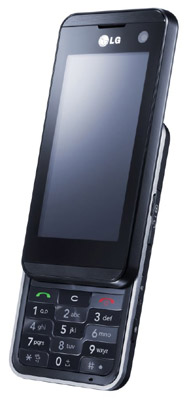 LG's KF700: enough space for tapping, scrolling and swiping
While its KF600 debuted a two-screen approach, the KF700 has three input methods: a large touchscreen, a slide-out number pad and a spin-to-scroll thumbwheel on the side of the phone.
The touchscreen control system is similar to that employed on the successful LG Viewty, although this device is a slightly smaller, with a short feature run-down than LG's flagship touchscreen phone.
Are three input methods strictly necessary? LG reckons that it's set up the KF700 so each of the three takes care of business in a way that best suits the input style. The 3in, 240 x 480, 262,000-colour display is obviously the most important part of the user interface. It provides plenty of room to view images and video content, frame shots for the KF700's three-megapixel camera, and browse web pages in landscape mode. It gives enough finger space for tapping, scrolling and swiping your way through the menu system.
The slider design gives the KF700 the girth of a sturdy candybar phone, measuring in all 102 x 51 x14.5mm and weighing 107g. Slipping up the screen, the number pad beneath has a conventional layout with well-sized number keys on a flush surface plus call, end and clear buttons.
Simple to handle, the number pad is also nicely responsive for tapping in numbers and texting. That's important, because the you can only enter text on the KF700 using the number pad – there's no on-screen Qwerty keyboard.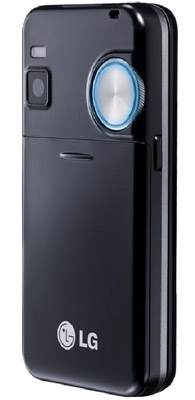 The KF700's Shortcut Dial: a new take on an old control
The thumbwheel - called the "Shortcut Dial" by LG - is an interesting device. Other smartphones have had dial-controlled scrolling to complement touchscreen and numberpad options, but this implementation is slightly different. The dial, which is visible on the back but controlled from the side, is brought into play with a tap of a small button on the flank.
On the screen, next to the dial, a semi-circle of half-a-dozen icons appears. You rotate the dial to highlight the icon you want, then press the button beneath or tap the screen to open that application. Instinctively, you feel you should be able to push the dial in to select, but you can't. This is a shame, as that would have made the Shortcut Dial a slicker proposition.
In addition to firing up shortcuts, the dial can be used in conjunction with the main touchscreen interface, as a scrolling device through menu options. It also does duty as a zoom wheel for the camera and browser, and as a volume control.
The main touchscreen interface is structured like the LG Viewty's, with a few updated bits added. On the bottom of the display are four icon-labelled buttons, for quick access to call menus, contacts, messaging options and the main menu.
Tapping the main menu key brings up a further set of four sub-menu icon buttons running vertically up the side of the screen. The sub-menu icons represent call options, multimedia applications, tools and organiser functions, plus settings. A grid of labelled symbols in the centre of the screen show which applications are available within each sub-menu. As you tap on each icon, the grid symbols change accordingly, so you can clearly see the options.
This helps make it an intuitive interface - you don't have to concern yourself with learning your way round or scrolling through multiple menus to explore the features and gadgetry.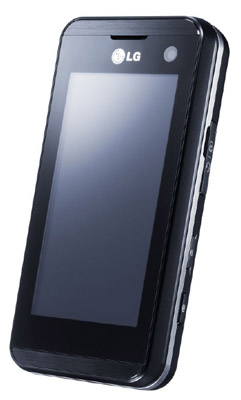 7.2Mb/s HSDPA 3G connectivity but no Wi-Fi
Incidentally, from the standby page, there's a widgets-style tab you can set to automatically pull up on-screen calendar, clock, memo or world clock. On the O2-only version of the KF700 we tested, there's also a fast link button for the O2 Active mobile internet portal.
The touch interface is quite responsive compared to its predecessors, and you get haptic feedback - a slight vibration - when you tap the screen. The screen and interface isn't as slick and responsive as the smooth one on the iPhone, but there is an element of finger stroke control, so you can scroll quicker through some lists, but again, its not as effortless as Apple's device and can feel stilted.
There's no stylus supplied, so it's all finger driven. Delving through menu options is helped by LG's regular option of hitting numbers corresponding to the option on the keypad but you can scroll through too. Usefully, buttons are consistently lined up on the top of menus for a quick route to other key options such as messaging, contacts and home page.
You can also multi-task easily. There's an icon you can press to tap into another function while one is running. The dial can be a handy way of getting to your most used options, although you can go through the main menu too. Press the multi-task icon again, and you can go back to select from a list of other open applications.
The three-megapixel camera may not be right up there with the Viewty's 5Mp job, but it puts in a pleasing performance nonetheless. It has a reasonably fast-responding and accurate autofocus system and an LED flash.
The camera app slips automatically into landscape mode, with the picture framed on either side by uncluttered controls. The flash setting can be altered, contrast adjusted or you can slip into the image gallery. There's a small settings control button, which pulls up a neat grid of 14 settings and controls. These provide a degree of control over white balance and light sensitivity, plus the usual cameraphone stock options: colourisation, frames, multi-shot settings, timer and so on.

The slider design gives it the girth of a sturdy candybar phone
LG has achieved a good balance with this camera interface between user-friendliness and detail. It's quite intuitive and doesn't overwhelm you with superfluous visual information.
As mentioned, the side dial can be used for zooming, although the digital zoom is only available on lower resolution shooting settings, not the maximum 3Mp size.
The autofocus system does its job efficiently, with a two-step capture button allowing you to focus and compose images before shooting. It works very well on macro close-up work too – although you'll probably want to override the auto flash on near-range shots, as the LED light will otherwise burn out shots. There are a few basic image editing tools in the phone, too, should you want to add text, draw on the image, play with colours and so on.
The video capture capability doesn't match the Viewty's top-end 120 frames per second shooting performance - it shoots at a maximum 320 x 240 resolution at 15 f/s, producing an average, unimpressive video performance.
As a mobile music player, the KF700 puts in a very acceptable performance, with another easy-to-follow interface that doesn't bank on excessive touch gimmickry. Tracks are listed in straightforward categories MP3 player owners will feel familiar with.
You can scroll through tracks using finger or dial control, so it's easy to select songs. There's a screen lock button on the side of the phone that can be engaged at any time, so you don't have to worry about accidental tune-playing in your pocket.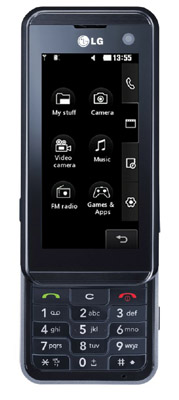 There's no stylus supplied, so it's all about finger action
LG has equipped this mobile with its proprietary earphone/charger/data cable connector, so no there's no standard 3.5mm headphone jack on the phone. Happily, LG bundles a two-part headset that uses a 3.5mm adaptor, so you can easily add your own, better-quality headphones. But the the connector's on the side of the phone so it snags easily in your pocket.
To avoid this, you can connect a wireless pair of cans over Bluetooth. You can also get a rather tinnier experience piping tunes via the average loudspeaker. The KF700's FM radio interface goes user-friendly rather than flashy too, and is a welcome extra.
Tunes can be stored on a Micro SD card – there's a slot on the top of the phone, and cards up to 2GB are supported. There's 90MB of internal memory, so you should invest in a card if you want to make the most of the player.
Web browsing is neatly implemented. HSDPA boosts the KF700's data speeds, and there's easy zooming in and out using the dial control, plus a mini-map overview, and the option to view in full widescreen mode. As you adjust the zoom, new-size pages are rendered quickly. Links are scaled up too, for easy touchscreen pressing.
You can synchronise the KF700 with a PC and backup the phone using the supplied PC Suite software and USB cable. Macs aren't supported, however. You can also transfer other content – including music – to the phone in this way. Bluetooth, and of course memory cards, can be used to copy across your music.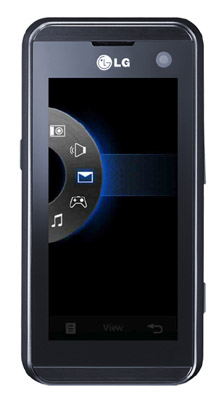 The Shortcut Dial 'quick' menu
We experienced no problems with KF700's sound quality when making or taking calls – everything was top notch. Although there's the slider number pad, you can use a virtual touch numeric pad if you want to maintain total touchscreen control.
Touchscreen control can imply a power-sapping battery experience, particularly with a 3G engine under the bonnet. LG claims that, between charges, the KF700 can keep going for up to 340 hours on GSM networks - it's a tri-bander, supporting Edge - or 280 hours in 3G operation. Talktime is estimated at up to three hours. In practice, with our average level of usage, we got between two and three days out of the phone before reaching for the charger. Add in more intensive tune playing and you can expect more frequent re-juicing.
Verdict
The KF700 isn't a do-it-all top-end touchscreen smartphone. Rather it's a mobile with a good spread of mid-range features, including an admirable camera, music player and browser, that are implemented through a rather user-friendly touchscreen interface.The phone's touchscreen and slider combo give it a more solid feel than most mid-range phones, although some users may appreciate the text-tapping comfort of a regular numberpad.
If you're keen to check into the touchscreen club at the mid-tier rather than top-end level, this is a good performer.