Original URL: https://www.theregister.co.uk/2008/05/12/nes_coffee_table_controller/
Man makes table-sized NES controller, complains about mug-marks
Don't spill your tea here
Posted in Personal Tech, 12th May 2008 13:45 GMT
A Nintendo nerd has built a giant coffee table that doubles up as a working controller for the retro NES console.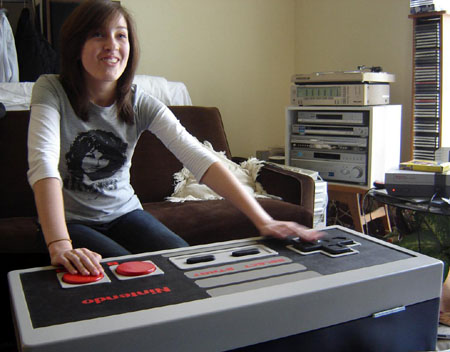 The working NES controller coffee table: pointless?
Australian Nintendo/woodwork enthusiast Kyle Downes has described the whole process of making his giant NES coffee table in his blog.
From a top-down view, the table looks and functions just like the real life controller – although with the obvious disadvantage of having to use a whole palm to press down each button, rather than just your thumb.
Can't see the video? Download Flash Player from Adobe.com
Downes hasn't said much about how he hooked up the table to actually control his NES, but a video posted onto YouTube appears to show the giant controller able to replicate everything that the palm-sized model does.
The coffee table's huge controller pad surface also lifts up to reveal a storage area for, well presumably, NES game cartridges. Whatever next, a Wii Remote sofa?