Original URL: https://www.theregister.co.uk/2008/05/12/apple_games_handheld/
Apple to announce handheld games console at WWDC?
3G iPhone launch a decoy
Posted in Personal Tech, 12th May 2008 13:19 GMT
Comment It's Monday lunchtime, and Apple's online store is still out of iPhones. Left-of-field speculation says this means the 3G iPhone's release is coming sooner than thought. If so, what might Apple have in mind for its Worldwide Developer Conference instead?
In recent weeks, UK iPhone suppliers O2 and Carphone Warehouse have both sold out of 8GB models, following a £100-off price promotion. They also sold out of 16GB handsets, though both admitted late last week that they would be getting more stock in. Indeed, today O2's website is showing 16GB iPhone availability, though CW's site is not.
All this time, Apple has been offering iPhones too. But today, both the UK and US Apple Store websites have the 8GB and 16GB iPhones listed as "currently unavailable". The fact it's no longer doing so, several weeks earlier than anticipated, suggests that stocks really have run down ahead of the introduction of the new, 3G model.
But when is that going to take place? So far, everyone has assumed that it'll arrive in June - a year on from the point at which the first model went on sale. Apple likes anniversaries - for instance, it tends to update the iPod line every year at the same time.
However, the recent spurt of iPhone support announcements from carriers - Vodafone will be offering it in ten countries, SingTel in four - suggests that the next iPhone might be coming sooner rather than later. Why announce a whole month ahead of the anticipated launch?
MacRumours.com has an interesting suggestion. It re-iterates a rumour published by website Switch To A Mac late last month: that Apple will announce and ship the 3G iPhone in May, and Steve Jobs will show off a completely different mobile device at June's Worldwide Developers Conference (WWDC). Switch To A Mac's source is said to have strong Apple ties, and to have been right about last year's Mac OS X Leopard delay.
Does the rumour make sense? Maybe. Yes, Jobs used his 2007 WWDC keynote to detail the iPhone's availability, but bear in mind this was arguably because he was unable to talk about what developers really wanted to hear about: Leopard. Mac OS X 10.5's release had just been delayed in order to get the iPhone OS completed in time (Apple said). Leopard was to have shipped in June.
This time round, that pressure is off. Apple has already announced its developer-centric iPhone plans, and has been offering a pre-release version of the iPhone Software Development Kit for some months now.
That implies Jobs might instead seek to engage developers with a new device, as suggested. Past speculation has pointed to handheld gadgetry, either a Mac tablet, a new Newton or a bigger iPod Touch.
We'd dismiss the Newton idea as wishful thinking, and while some consumers might fancy a bigger even more video-centric iPod, iPod announcements usually come later in the year. A Mac tablet is more likely to quicken the juices of Mac developers, but we'd guess Apple would leave that for Macworld Expo in January. There's certainly no burning need for a Mac tablet now, not least because Apple executives have consistently talked about the iPod Touch as the foundation for the company's handheld strategy, not the Mac.
Besides, what's really there for developers other than the chance to sell a few more copies of apps to Apple and iPod addicts? Surely what they'd really fancy is whole new platform, compatible with their Mac and iPhone development experience, but taking them into a new arena of business?
Enter Apple's first foray into dedicated mobile gaming, a notion that's also been doing the rounds of late, but separately from the iPhone discussion. Just as the iPhone leveraged Apple's experience selling the iPod and the huge marketshare the company built up doing so, an - if you will - 'iPlay' would do the same with mobile gaming.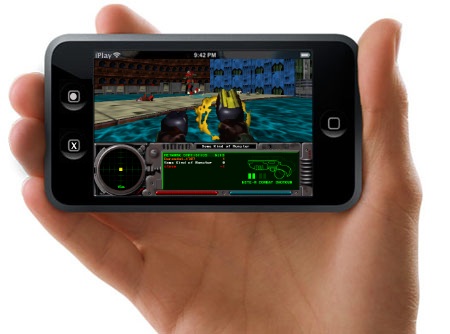 Apple's 'iPlay': the real WWDC highight?
Artist's impression
The iPod does this already, but in many if not most consumers' minds, the iPod is a music and video device. The success of the PlayStation Portable and Nintendo DS Lite shows there's a big market for 'game first, other stuff second' devices alongside the iPod's 'other stuff first, games second' approach.
If any company was to seriously take on the likes of Sony and Nintendo, it would not only need a brand as strong as Apple's - not to menion an Apple-like marketing budget - but also the support of as many games developers as it could persuade to get coding. Unlike the iPhone and iPod, third-party software development would be key to the iPlay's success. For Apple, WWDC is the logical place to get that ball rolling.
Such a move would be well worth bringing the 3G iPhone announcement forward for - especially since it would leave the world's media try to guess in print and online what Jobs will announce instead.
The voice of caution warns that almost all the other pointers indicate a June 3G iPhone debut. But as we say, what's really there for developers that hasn't been said already?