Original URL: https://www.theregister.co.uk/2008/05/06/review_sony_ericsson_z770i/
Sony Ericsson Z770i mobile phone
Waving the flag for flip-phones
Posted in Personal Tech, 6th May 2008 11:20 GMT
Review Fans of clamshell phones may feel a touch hard done by when it comes to Sony Ericsson. Despite some desirably stylish Walkman and Cyber-shot designs, the real style icons to date have tended to be candybars.
The Z770i is its attempt to redress the balance. It's constructed with a smart, elegant look rather than brash style-statement chic. It comes in a black or brushed metal-look silver casing, with just a touch of contrasting colour accents.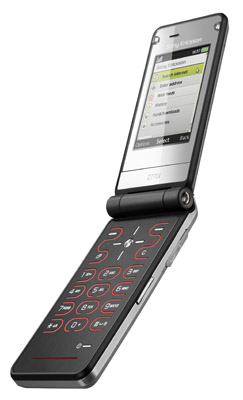 Sony Ericsson's Z770i: stylish
The Z770i also has an extra bit of poke under that bonnet, with HSDPA 3G connectivity inside enabling fast web access and over-the-air downloads.
It has a typical mid-range spread of features, including a multi-format music and video player, an FM radio and a two-megapixel camera. Google Maps software is pre-loaded for navigation and location-based services, although there's no built-in GPS receiver. RSS news feeds are supported too, and Sony Ericsson has furnished the Z770i with its useful email wizard to make setting up new accounts a breeze.
Surprisingly, video calling isn't supported - there's no secondary camera for face-to-face conversations. Of course, for most mobile users video calling is a rarely, if ever used novelty they wouldn't miss, but its absence it still a surprise.
Semi-concealed secondary displays are the in-thing at the moment, and Sony Ericsson has slipped one beneath a mirrored strip across the handset's lid. The small, mono display that shines through shows basic time, status and incoming caller or message ID info rather than anything cutting edge, but adds to the tidy design feel.
The Z770i is slim for a clamshell, measuring 15.5 x 93 x 48mm and weighing a pocketable 91g. It feels comfortable to hold and use. It has a flat surface with keys separated by rounded backlit grooves. It's quite striking, with a distinct hint of the original Razr about it.
Instead of the usual central nav-pad arrangement, Sony Ericsson has delegated the cursor and select options to separate keys arranged in a cross pattern. The directional buttons are tiny, thin and almost flush with the surface. However, they're each sufficiently far away from the other buttons to make navigation trouble-free for chunky fingers.
The direction buttons are pre-programmed as shortcuts but you can alter these yourself. Another button, the Activity Menu key, fires up a separate menu of handy application: Bluetooth, Google Maps, TrackID, calendar, notes and so on.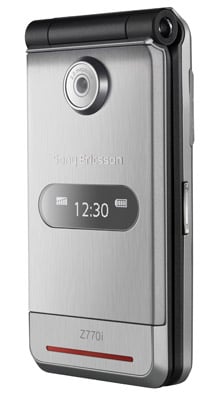 The Z770i has a so-so snapper but a neat mirrored display
Unlike many Sony Ericssons, this phone uses conventional call and end keys to simplify dialling. These may be too close to the left/right buttons for some people, but we didn't experience any mis-presses during our review period. Similarly, we were pleasantly surprised by the responsiveness of the keypad for texting – sometimes a problem on one-piece numberpads.
The internal display is a decent 2.2in, 240 x 320, 262,000-colour screen, giving a fair amount of room for viewing content and browsing, particularly if you switch to landscape mode. The main menu is the usual Sony Ericsson grid of icons, with sub-menus presented as tabbed lists of options. It's an intuitive, logically arranged system.
If a camera is an important phone feature for you, the Z770i won't appeal. Sony Ericsson does great Cyber-shot cameraphones, but this mid-ranger gets a run-of-the-mill two-megapixel camera without an autofocus system or flash.
There are no dedicated snapping buttons on the side, and you frame subjects in portrait mode, with the viewfinder image squashed into a central portion of the screen rather than framed in full-screen landscape mode. There's a 2.5x zoom, but this only works on the smallest, 640 x 480 (VGA) picture-size setting. There are some standard-issue Sony Ericsson photo options: brightness and white balance control, plus multi-shot, panorama, frames, colourisation effects and a night mode.
But the camera itself is an average performer. It produces reasonable shots in good lighting conditions, but without a flash struggles in dark environments or at night. Video capture quality is limited, shooting at no more than 320 x 240, but at a smooth 30 f/s, footage plays back better than average on the phone's screen.
Sony Ericsson includes PhotoDJ and VideoDJ software for basic on-phone image and video editing, and a Photo Fix option for quick pic adjustments. In addition, Z770i users can upload images and video clips directly to a Blogger blog with a few quick button presses.
With HSDPA connectivity, other mobile web-based services are of interest too. Access' NetFront web browser is loaded up and employs Sony Ericsson's new easy-to-follow browser launch page set up, with Google Search topping the list of options. Below, you can tap URLs into an address bar, or click on RSS feeds for updates from pre-loaded sources or your own tagged sites. You can bookmark pages too and look up recently visited addresses on the launch page's History option.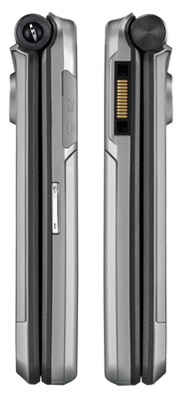 The Z770i has just 32MB of built-in memory, but has a slot for M2 cards
No Wi-Fi means you're reliant on mobile networks, but the general browsing experience is good for a regular phone. Google Maps is always welcome, providing mapping and satellite pictures of your approximate position based on base-station triangulation information. It's not as accurate as GPS, with a few hundred metres radius of accuracy, but you can zoom and pan across maps to find your exact location – very useful if you're in an unfamiliar place and looking for somewhere nearby.
HSDPA-speed data speeds mean downloading Google map information, music and video content to the phone is a swift process, but most users will prefer the cheaper option of copying tracks from a PC.
The music player and media engine is a typical mid-range set-up. A slick user interface opens up category choice lists, which you drill into in typical music player fashion. The music player lists include headings for artists, albums, tracks, playlists, audio books and podcasts, plus there's a link to Sony Ericsson's download site. As well as the usual user interface on the internal display, the external screen strip reveals details of what's being played when you close the flip.
The phone has just 32MB of on-board memory, but has a slot for Memory Stick Micro (M2) cards in the side and comes with one in the box. Bluetooth can be used to transfer tracks, and for wireless stereo headphones. Otherwise, use USB - there's a typical Sony Ericsson port on the side of the phone, around from the M2 bay. Once again, Sony Ericsson's buky earphone connector is awkward and prone to snagging in your pocket.
A pair of average-quality wired earphones are supplied, which provide a presentable audio performance. Swap them for better headphones - such as some Walkman earphones - and you get a noticeable step-up in quality. There's no 3.5mm jack socket on the Z770i phone or on the supplied headset, so you'll need an adaptor to add standard 'phones. If you're into your music, it'll be worth it, because the player is actually pretty good through higher quality ear gear.

The 2.2in internal display is reasonable
Sony Ericsson reckons this clamshell can keep going for up to 8.5 hours ' conversation on GSM networks, or 4.5 hours on 3G networks. Standby time is estimated at around 14 days', so we expected a decent power performance. With our average level of usage, including tune playing, camera work and surfing, the Z770i managed three days between charges – a more than acceptable real-life figure.
On the basic call level, the Z770 hit the mark fully with a high quality and reliable audio performance plus steady network connectivity.
Verdict
The Z770i fills a welcome spot in the consumer 3G line-up as a decently equipped mid-range clamshell phone. It's sleek and slim, and has an elegant design with some stylish appeal, both outside and once open. The features and functionality inside offer little in the way of surprise or innovation, and Sony Ericsson still seems determined to give its Cyber-shot range the best deal on the imaging front.