Original URL: https://www.theregister.co.uk/2008/05/06/intel_maloney_rain/
Intel wants to own the weather prediction business
EVP Maloney in charge of 'Operation Kill Groundhog'
Posted in The Channel, 6th May 2008 21:24 GMT
Interview The conventional wisdom - whatever that is worth - pegs Intel EVP Sean Maloney as the company's successor to CEO Paul Otellini. That's great news for technology hacks because, man, this Maloney guy is quite a bit more open about his personal life and feelings than Otellini.
One need only look at this piece in the Times to see just how much Maloney will share. You learn about the size of his arse, sleeping habits, and - surely this is just for show - love of the periodic table.
The Register accosted Maloney last week at Intel's Silicon Valley headquarters for a less personal probe. As regular readers know, our organ makes more of an executive's thoughts on chip architecture than his divorces. Well, unless drugs and orgies are involved.
But try as we might to stay on the technology track, Maloney pulled us away. In this case, he nudged us toward his subconscious. Maloney, it seems, dreams of really, really big things and is quite taken with water imagery.
"There was this time around our annual sales conference where I woke up at three in the morning," Maloney said. "I was thinking of those types of technology predictions where you look at what we'll get in, say, 2015. I thought back to the Minority Report where you see Tom Cruise flipping those images around. Well, that's just about to happen. You'll have these giant screens and be able to throw images around them. I'm going to demonstrate that at Computex. That stuff is arriving just a few years after the movies.
"So, I thought about where processing power will go. If we can deliver 10,000 times the processing power we have today, you would be able to predict weather patterns. What if I knew what the wind speed will be when I go rowing? What if you knew in Bombay when it will rain? Can you imagine what you could do with water savings? It would be so cool."
There you have it. Maloney has supercomputing dreams, which beats our rather depressing block storage fantasies by a country mile.
"We are planning and investing for that type of future," Maloney said. "When we talk about things like predicting when it rains, we want that to run on Intel machines."
For the top-end server stuff, Intel has no fears around how customers will use the multi-core chips, er, flooding the market.
"In the high-end segment, there is an infinite requirement for more compute power," Maloney said. "The high order bit on that conversation is can you do it without using a nuclear power station."
Digging down to desktops and mobile devices, however, the multi-core question becomes more complex. Certainly, some software makers will use up all the horsepower available to them for high-end games or image editing software. But beyond that, you have to wonder if enough flashy software will arrive in the next couple of years that will have the parallel code needed to take advantage of multi-core chips.
Maloney downplayed this line of thinking, saying that even customers just trying to manage their photo albums will need plenty of processor muscle. He returned to that Minority Report theme, pushing for software that would let people shove photos around their desktops by touch.
"I think that people are going to spend a lot of time uploading and downloading data," he said. "That is multiple threadable and multiple coreable. At least out through the next five to seven years, I can't see any requirement to back off, and that's all we have ever been able to see."
Still, you can sense Intel and others' unease about the state of software by looking at their recent grants to academia. Intel has pumped millions into programs at Stanford, UC Berkeley and the University of Illinois to encourage parallel programming breakthroughs. Microsoft, Sun Microsystems, Nvidia, AMD, IBM and HP have joined Intel with some of these programs.
"Software is lagging, and it has always lagged the microprocessor," Maloney said. "It is not lagging as bad as it was in the era of the 386 for sure. We had a 16-bit OS forever, right? I think we just want to make it go faster."
That said, Maloney concedes that throwing eight- and 16-core chips at the desktop world might not make that much sense in the near future.
"Maybe we won't go there on the desktop in a short period of time," he said. "Maybe we will spend the transistor budget on other stuff. Maybe four cores will last another six years in the volume segment. We will optimize the cores and tweak the instruction sets and do all of that micro-architecture stuff. You don't have to immediately crank it up to more cores."
Speaking of cranked cores, how about that Apple buying PA Semi? A lot of people in the industry thought Intel was in line to slot its Atom processors into future versions of the iPhone. Such a scenario looks less likely now with Apple bringing in PowerPC and ARM expertise.
"Technically, it's accurate to say we were surprised because obviously Apple doesn't need to go ask our permission to do this sort of stuff," Maloney said. "But they do have a history of innovating in-house. This is just a further example of it. Our relationship with them continues to be stellar."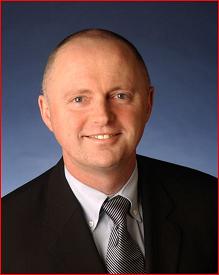 Sean 'Weather Man' Maloney
So, that Atom-based iPhone may still happen?
"Obviously, we talk about a full range of stuff," Maloney said. "We have a lot going on with them in a lot of different devices. They are a rapidly growing customers for us, so the glass is more than half full.
"Nobody owes you business, so we didn't see it as a middle finger. I think that was a sexy press angle, but that's not the way we saw it internally here."
Still on the silicon track, we hoped to make up for a lost opportunity during our recent interview with Otellini by asking the Big Question. How's that grizzled veteran of high-end computing Itanium panning out?
"It is a wonderful technology with a superb customer base," Maloney said. "We think it is another area for increased profitability. We have plenty of engineers on it."
Yeah, HP is a superb customer base.
"There are other customers," Maloney said.
But you guys will talk all day about how wonderfully profitable Xeon is. Is Itanium in the black?
"I am not a finance guy," Maloney said.
Ah, we thought so.
Well, it's best not to let Otellini have all the fun. Perhaps Maloney can become the Itanic King. ®