Original URL: http://www.theregister.co.uk/2008/05/05/amd_intel_brief_may_5_2008/
AMD now has 'more than allegations' against Intel
They totally [blank]ed our [blank]
Posted in The Channel, 5th May 2008 21:14 GMT
As Intel and AMD near the end of the discovery process in their US antitrust battle, the two companies have begun fighting over whose testimony will make it to the big dance. In a legal filing, AMD has pointed to the employees at some of the technology world's biggest names - HP, Dell, IBM and others - who it thinks will help make its case. Intel has responded in kind, and it's now up to a judge to decide on the strength of the vendors' arguments.
Following a dispute over the number of depositions allowed in the case, Special Master Vincent Poppiti appointed to hear evidence from both companies ordered up a pair of "preliminary pre-trial briefs." Well, it's those very briefs which have now been turned over to the press.
AMD's beefy filing claims to offer new evidence to support the original accusations filed back in 2005, at the U.S. District Court in Delaware.
"The current brief reflects that the allegations are more than allegations," said AMD spokesman, Michael Silverman. "The evidence exists."
Unfortunately, most of this purported evidence has been redacted from the public version of the brief. Both companies had previously signed a confidentiality order to guard trade secrets, making for long, tantalizing passages buried behind this kind of nonsense and more of it in AMD's latest 108-page summary.
What can be gleaned from the filings are the companies that AMD claims have been influenced by Intel's anti-competitive behavior.
AMD fingers a laundry-list of major OEMs: Dell, Hewlett-Packard, IBM, Lenovo, Gateway, Acer, Sony, NEC, Toshiba, Fujitsu, and Hitachi as holding anti-competitive, exclusive arrangements with Intel. It also calls for testimony from smaller builders such as Supermicro and Rackable. All the sections covering these vendors are heavily censored, however, making it hard to grasp anything beyond that AMD claims to have acquired specific evidence of misconduct.
For instance, in the section about Dell: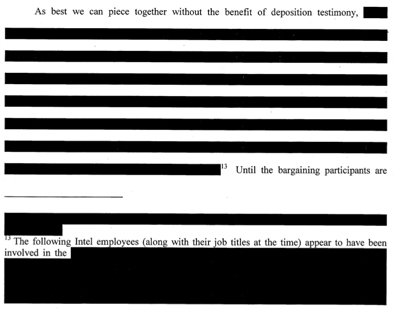 While not exactly enlightening, the scant passages left uncensored seem to indicate AMD has narrowed its grievances to certain names and faces within the organizations. AMD provides similar censored lists of employees wanted for deposition in most of the companies it names.
Here's another sampling of the brief: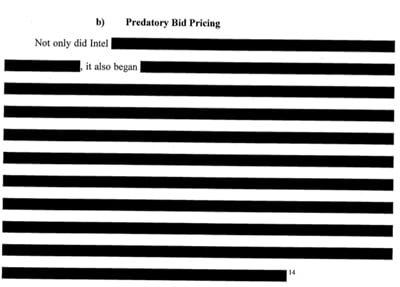 Oh — for X-ray eyes. Thankfully, the protective order is only applicable in the courtroom's discovery phase. Much of the information will eventually be made public during the actual trial. Until then, we'll be playing Mad Libs.
That said, a few snippets from AMD's brief catch the eye.
On Hewlett-Packard: Auspiciously following a full page of censored text, "The result: HP took only 160,000 of the one million free processors that AMD had offered it. No rational computer manufacturer would leave 840,000 free, state-of-the-art microprocessors on the table unless it had been foreclosed from using them by exclusionary conduct. And this is precisely what happened."
While the censored text above the statement blocks what the deal was really about — a vendor turning down 840,000 free chips warrants some raised eyebrows. Certainly unusual behavior.
On Sony: "Starting in late 2002, Intel's anticompetitive, all-or-nothing 'conditional' rebates dropped Sony's AMD purchases for consumer-based systems from approximately 30% to zero within a matter of months. Intel's efforts were anything but oblique."
On Gateway: "AMD is only beginning to understand the nature and extent of Intel's predatory tactics towards Gateway over the past decade."
On IBM: "Although AMD-based server products are presently offered by all the major OEMs catering to enterprise customers, Intel has to this day kept AMD from gaining anything more than a toehold in IBM's valuable commercial server space."
Curious, because IBM sells a bunch of AMD-based boxes. This would probably be the big toe they're talking about.
Compiler shenanigans
AMD also accuses Intel of secretly fixing its compiler so AMD boxes would run poorly. It claims that in 2004, Intel set out to nullify a performance advantage in its Operon and Athlon 64 chips by implanting a hidden function in new versions of the Intel compilers.
"These caused the finished software program to determine whether or not the executing computer ran on an Intel-manufactured microprocessor. If an AMD microprocessor is detected, the software programs would run using inefficient executing commands, or simply crash."
"The effect was dramatic:" states the brief. And apparently so much so that the description is censored.
Intel's answer
Meanwhile, Intel's version of the brief again asserts that its rival's struggles in the chip market are a result of AMD's own poor choices. It maintains that exclusive deals cut with customers were made as a part of regular competition and ultimately benefited consumers.
"Stripped of hyperbole, AMD's Complaint accuses Intel of competing too aggressively, by offering customers attractive, discounted prices and marketing and technical support to win their business," the filing claims.
Our absolute favorite passage from Intel's brief:
The U.S. lawsuit is just one battlefield where Intel currently faces antitrust charges. The European Commission, South Korea, Japan and others have also launched probes into the company's business practices.
Looking ahead, both AMD and Intel will have a chance to reply to their briefs with responses that take up no more than 40 pages. Then, that very Special Master will hold another hearing on June 5th where things will get oral. Eventually, he'll pop out a decision as to the merits of the submissions.
A copy of the AMD's latest brief is available here.