Original URL: https://www.theregister.co.uk/2008/04/30/review_lg_ggw_h20l_combo_drive/
LG GGW-H20L Blu-ray HD DVD combo drive
Ready to run any HD disc on your PC
Posted in The Channel, 30th April 2008 11:07 GMT
Review While it's clear that Blu-ray Disc is going to rule the HD roost, unfortunately for Sony, the rival HD DVD format will take some time to wither away. Which leaves the buying public in a tricky position.
The smart money is on combo drives such as the LG GGC-H20L, which can read both Blu-ray and HD DVD formats for a price just under £100.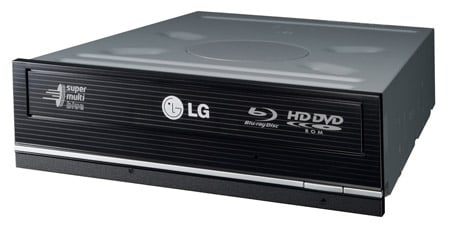 LG's GGW-H20L: reads and writes Blu-ray Discs
Stick one of those in your media centre and you can play any movie on the market, but we can go one better than that. The LG GGW-H20L has the same features as the GGC-H20L but can also write to BD media. It costs £149, which compares very favourably to the old LG H10N drive that cost £459 18 months ago.
The key writing speeds are 6x for single-layer BD-R and 2x for single-layer rewriteable BD-RE which isn't a great deal faster than the 4x BD-R LG GBW-H10N that we reviewed all the way back in December 2006.
The new Blu-ray writer has a 1.5Gb/s SATA interface rather than the IDE interface on the older drive, but the data buffer remains the same, at 4MB. Cosmetically, the styling of this black internal drive is very smart – and no, the styling of optical drives is not an oxymoron. However, there is an annoyance: there's a raised silver ridge that runs across the width of the drive and the eject button is set in that ridge.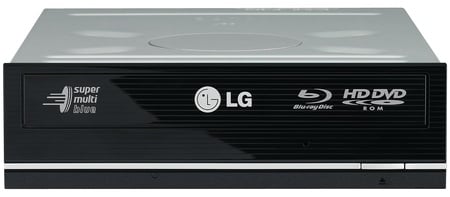 Annoyingly placed eject button
You can see the button clearly in the photo but it's quite tricky to find it by feel especially when the disc tray is open. Life would be simpler if the button was located to one side.
LG includes a software package called CyberLink Hi-Def Suite 1.0, which covers playback of both BD and HD-DVD, as well as DVD and CD burning. The package consists of PowerDVD Ultra, PowerProducer, Power2Go 5 with LightScribe, Instant Burn, Power Backup, BD Advisor and a LG ODD firmware updater.
Once the software was installed, the ODD utility downloaded and installed a firmware update. Then it was time to play a movie. The first time we ran a high definition movie the PowerDVD Ultra software popped up a warning and we had to head to CyberLink's website to download a 59MB patch.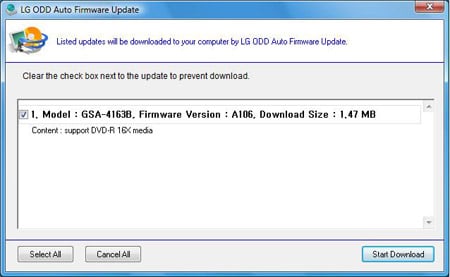 As soon as you run the software bundle, new drive firmware arrives
Once that was installed, we tried to play the movie and had to go through the same routine to download a second patch of 70.3MB. After jumping through those hoops, we found that the software worked properly and played both Blu-ray and HD-DVD movies flawlessly.
The UVD video engine in the lowly AMD ATI Radeon HD 3450 graphics card in our test system kept the CPU load to a negligible two per cent.
Then it was time to get busy burning discs to see what the GGW-H20L has up its sleeve.
The Verbatim BD-R media supplied with the drive doesn't indicate its speed grade, which may explain why the time to burn 16GB of data was slightly slower than the old H10N drive despite the faster speed rating.
Burning the same 16GB to rewriteable BD-RW was a distinct improvement as the H20L took one hour four minutes compared to one hour 28 minutes with the H10N. When you consider that 25GB BD-RE discs cost £10 a pop and 4x BD-R media are £8 per disc, there is a strong argument in favour of using rewriteable media provided you can leave the drive burning away for an hour at a time.
When it came to regular DVD writing on DVD+R, DVD+RW, DVD-R and DVD-RW media, there was nothing to choose between the old and new drives, taking six minutes to burn 4GB to write-once media and 14 minutes with rewriteable. Writing 4GB of files to DVD-RAM took the same 25 minutes as it had on the H10N drive.
Disc Writing Test Results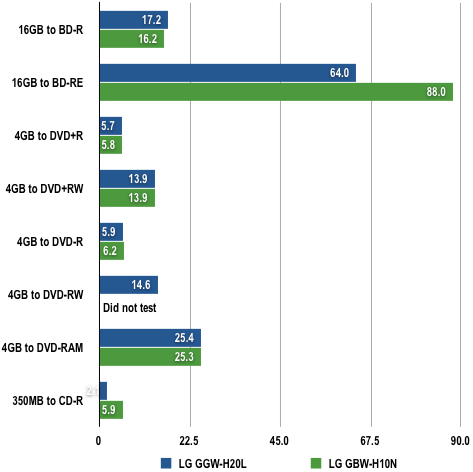 Writing time in minutes
Shorter bars are better
One area that showed a distinct improvement was writing to a humble CD-R. The H10N was shockingly slow in this regard, but the H20L is comparable with every other drive on the market.
In short, the GGW-H20L shows very little improvement over the H10N from 2006, although it has quickened the pace with BD-RE and CD-R. And the price is now far more reasonable.
The most notable advance is the support for HD DVD, but you can get that feature in the cheaper GGC-H20L combo drive, so the GGW-H20L stands or falls on its Blu-ray writing ability. The problem here is that while a 25GB, single-layer BD-R disc is capacious it is only a tiny fraction of the size of the hard drive in any modern PC or laptop so the idea of backing up to BD-R is ludicrous.
Dual-layer BD-Rs and BR-REs that weigh in at 50GB are tempting but, at £25, expensive for a single disc. However, they aren't supported by the LG so we can put that particular idea to one side.
Verdict
Blu-ray writing has a certain appeal but ultimately it's a bit pointless. Most people can't read a Blu-ray video disc, especially on their PC, and the format doesn't have enough capacity and write-speed - an a low enough cost - to put DVD-R in the shade.
For movie playback, a combo drive with both Blu-ray and HD DVD in a high-end media centre is a winner, but the GGW-H20L falls betwixt and between, as you pay £50 for a feature that may only get occasional use.