Original URL: https://www.theregister.co.uk/2008/04/29/sony_bravia_dav_f200/
Sony slips out sleek, sexy home cinema set
Posted in Personal Tech, 29th April 2008 11:50 GMT
Sony's latest home cinema unit is an exercise in minimalism, but what the Bravia unit lacks in size it makes up for in sound power.
The DAV-F200 2.1 Home Theatre System packs in a DVD player rather than a Blu-ray drive, but it features an HDMI port through which it'll upscale your standard-definition movies to 1080p resolution.
The set contains two satellite speakers and a "compact" sub-woofer that together provide a combined output of 405W. The system's speaker drivers have also been given a fine tuning by Sony's high-end AV department, the consumer electronics company claimed.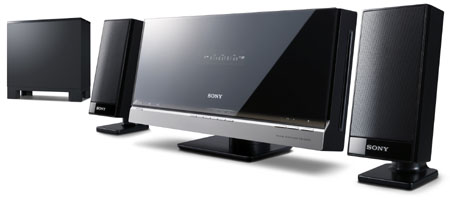 Sony's Bravia DAV-F200: a stylish stereo and DVD player
Fans of Walkman phones and MP3 players can hook these devices into the system through a built-in USB port. Several digital audio formats are supported, including MP3 and WMA, and JPEG stills can be displayed when you hook the system up to a telly.
A remote control's included in case you're too lazy to get up to change tracks on the wall-mountable or desk-standing system. A Bluetooth receiver isn't built into the unit, but a Sony modular digital media adaptor can be bought separately to give the DAV-F200 Bluetooth stereo connectivity.
Sony DAV-F200 2.1 Home Theatre System will be available in the UK this June. There's no word yet on how much it'll set you back.