Original URL: https://www.theregister.co.uk/2008/04/25/emc_thin_provisioning_overplayed/
EMC's love/hate relationship with thin provisioning
'Mandatory' and 'Overplayed'
Posted in The Channel, 25th April 2008 13:42 GMT
No man can serve two masters. Or at least things get tricky while trying to please both. Take EMC boss Joe Tucci who in the same earnings call called thin provisioning "mandatory in the storage landscape," and also "way overplayed."
EMC's quarterly results conference call Wednesday posed an interesting dilemma for Tucci. While the company certainly wants to advertise thin provisioning to its customers as a way to save capacity and money, it also needs to assure investors that those customers won't be saving too much capacity and money. After all, EMC is in the business of selling additional storage.
During the Q&A segment, analysts and investors posed the question as to whether the capacity-saving technology will cut into EMC's bottom line.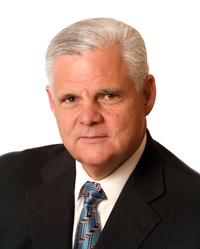 EMC CEO Joe Tucci
"On one side, yes, you get better utilization of your disk drives," said Tucci. "On the other side, as they always say in life, there's no free lunch. It does take processing cycles and software — both of which we charge for — that gets thin provisioning accomplished. So it's not all gain for totally free."
Tucci said that data growth will continue to out pace gains from technologies such as de-duplication and thin provisioning.
"It doesn't compound forever," said Tucci.
EMC told investors and analysts to be more concerned about the impact of the current economic doldrums to the company's coffers.
In the meantime, EMC will continue to implement thin provisioning across its entire lineup of storage arrays.
"Obviously we will have this across our whole line. It's in our unified storage products now, it's basically coming to Symmetrix as we speak, and will be in CLARiiON in the middle of the year."
An archived webcast of the earnings call is available here. The conversation turns to thin provisioning at 37:00. ®