Original URL: http://www.theregister.co.uk/2008/04/23/review_samsung_m110_solid/
Samsung M110 Solid rugged phone
Well 'ard handset for the rough 'n' ready
Posted in Personal Tech, 23rd April 2008 11:04 GMT
Review Take a look at the specifications of the new Samsung M110 and you could be forgiven for thinking that you were looking at the details for a handset made a decade ago rather than something fresh off the drawing board.
For all concerned, playing tunes and taking great snaps is absolutely not what the M110 is about. The clue is in the name, Solid. And the features reflect this: it sports a 1.5in, 128 x 128 CSTN screen, dual-band GSM/GPRS, a 0.3-megapixel camera and no music player.
Still, modernity hasn't been altogether run out of town: you do get Bluetooth, an FM radio and 2MB of on-board memory.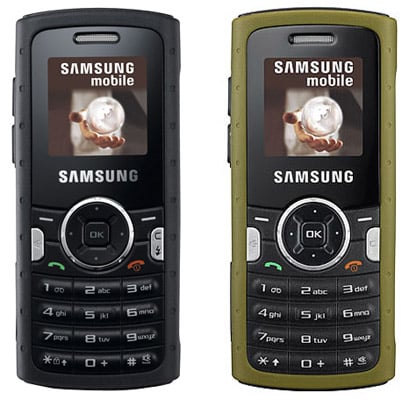 Samsung M110: available in 'take-a-beating black' and 'grueling green'
Built to something called Global Certification IEC 60529, the M110 is designed to be seriously dust- and water-resistant. Hence the GI Joe rubber casing, one piece keypad, rubber bungs over the power and headphones sockets, and lockable battery cover.
In the hand, the 109 x 48 x 18mm, 95g M110 does indeed feel solid and tough. The rubber coating feels durable and provides genuine impact absorbency judging by our test drops from a second story window. We were impressed that the battery cover stayed in place during this needless abuse highly scientific test.
All that matt rubberised plastic - or plasticised rubber - means the M110 can start to look a bit scruffy after a few days of hard use and it doesn't really 'polish up' too well. It also seems to attract fluff, lint and other microscopic 'curiosities', so if you're looking for a handset that keeps it's box-fresh aesthetics, this probably isn't the phone for you.
We are happy to be able to report that the M110 is most certainly more than splash-proof. One of our staff dropped it mid-conversation into a 2in-deep puddle during a downpour of near Biblical proportion. He didn't even lose the call.
Basic navigation about the M110's keypad and menus will be familiar to anyone who has used a mid- or entry-level Samsung recently. It all works smoothly and intuitively enough, while the toughening-up process hasn't got in the way of keyboard usability.
The small, low-resolution screen is nothing much to look at, but it's clear and bright and only lets the side down when you need to scroll about a bit to read a long text. If your incoming missives tend not to be longer than "where r u?" this isn't much of an issue.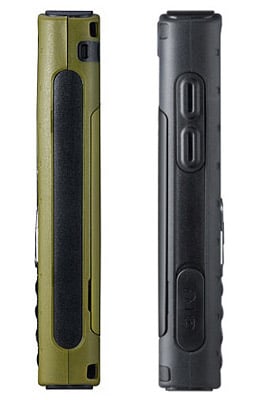 The rubber coating provides genuine impact absorbency
Action Man-esque functions include the ability to use the LED flash as a torch by holding the cancel button down, and to dial a pre-set SOS number by hitting the volume key three times. The M110 also includes a voice memo facility so you can leave a record of your last thoughts for posterity should you find yourself in a particularly grim situation.
On a more positive note, call quality proved to be excellent and the speaker was both loud and clear - helpful if you need to hear things like "You might wanna find a hard hat," over the sound of drills, diggers and dynamite.
Some may criticise Samsung for so ruthlessly shearing the M110 of peripheral functionality, but that would be to miss the point. To start with, more functions would equal a higher price and in the real world 'high price' and 'tough' are mutually exclusive. After all, who knowingly risks a high-cost item in a high-risk environment?
And let's not forget that every extra function has an impact on battery life and so makes the user more reliant on external power. A almost indestructible phone is no use if, when you extract it in an extreme situation the battery's as flat as a boulder-rolled mountaineer.
The rough outdoors is, of course, why the M110 has a CSTN screen, which is both cheaper to make and more power efficient to use than an equivalent-sized TFT screen.
Samsung isn't aiming the M110 at Sunday afternoon hikers in the Cotswolds, or summer holiday campers. Those people just need to buy a decent case for their N95s. No, the M110 is aimed at those who have to use their phones in tough environments. People like builders, farmers, nautical coves or, indeed, anyone who needs to make calls outside in the winter when it's cold, wet and miserable. All that these hardy, salt-of-the-earth types need is a basic handset than can make calls, read and send texts and has a Methuselah-like battery life.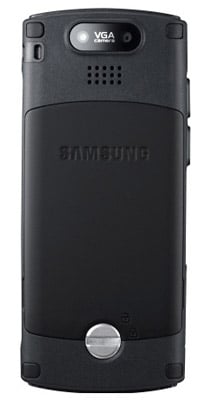 The back features a modest VGA (640 x 480) camera
To that end, the M110's battery life is outstanding. Samsung quotes a talk time of up to eight hours and up to 400 hours - 16 and a bit days - on standby. Now we only had our test handset for eight days, but after an initial charge we used it regularly every day and never switched it off and still had what looked like half a charge left when we sent it back.
Before we did, we took the M110 across the road from Register Towers to a building site to get the opinion of some lads who may actually want a device like this. Reaction was overwhelmingly positive. The most prized features seemingly being the ability to withstand a long drop, easy usage with chip-greasy fingers, reasonable cost and monumental battery life. Apparently the rather basic camera and screen would be quite sufficient for taking pics of one's "bird" to then show to one's mates.
Verdict
We applaud Samsung for it's ruthless, no-compromise back-to-basics thinking with the M110. It's as tough as old boots, has a battery that lasts longer than an English winter and can be had for less than £50 pay-as-you-go. It may lack that last degree of Armageddon proofing that JCB has given its Toughphone, but at a quarter of the price and with twice the battery life you can't complain.