Original URL: http://www.theregister.co.uk/2008/04/21/review_audioengine_aw1/
AudioEngine AW1 wireless music system
Transmission impossible?
Posted in Networks, 21st April 2008 11:02 GMT
Review It's not often wireless music streaming comes as easily as AudioEngine's AW1 makes it. Open the box, plug the transmitter and receiver in, select a track and press play. Audio across the room in...oh, under a minute.
The AW1 pack comprises two almost identical units: the rocket-iconed transmitter and the planet-themed receiver. Geddit?!?! They're both shiny black lozenges about the size of a box of matches with a standard-sized USB port at one end on a 1cm lead.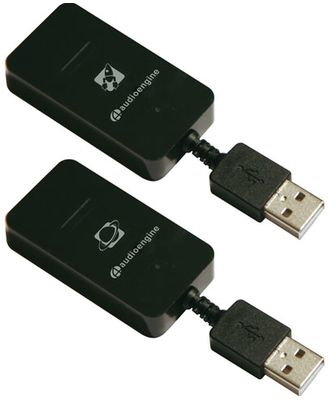 AudioEngine's AW1: wireless music, in an instant
AudioEngine also supplies a single, USB-ported AC adaptor and a trio of audio cables: two with a 3.5mm jack at either end, and a third that runs connects a 3.5mm jack to a pair of RCA stereo sockets. There's an instruction sheet too, but we figure that, being Register readers, you won't reach for that yet.
We plugged the transmitter into a MacBook Pro and selected it as the machine's sound output in Mac OS X's Sound System Preferences pane. You'd do much the same with a Windows box. We plugged the receiver into the AC adaptor and cabled it to a pair of Logitech powered speakers.
And, as we say, within 60 seconds of opening the box we had a variety of Bach cello concerti blasting out across the office, annoying more sensitively eared Vultures in the process.
AudioEngine only supplied us with a single pack, but each transmitter can be paired with up to eight receivers, allowing you to feed multiple pick-ups each at up to 30m from a single source. It's a point-to-point link, so you can't send songs to more than one receiver at once, but flipping from one to the next is just a matter of pressing a button on the transmitter.
Unlike other wireless music systems, the AW1 is based on proprietary radio technology rather than Bluetooth or Wi-Fi, though it too operates in the 2.4GHz band. AudioEngine maintains that by coming up with the link technology itself, it ensures the transmission of CD-quality sound with no loss: the unit sends the data digitally at a rate of 340Mb/s, the company claims. The signal-to-noise ratio is 91dB for folks interested in such stats.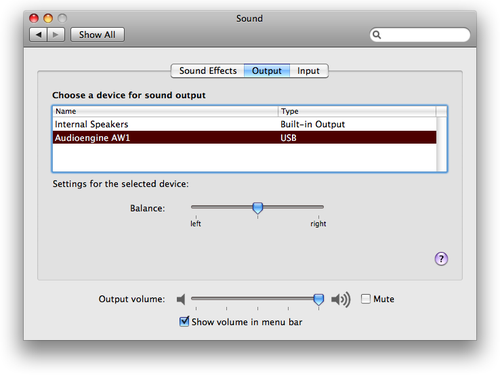 Select your sound source
According to AudioEngine, the AW1 uses a variety of error correction techniques at the packet and bit levels, combined with the ability to hop around the wireless band at will to avoid competing signal sources. It also dynamically manages power output to help prevent it causing other wireless links trouble.
All this means that the sound quality you get at the far end of the link should be determined more by the source material and the output equipment than the wireless connection over which the music is sent. AudioEngine promises a "100ft (30m) range with no signal delay, drop-outs or interference".
Well, that's the theory. We can't say we got perfect playback, but then we tried the AW1 kit out in the office, which is home to two Wi-Fi networks and within range of half-a-dozen more, and they're all connected to stacks of working computers. In this extreme environment - from a wireless music perspective - we did notice stutters now and then.
To test the kit in a more relevant environment, we took the AW1 set home. This time we connected the transmitter to the AC power brick and fed it through its 3.5mm socket rather than the USB port. We plugged the receiver into a spare USB power adaptor and listened in with headphones.
A note to potential buyers: make sure you connect the transmitter to an output whose level you control, or use 'phones with their own volume buttons. We connected it initially to a TV which bizarrely feeds its headphone socket at maximum volume. Plugging the cable into a hi-fi instead yielded a much less eardrum-busting sound.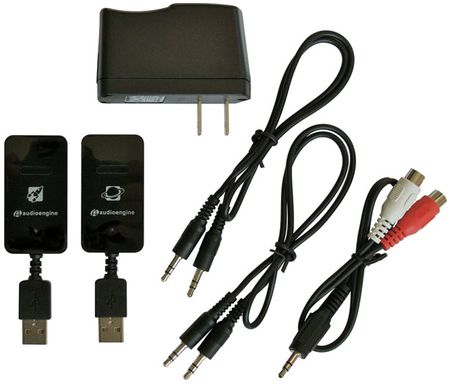 The complete package
We tried the AW1 set out in the living room first, before moving upstairs. We'd left the hi-fi playing, and got sound out of the receiver almost as soon as we'd plugged it and its AC adaptor into a power socket. The pick-up was effectively instantaneous.
During testing, we had two laptops connected to our 802.11n wireless network, both of them accessing a WLAN-connected shared hard drive. So plenty of scope for to keep the 2.4GHz band busy there. Just to be sure, we put the microwave on too. There's no shortage of other wireless networks in the vicinty, either.
We couldn't test the AW1s at the full extent of their claimed range, but we got full coverage throughout three floors of Victorian terraced house. Putting transmitter and receiver as far apart as we were able, we got clear sound, whatever audio source we used. CDs sounded like CDs, not MP3 files. There was no indication that it was hindering the WLAN.
During the time we used the AW1s, we encountered only one drop-out. It lasted only the briefest of moments, and until that time - and from then on - we got great sound out the set. But it goes to show AudioEngine can't, alas, guarantee glitch-free listening.
Verdict
The AW1 sets out to transmit music wirelessly at CD quality, and it achieves that. We can imagine performance being admirable in big, well-constructed US homes, but in old European housing stock, where there are far more opportunities for dead spots and excessive interference, it's less successful.
Still, in all but the busiest of wireless network environments, the AW1 should keep the music flowing smoothly and clearly, at a higher fidelity than you get with most Bluetooth or Wi-Fi streamers. And the product's ease of use and the speed at which the two units connect ensure it a place in our audio set-up.