Original URL: http://www.theregister.co.uk/2008/04/17/wii_wedding/
Man proposes to prospective partner with games console
Wii'll you marry me?
Posted in Personal Tech, 17th April 2008 09:14 GMT
Many women secretly dream of their hubby-to-be proposing on a secluded island as the sun goes down. But gaming buff Brain Klima went a step further and popped the question with a little help from Mario and Luigi.
According to a report by gaming website Kotaku, Brian created his own custom level within Super Smash Bros Brawl while his betrothed was out at her "grad school classes". He first tried to use the blocks in the game to spell out "Will You Marry Me?" but it wouldn't fit, so he had to settle for "Marry Me?" instead.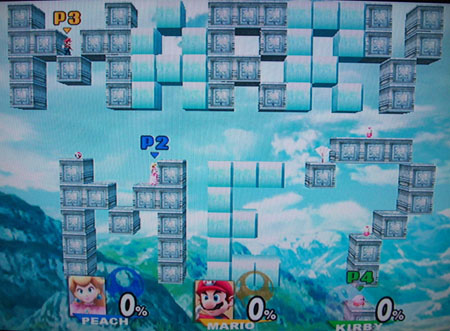 Brian arranged the blocks to spell "Marry Me?"
Image courtesy Kotaku
Brian's girlfriend, Allison, didn't actually get to play the game, because it was only set to zoom in on the text at random – but she said yes to him anyway.
We don't know what type of ring Brian had hidden away, but for that authentic geek wedding he would have been wise to pick the USB wedding ring, which has a USB flash slot under the rock.
Register Hardware just hopes that King Koopa doesn't have any objections when they get to the church…