Original URL: https://www.theregister.co.uk/2008/04/17/review_intempo_rebel_fm_radio/
Intempo Rebel DJ and ad-zapping FM radio
Most definitely with a cause
Posted in Personal Tech, 17th April 2008 11:02 GMT
Review Ever wanted to tell Chris Moyles to shut his piehole? Or longed for Christian O'Connell to get permanent laryngitis? Intempo's Rebel radio records all your favourite FM stations and cuts out all the DJ drivel and adverts.
In a compact glossy package - it measures 195 x 80 x 70mm and weighs in at 1kg - the Rebel is a standard FM radio, but with the added twist of recording the most-played tracks on a given station. It then makes them available for transfer to an SD card, Memory Stick or MP3 player, as 192Kb/s MP3 files - all for free.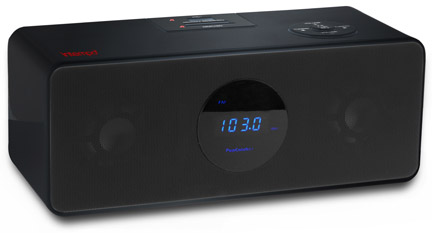 Intempo Rebel: a bright future ahead - if the music industry doesn't get wind of it
First things first: if the FM reception on this product was dodgy then the whole concept would fall down. Happily, things are OK from the off, with a good long FM wire antenna in the box, and good reception - albeit not the most sensitive we've heard. However, the sound quality is good, with surprisingly natural, clear audio.
Controlling the Intempo is very straightforward thanks to a single push-button array that covers every option.
The next step is to turn the volume down and let the Rebel work its magic. Intempo suggests you initially leave the product on for at least 12 hours to allow it to fill its 40-track memory with good quality recordings. We found that it was best to leave it for longer than that, because if a station jingle or bit of DJ drivel does make it onto the recording and subsequently a less disrupted version of that music track becomes available, the Rebel automatically records the new version and discards the old one. Once full, the product will also start to delete files on a first in, first out basis.
And it works. Give the Rebel 24 hours, and you'll end up with a nice bunch of good, clear nonsense-free recordings.
To work its magic, the Rebel uses Popcatcher technology. Popcatcher was developed by the Swedish audio company of the same name, and it made the technology available to other manufacturers last year. It uses a Blackfin Analog Devices 16/32-bit processor, which is used to filter the broadcast stream for unwanted promotional messages and verbiage, and to separate out the 'clean' songs into separate tracks.
Once the unit has filled its boots, there are several different ways to listen to the recordings. Turn the volume back up and the unit will automatically play the songs it has recorded. Again, sound quality is satisfactory, and you can scroll through the songs using the tuning buttons on the top of the unit. Only drawback here is the lack of any track information - apart from the number of the track that's playing.
If you aren't satisfied with the stations available on FM, there is a line-in jack that allows the unit to be connected to a separate internet radio or DAB tuner, to widen the recording options. There's also a headphone jack on the rear of the unit.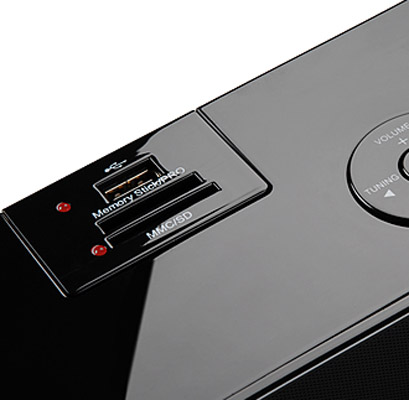 You can download onto SD card, memory stick or straight to an MP3 player
It's early days for this particular concept, but surely the next logical step is to build Popcatcher into a unit that has FM, DAB and internet radio abilities, although this will jack up the price considerably.
As it stands, the price tag would seem a little high if you couldn't move the recorded material off the player, but move it you can, and nice and easily too. Apple affectionados are provided with a CD that loads a stack of dummy files onto an iPod into which the transferred songs jump once the USB connection is established. Other MP3 pplayers just connect straight to the machine with no dedicated file space, so users have to identify and name the tracks manually, if that function is available on their player.
Songs can also be copied onto SD cards and Memory Sticks - and others if you have suitable adaptors. Any recording device that is connected to the player takes around 15 seconds to shake hands, then the download is nice and quick.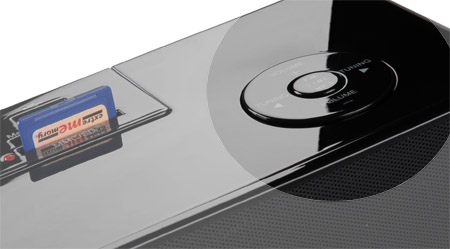 Control is straightforward, with a single push-button array dealing with everything
Forty songs sounds pretty small when compared to the storage capacity of your average MP3 player. But to appreciate the Rebel for what it is, you have to see it not as a storage product, but a capture device. Used over time to supplement the other ways that digital music can be acquired - at a price or for free - then the unit really comes into its own, providing a good quality and free way to collect music.
But you should hurry before the music industry gets wind of this thing.
Verdict
It does feel a little early to be buying into the concept - a little more functionality or tuner options would not go amiss here. But truth be told this is a fun and useful little friend, which really does gain more of your respect the more you use it.