Original URL: https://www.theregister.co.uk/2008/04/16/review_cowon_q5w_pmp/
Cowon Q5W media player
The killer PMP/internet tablet combo?
Posted in Personal Tech, 16th April 2008 11:02 GMT
Review When we recently looked at the Archos 705 we were less than impressed. Still, we do reckon a decent combined personal media player and internet tablet could work, so here we have Cowon's answer to Archos' Wi-Fi range, the Q5W.
The headline specifications for the Q5 are impressive enough: a 40GB or 60GB hard disk, a 5in screen and support for a wide variety of audio and video files and codecs, all wrapped up in a metal case measuring 139 x 88.5 x 20mm and weighing 380g - including the non-removable battery.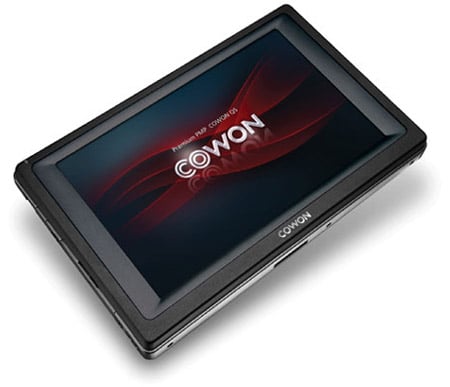 Cowon's Q5W: supports a wide variety of video and audio formats
The Q5 is certainly far more portable than the larger Archos, and just like the Cowon A3 feels well constructed and likely to be able withstand the slings and arrows of outrageous use.
Supported formats include: MP3, WMA, WAV, APE, MPC, ASF, Ogg and Flac audio files and AVI, ASF, WMV, MPG and OGM video files, along with DivX, XviD, MPEG 4 and WMV 7/8/9 video codecs. This means you can drag and drop most audio-visual media straight from your PC, Mac or Linux system onto the Q5 and watch it without having to mess about with reformatting or transcoding.
The value of this convenience is hard to overstate, though the absence of support for H.264 video and some of the more left-field video files such as DVD's .VOB is a little strange when you consider they are supported on the A3. However, if you do come across an unplayable file, the bundled JetAudio Media Centre is a largely foolproof transcoding tool.
External controls on the Q5 are limited to the volume and on/off switches, everything else being managed by the touchscreen UI. After our experiences with the Archos 705's 'push' screen we were relieved to find that the Q5 has a solid-feeling screen surface, and that a simple tap, or sometimes a double-tap, successfully got things going.
There is a fly in the UI ointment, however, and it's a big one. On first powering up the Q5 you come face to face with its underlying operating system, Windows CE 5.0. Oh dear. Now we are sure CE has its place in the overall scheme of things, but sure as night follows day this ain't it. It presents small icons, a horribly dated graphic design and seems about as user friendly as a Babbage Difference Engine. The only good thing about it is that once you've set the Q5 up with the correct time, date and other general preferences you don't have to do much too else with it, at least insofar as media control is concerned.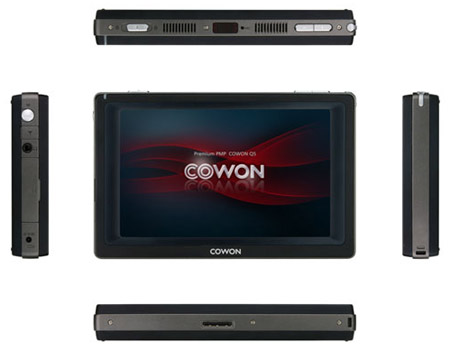 Available in 40GB or 60GB, wrapped up in a portable, hard-wearing metal case
The unfathomable fiddlyness of CE means Cowon bundles the Q5 with a retractable stylus. This also comes in handy for web browsing, because the virtual keyboard can only be rendered in two sizes: too small and much too small. The keyboard often has to be manually launched by tapping a farcically small icon on the task bar.
One quick piece of advice that should stop new users going round the bend: make sure the very first thing you do when you open the box is tap the 'Start' command at the bottom left, tap 'Settings' and then open the 'Taskbar and Start Menu' option, and set the task bar to 'always on top'. If you don't do this then the web browser won't fit the screen properly and you won't be able to launch the virtual keyboard at all.
Fire up the Cowon Launcher and things get a lot better as you are presented with a bespoke UI that is described by Cowon as "Wing Click" - a reasonable enough description as that is where the controls sit, on the wings, a bit like Stanley Matthews.
On the left of the home screen are icons for Media, Office, Utility, Network and Windows. Tap on any icon and a new set of icons appears on the right of the screen - so tap Media and you see icons to access Movies, Music, Radio and Flash. Tap Network and you get icons to access MSN, IE Explorer and the wireless control panel. It's simple and effective but makes the underlying CE system seem ever more horrid by comparison.
Navigation around Wing Click is straightforward, and since all the icons are labeled you don't have to remember what they do. The majority of media commands can also be accessed via the various wing icons so you don't actually need to touch the screen other than at the peripheries, and that keeps fingerprint smudges down to a minimum.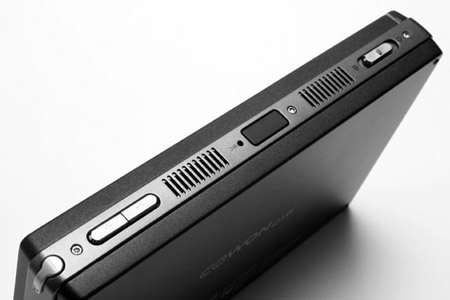 External controls on the Q5 are limited to the volume and on/off switches
Once the Q5 is working as a PMP, it really hits its stride. To start with, the quality of the screen was everything we expected it to be. The 800 x 480 resolution and ability to display 16.7 million colours are spot on for this kind of gadget. The screens is every bit as bright, colourful and well-defined as that on the A3, just an inch bigger corner to corner.
Audio performance was equally good, with solid bass, well-balanced treble and a fine sense of detail, the latter especially noticeable in the classical repertoire. There's plenty of volume on hand too. Of course, this was with our trusty Sennheisers, the supplied earphones not really being up to much.
Video playback is accompanied by a comprehensive suite of controls, including bookmarks, screen capture, variable playback speed, manual subtitle adjustment and auto or manual aspect ratio settings. Cowon's JetEffect system allows more user-definable audio enhancements than you can shake a stick at.
One feature absent from the Q5 is the capacity to record line-in audio or video - another thing the 'lesser' A3 can do that the Q5 can't. On the upside, you can pump content out to your TV as either a composite or component RGB signal.
Having a Microsoft motor under the bonnet means the Q5 comes pre-loaded with Windows Messenger and Windows IE. We're not exactly sure what version of Internet Explorer it is, but it looks more than a little primitive and its list of failings is lengthy: it doesn't support tabs, its efforts to size web pages to fit the browser screen are half-baked, the menu buttons are far too small even for stylus use, it doesn't support RSS feeds, and the text in the address bar is much too small to be easily legible.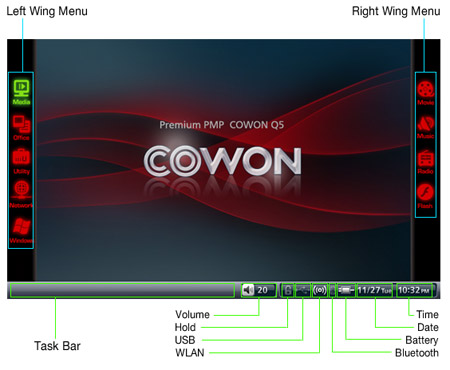 The quality of the screen is excellent. The UI's not bad either
Trying to access streaming video content didn't bring us much joy either. When we tried to launch BBC iPlayer we were told we had an old type of Flash. Following the link to the Adobe download page we were then told our OS didn't support the latest version of Flash... so no iPlayer. And no YouTube, either - the browser trying and failing to launch videos in Media Player. At least the browser managed to open internet radio station feeds using the media player, a small redeeming feature.
Windows CE Messenger looks like a dated version of the real thing, and while a small forward-facing camera to allow for webcam chat would have been a nice addition, at least you can plug in a headset and make voice calls to other MSN users.
Peripheral functionality on the Q5 includes Bluetooth, but only for connection to stereo headsets, so no being clever and accessing the net via a 3G phone. It also has the capacity to act as a USB host, allowing for the direct transfer of data from cameras and the like. We tried to transfer piccies from Nikon and Fuji cameras, but the Q5 refused to recognize either when they were plugged into its full-sized USB port. Whether this is a systemic failing or just a glitch in the mass storage facility on our test unit remains unclear.
The Q5 also has a built-in FM radio, which lacks RDS and needs the earphones cable connected to get any sort of reception. There's a little remote control that is fussy over what angle you use it at, and there's also Windows CE Office Viewer and MS WordPad, though how much use these are on a device whose main uses are media playback and web browsing is debatable. A good selection of AV cables and a handy combined USB to USB and mini USB cable also come in the box.
Wireless signal reception proved to be a bit of an issue during our time with the Q5. Much of the test took place in an office in which Wi-Fi reception is close to perfect, despite being on a different floor from the router. Certainly laptops show either a 'Very Good' or 'Excellent' signal, as did the HTC S730 smartphone, a Nokia N810 and Archos 705 we recently had on test. The Q5, however, would only show a half-decent signal on the ground floor, and even then only when virtually in line of sight with the router, which is pretty poor in our book.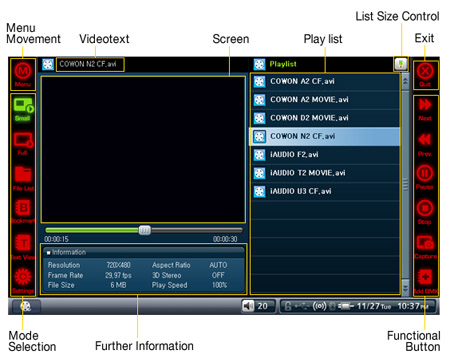 Some of the applications are somewhat dated
During our test we found the manufacturer's predictions of a battery life of seven hours for video or 13 for audio to be about right. We got a shade over twelve-and-a-half hours of continuous audio playback, and six-and-a-half of video.
The Q5's biggest problem is price. At around £390 for the 40GB model it's a whole £100 more expensive than the 60GB A3. It also looks costly when stacked up against the Archos 705, which can be had in 160GB form for around £360, or for just over £300 in 80GB form. If you can stomach a 0.7in drop in screen size, then buying the 30GB Archos 605 will save you even more money.
Verdict
As a PMP, Cowon's Q5 is very, very good. But, like the Archos 705, it rather trips over itself when it tries to be an internet tablet. That raises the question, why buy the Q5 rather than the A3? Take away the Wi-Fi and Bluetooth headphones connectivity, and when all is said and done you are paying a fair bit extra just for an extra inch of screen, and less file and codec support.
In our book there's still a large gap in the market for a successful combination of PMP and internet tablet. A 32GB iPod Touch with comprehensive file and codec support would do the trick - until then we are going to see what we can do with a Nokia N810, a Cowon A3 and some Araldite.
The Q5 review unit was supplied by Advanced MP3 Players