Original URL: https://www.theregister.co.uk/2008/04/15/datacask_launches_jupiter/
Germany to get Eee PC 900-like laptop
Datacask launches sub-notebok
Posted in Personal Tech, 15th April 2008 08:56 GMT
Little-known German supplier Datacask has begin touting what appears to be a custom Asus Eee PC 900 - this one with a 60GB hard drive on board.
Asus' President, Jerry Shen, has said in the past that the company would offer Eees with hard drives in place of solid-state storage, but we should point out that it's not yet clear that the Datacask Jupiter 0817a laptop is a rebranded Eee.
It certainly looks like one: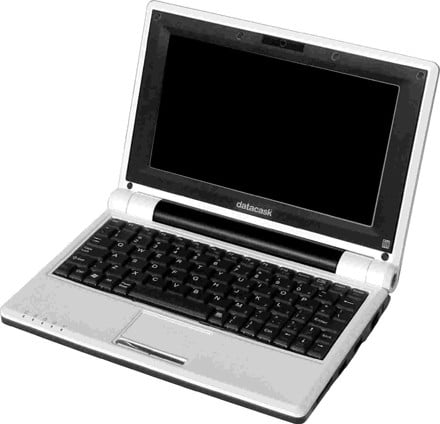 Datacask's Jupiter 0817a: Eee PC 900 by another name?
And the spec's almost identical too: 8in, 800 x 480 display; Wi-Fi; 512MB of memory; integrated memory card reader; and "numerous interfaces". The only difference: that 60GB HDD.
Well, we say '60GB' because that's what the Datacask website lists. However, the company's launch statement has it down as "20GB". We asked the company to clarify the situation, but it has yet to do so.
Datacask, which is part of German consumer electronics company Fukato, wants €279 ($439/£223) for the Jupiter.