Original URL: https://www.theregister.co.uk/2008/04/11/review_macbook_air/
Apple MacBook Air Early 2008
Style over substance - and thank God too
Posted in Personal Tech, 11th April 2008 11:02 GMT
Review Apple's MacBook Air has polarised opinion, not just between the company's fans and everyone else, but even within the Mac community itself. It's expensive, it's arguably underpowered and certainly has very limited expansion opportunities.
On the other hand, it's ridiculously thin and is a truly gorgeous-looking object. We were sceptical about the Air when it was announced, back in January. But now it's available there was nothing for it: we had to try it out ourselves.
There's no denying the Air's beauty, even if aesthetics don't matter to you. Closed, the laptop's lid and base are gracefully curved, a trick that accentuates its incredible thinness, making it stand out even alongside Apple's still-pretty-thin MacBook Pro.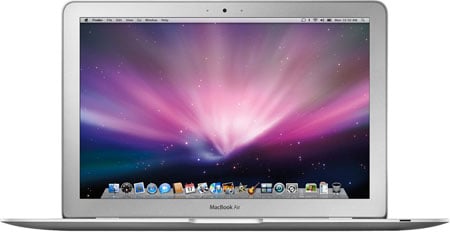 Apple's MacBook Air: style over substance
The Air's perhaps the wrong side of a kilo - it feels heavier than, say, an Eee PC or a Toshiba Portégé R500 - but the weight comes from its aluminium shell, which gives the Air a reassuring solidity. It's not a ruggedised machine, sure, but the lid doesn't flex like the R500's does, and being metal it'll be more resistant to the bumps and scrapes a laptop taken on the road will inevitably take.
On the left-hand side, you'll find the Air's MagSafe power port. The unit's 45W AC adaptor is wonderfully compact and equipped with Apple's customary simple but effective fold-out cable wrapping mechanism. It has a new connector, but that's only because the regular one won't fit onto the Air when the laptop's sitting on a desk. But we tried the Air with a regular MacBook Pro power brick and it worked just fine.
Being as curved as it is, the Air barely has a front worthy of the name. Closed, the laptop's edge is just 4mm thick and, at the front, home to a white LED that pulsates when the Air's asleep, and an infrared port for the - now optional - Mac remote control. The rear is unadorned, the hinge section fitting flush with the edge of the lid and base. Like the MacBook Pro, the Air's hinge is covered with a plastic panel that provides a window for wireless signals.
The Air's three ports are on the right-hand side, within a fold-out panel that's remarkably effective and feels well made. The 3.5mm headphone socket, USB 2.0 port and mini DVI port - adaptor cables are bundled for full DVI and VGA - are gently spring-loaded and not remotely as flimsy as these kind of mechanisms so often are.
Again, the unit closes flush with the casing, though there's a gap above it to allow you to flip the ports open. This is easy enough to do when the laptop's held on its edge, but tricky when flat on a desk, a result of the narrow gap between desk and laptop edge, not the mechanism itself.
There's no catch to hold down the Air's lid, but there's enough strength in the hinge to hold it down. The front of the Air has an indentation to allow you to reach under the lid's edge and lift it up with a finger. That's sufficient pressure to open the lid with out pivoting the base too, until you get the lid past the vertical. There's sufficient friction in the hinge to keep the screen wherever you place it.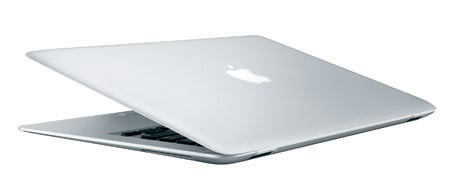 Well-hinged
The glossy 13in, 1280 x 800 display is wonderfully clear and crisp, though no more so than any other LED-backlit screen we've seen. But while the horizontal viewing angle range is great, in the vertical it's pretty poor. Again, that's par for the course on laptops these days.
The Air's screen bevel is surprisingly wide but not intrusive. It's clear the Air's the size it is in order to make room for its large touchpad. The width of the LCD is barely bigger than that of the keyboard, and had Apple implemented an ordinary touchpad, it could have shaved a good 1.5cm off the width of the Air.
The touchpad is big because Apple's enabled iPhone-stye gesture input: draw two fingers apart to zoom into pictures and the like, then turn them to rotate images. It works as well as it does on the iPhone - pictures zoom and rotate smoothly and without lag - but where it's essential on the handheld, here it seems a gimmick.
The keyboard's lozenge keys are very good to type on, and there's none of the bend you get with some laptop keyboards - the Air's keyboard is mounted solidly. The keyboard backlight - activated manually or whenever the light around you dims - is welcome, as is the addition of dedicated keys for Mac OS X's Exposé and Dashboard features. We'd have rather had wireless enable/disable buttons than the media playback controls, but each to their own.
And what's with an Eject key on a optical disc-less laptop?
The customary webcam - nothing special, but good enough for our Skype calls - sits above the screen next to two tiny, circular grilles, one for the microphone, the other over the Air's ambient light sensor. The lid has a thin pad running around its entire length to cushion the display when it's stowed.
Internally, the basic Air has a 1.6GHz Core 2 Duo processor - one of the older, 65nm models, not a new, 45nm one - and 2GB of dual-channel 667MHz DDR 2 memory, all soldered to the motherboard, so completely un-upgradeable. To reach it, you have to remove ten tiny philips screws, which allows you to take off the Air's base and view the long, thin and flat battery. It also lets you get at the 1.8in parallel ATA hard drive - or SSD, if you choose that expensive option; you also get a 1.8GHz CPU - but it's a 5mm-high model and there aren't many of those around, certainly none larger than 80GB.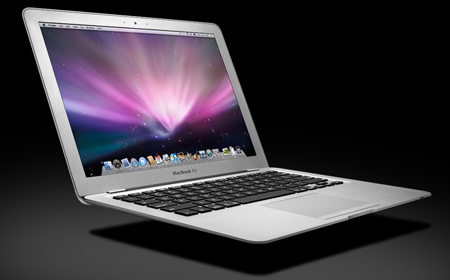 Thin but tough
Our 1.6GHz Air has a Samsung SpinPoint N2 drive spinning at 4200rpm. But loading apps and files wasn't noticeably slow in most cases. The Air starts up a little less quickly than a MacBook Pro with a 5400rpm SATA drive, but not radically so. You'll have gathered from the spec that the Air isn't a powerhouse machine, and if you don't treat it like one, you won't be disappointed with its overall performance.
The screen's driven by the Intel GMA X3100 graphics engine built into the Air's chipset. It grabs a maximum 144MB of the 2GB Ram built into the laptop, but that leaves plenty for all the tasks the Air is designed for. This is a machine for running general productivity apps and communications software, and while you can do photo and video editing, it's not a pro machine. If that's what you need, get a MacBook Pro. The GPU can do games, but again this isn't a laptop for serious gamers.
We tried the Air as a second, travel-centric companion to but not a replacement for our 15in MacBook Pro workhorse. As such, the Air performed admirably. Performance is good with a wide range of commonplace apps, and there's enough storage for a decent selection of media. Like Apple's long-discontinued PowerBook Duo sub-notebooks, the Air is best seen as a secondary machine not your prime computer, unless your performance and/or storage demands are small.
Even so, the Air's not without its flaws. We've already mentioned the very spartan array of ports, but there's another: the design of cooling system. The Air pulls air in through the keyboard and vents it out of a grille on the base, or vice versa. That's fine when you're using the air on a desk, where the airflow will be unimpeded, but it makes it tricky to use perched on your thighs. Do so and you'll block the vents.
MacBook owners might be wary of doing this in any case, having experience high Apple laptop baseplate temperatures, but the Air's a different beast that runs much cooler than the company's other machines. It's a lot cooler than the MacBook Pro when running exactly the same set of applications. Push the processor and upper and lower surfaces will warm up but never get unpleasantly hot as the MacBook Pro can. The fan will rev up in such circumstances, but we never found its hum intrusive.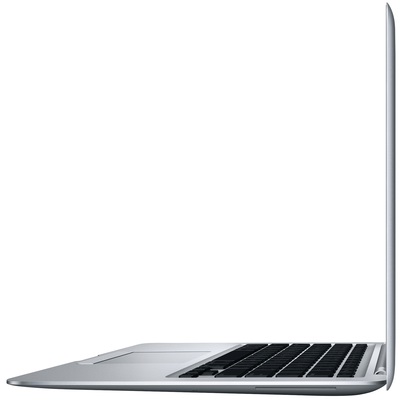 Missing ports not missed
As it turned out, we didn't mind the absence of an optical drive or multiple USB ports either, but that's no excuse for not building either an extra USB or a Firewire port into the Air's array, and an Ethernet socket, for that matter. Apple's £19 USB-to-Ethernet adaptor works well enough but, like the remote control, really should have come bundled, given the Air's price.
The standard, hard drive version retails for £1199/$1799, to which you can add £829/$1299 for the SSD version. The price is high when compared to Apple's more mainstream laptops but less than what Toshiba is charging for its entry-level R500, and Sony for the Vaio TZ1. Like those machines, the Air is a niche product, aimed at folk willing to pay more for a machine that's as portable as possible. And the Air is certainly very portable.
So too are the Sony and the Toshiba but without the sacrifices Apple felt it necessary to make to get its machine so thin. A little more thickness for extra ports wouldn't have been much of a compromise and still left the Air with a slightly bigger screen and keyboard, and a faster CPU than the TZ1 and R500. Better looking too - that's enough of a differentiation without having to be thinner into the bargain.
A final complaint is the non-removable battery. We've never been too bothered by this in a phone or a music player, but here it's a concern. Apple has had its fair share of battery recalls, but with the Air there's no mailing out replacement power packs - it's a back-to-the-shop job. While the battery life is very good - yes, we got more than six hours out of ours with the screen backlight turned down low - lots of people like the reassurance of a spare battery.
This isn't a deal-breaker for us, but it is a disappointment and Apple will lose some customers because of it. Ditto the port limitations, though again we found ourselves not bemoaning the absence of Firewire and Ethernet anywhere as much as we'd anticipated we would.

It's the form-factor, stupid
We have a cheap no-name external DVD drive that we bought to install Windows on our Eee PC, and that works just fine with the Air for installing apps more quickly than Apple's clever over-the-network drive sharing software can. We tried it nonetheless, and it works, though CD and DVD playback's impossible. Some early reviewers rightly pointed out that copying a drive full of data over the WLAN and onto the Air is very slow, but then who'd have expected it to be otherwise? Use a cheap USB hard drive instead - that's what we did, and it was much quicker.
We didn't notice any particular wireless issues beyond the general fact that MacBook Pro and Air speeds are below the laptop par, a result of the metal casing and slim window used to lets signals pass in and out. We had no problems connecting and staying connected to a variety of access points. The experience was no different from connecting using either our old MacBook Pro or a Windows XP-equipped Eee, and certainly superior to networking a Vista-running Vaio.
Verdict
The Air is a 'love it or loathe it' machine, but don't let the naysayers put you off if it offers the form factor you prefer. Of course it's not going to be the laptop to suit everyone - you can buy cheaper or more capable Macs and PCs - so it's not a must have for the price-conscious buyer or the power-hungry. It's pricey, but with the exception of the tiny, basic Eee, the Air's no more expensive than other slim'n'light laptops.
If form-factor is your prime concern, then the Air provides a good computing experience, and if our time with it is anything to go by, its port and optical disc limitations proved no handicap at all. Again, if you think they're going to be, there are plenty of other laptops out there that'll meet your needs instead. Of course, if you want to run Mac OS X on a thin'n'light machine, this is really your only option. If you don't then you're not going to chose the Air no matter how smart it is.
For us, price notwithstanding, the Air hits the mark. It's effectively as portable as our Eee, but with a much better battery life, a bigger screen, and a much more usable keyboard and touchpad. It's got the performance for a wide range of mainstream apps, but put it in your backpack and you'll forget it's there.
This is style over substance in the very best possible way.