Original URL: http://www.theregister.co.uk/2008/04/11/puchi_puchi/
Gadget to bring relief bubble-wrap-less bubble-wrap addicts
Once you pop...
Posted in Personal Tech, 11th April 2008 16:17 GMT
A perk of writing about consumer technology is having the latest gear plonked onto your lap to play with test, and the resulting huge piles of bubble-wrap to pop. Now everyone can pop til their thumbs bleed, thanks to Puchi Puchi.
The gadget measures 40 x 40 x 10mm and recreates the sound and feeling of popping bubble-wrap with rubbery air-filled buttons. But every hundredth pop results in a random sound – ranging from a boing or bark to a rude noise, but we couldn't possibly guess which one.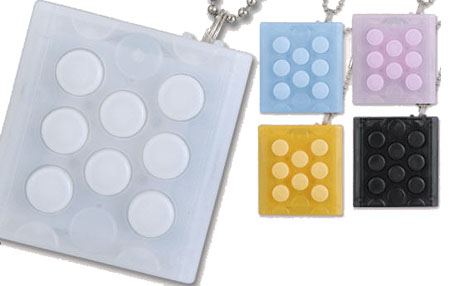 Puchi Puchi: pop until you pass out
Around 2m units are thought to have been sold since Puchi Puchi was released in Japan last year, which is a hell of a lot of popping. The battery-operated gadget's bound to be more appealing than Pringles though, because once you pop a Puchi Puchi you just won't stop.
TV host Jonathon Woss is even a self-confessed pop-addict. He recently claimed "it's like bubble-wap that never wuns out. It's the best thing I evew owned".
Puchi Puchi is available online from Firebox for £8 (€11/$17). Stocks are sold out currently, but more are expected later this month. It does beg the question though, will Firebox post Puchi Puchi's out packed in bubble-wrap?