Original URL: https://www.theregister.co.uk/2008/04/10/american_isps_embrace_behavioral_ad_targeting/
American ISPs already sharing data with outside ad firms
To Phorm or Not to Phorm
Posted in Networks, 10th April 2008 12:02 GMT
Multiple American ISPs are sharing customer data with outside firms that deal in so-called behavioral ad targeting, and according to one of these firms, the Silicon Valley-based NebuAd, roughly 10 per cent of all US web surfers are affected.
These ad companies, which also include the Sonora, California-based Front Porch, won't say which ISPs have adopted their services. But two internet service providers, the Georgia-based Knology and the Sprint-spin-off Embarq, admit to using such platforms on a test basis, and according to multiple users who've posted their stories to Broadband Reports, NebuAd is tracking data on WOW!, an ISP serving the Chicago area.
Using deep-packet inspection hardware - similar to technologies used by anti-virus vendors - NebuAd tracks the search and browsing activity of net surfers. But it says this data is never matched to personally identifiable information.
"With a one-way hash, we turn your IP address and other data into an anonymous profile, and we use that to see if you qualify for innocuous categories," NebuAd CEO Bob Dykes told us. "We can track someone looking for a luxury car, not just a car - someone searching not just for travel but travel to the south of France or Las Vegas." NebuAd then uses this information as a means of targeting ads. And naturally, the ISPs take a cut of its profits.
Dykes - once chief financial officer at Symantec - also says that ISP customers are clearly notified before NebuAd begins tracking their behavior.
"We require our ISPs to give notice to the user directly, and we also allow for an opt-out. Our contract [with ISPs] has a paragraph that says we require direct notification...It says that 'Advertising that you may see may be based on your online activity, and you can opt-out.'"
He is adamant that a paragraph posted to an ISP's website or buried in its terms of service does not qualify as direct notification. But Knology - which is testing NebuAd in "multiple cities" - notifies customers with no more than a paragraph posted to its website.
"We are engaged in a trial with NebuAd," said Tony Palmermo, Knology's vice present of marketing. "We go through all the technical processes needed to support the [US] Privacy Act - to uphold the spirit and the letter of it. There is an opt-out, and it's on our web site."
When asked if the ISP should do more to ensure customers are aware of the practice, Palermo said "We're still in that test mode. Long term, we don't know how that will play out."
NebuAd declined to comment on Knology. "I'm not going to talk about any particular ISPs or acknowledge who we work with," Dykes said. "But I will say that if we hear about an ISP that isn't following the contract, then we will look into what actions we can take to enforce the contract."
Ten per cent of all US net surfers
As reported by The Washington Post, NebuAd is tracking data from roughly 10 per cent of all US net surfers - though the company has already signed contracts that would broaden this scope.
"We cover about 10 per cent today," Dykes told us. "But our contract could reach more than that."
Front Porch offers ISPs a service similar to NebuAd's, but it reaches little more than 100,000 US net surfers. Other operations that appear to be working on similar services include Adzilla and Project Rialto, a "stealth company" created by Alcatel-Lucent, but these firms did not respond to our interview requests.
Yes, Front Porch and NebuAd are also doing something similar to Phorm - the behavioral advertising firm with controversial ties to three British ISPs: BT, Virgin Media, and Carphone Warehouse. And like Phorm, they're quick to play down the controversy.
"Many customers are uneasy with the current status-quo," Front Porch CEO Zach Britton told us. "Our challenge, as an industry, is to communicate what is, and isn't transpiring. If successful, we will show that ISP-based behavioral targeting offers greater benefits and is less privacy invasive than typical Google searches. If not, the industry will be stillborn."
If these companies steer clear of personally identifiable information - and they insist they do - their services are perfectly legal in US. But, says Ari Schwartz, chief operating officer of the Center for Democracy and Technology, the services may be "pushing the boundaries of what consumers expect". It all depends on whether these companies - and their ISP partners - are open about what they're doing.
"[These firms] are going to say they're not transferring any personal information, and all the US laws are based on personal information," Schwartz told us. "But there are some questions as to whether they're properly notifying people.
"There has to be an unavoidable notice for consumers," he continued. "We think that burying the information in the terms of service is clearly not enough." And he would prefer that these companies use an opt-in model - rather than an opt-out.
Like NebuAd, Front Porch insists that it properly notifies ISP customers. In the US, it has deployed its service on both residential ISPs and wireless hotspots. On the residential side, it says that users are notified via its very own browser-based "messaging system."
"We mandate that all our ISP partners ensure that 100 per cent of users understand what's going on and, secondly, that 100 per cent of users get the choice about whether they want to participate or not."
The company's notification screen looks something like this: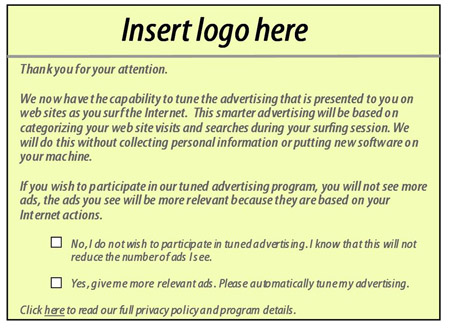 Front Porch notification screen
Supplied by the company, this is a generic version of the screen - with 'insert logo here' used to indicate where the name of the participating ISP is posted. When it appears in a browser, users can bypass the screen by clicking on a link just above it, but the company says that if a user doesn't check 'yes' or 'no,' the screen will reappear at a later time.
Britton does acknowledge that the language on this screen changes from time to time - the 'yes' and the 'no' boxes might be reversed, for instance - but he insists that every user sees a screen like this.
On the hotspot side, things work a bit differently. The messaging service is not used. Instead, users are only notified from a lengthy terms of service that appears when they sign up - and there's no opt-out.
"If you're traveling through one of our airports or hotel chains or whatever, and it's offering free internet access, in that first page there's a clear part that says we will give you targeted advertising while you're on this network.
"This is a free service, so if you don't want targeted advertising, you just say no to the free access."
Meanwhile, NebuAd sent us a copy of its standard contract, where ISPs are required to "directly" notify customers. But Knology seems to contradict the company's definition of "directly." And although other ISPs, including WOW! and the Kansas-based Embarq, have added language to their terms of service indicating they're using a service like NebuAd's, it's unclear if they provide more direct notification.
WOW! - formerly known as WideOpenWest - did not respond to our requests for comment, while Embarq sent us this canned statement: "Like other companies, we are evaluating behavioral marketing tools, but we have not decided whether to move forward with them. Our Privacy Policy anticipates and alerts customers to possible future use of these tools, and offers customers the opportunity to simply and quickly opt out. Embarq takes its customers' privacy very seriously and we take every precaution to ensure information about our customers remains secure and anonymous."
There are also rumors flying that Phorm will soon launch on ISPs here in the States, and the rumors touch on at least one big name: AT&T. AT&T says it hasn't even tested Phorm's service. "We're not using them, and we have never have used them. As far as what we might do, whether it's network investment of policy or anything else, we can't talk about that," said AT&T spokesman Dave Pacholczyk. "You're not the first to ask. We know that that rumor is out there." ®