Original URL: http://www.theregister.co.uk/2008/04/07/review_nvidia_nforce_790i_sli_extreme_chipset/
Nvidia nForce 790i Ultra SLI chipset
Powerful but very pricey
Posted in Personal Tech, 7th April 2008 11:08 GMT
Review The basic version of Nvidia's new nForce 790i chipset is the 790i SLI, with the 790i Ultra SLI coming in at the top of the line. Both chipsets have nearly identical features lists and they both support the latest 45nm Intel Core 2 'Penryn' processors.
Graphics support is a major part of the deal with any Nvidia chipset, and the 790i takes over from its predecessor, the 780i, with support for three graphics slots, two of them 16x PCI Express 2.0 and the third a 16x PCI Express 1.1 slot. The difference is that the 780i SLI - reviewed here - used an nForce 200 chip to run the PCI Express bus. That chip connected to the 780i's northbridge, which was little more than a modified nForce 680i SLI. The 790i SLI models pull the PCI Express functions in-house so the 790i is a traditional twin-chip design where the 780i SLI used three separate chips.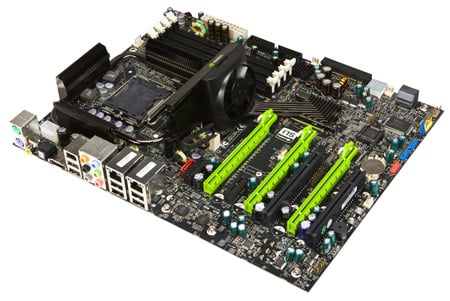 Nvidia's nForce 790i SLI: expensive
Nvidia has made one more important change to the 790i: enhancing the memory support. The 680i and 780i supported DDR 2, but the 790i has a DDR 3-compatible memory controller. This brings us neatly to the difference between the basic and Ultra versions. The 790i SLI supports memory up to 1333MHz DDR 3, while the Ultra adds supports for 1600MHz, 1800MHz and 2000MHz when you overclock your processor.
The remainder of the features are carried over from the 780i SLI, so the six 3Gb/s SATA connections have Nvidia RAID 0, 1, 5 and 10, and the motherboard manufacturer can install one or two IDE controllers. There are two Gigabit Ethernet controllers, support for ten USB 2.0 ports, five PCI slots and HD audio.
The move from 780i to 790i consists of a reduction in the number of chips and a change in the memory controller so you might hope that prices would be held steady or, possibly, fall slightly. Instead, Nvidia has used the launch of these new and shiny chipsets to jack up prices by a startling amount.
At launch there are only a handful of 790i Ultra SLI models on sale. There's the Asus Striker II Extreme, which we used for our tests, at a list price of £285 but can be found for a slightly more reasonable £260. Alternatively, you can buy reference designs from EVGA and XFX for £240. We don't have a price for the Gigabyte GA-790SLI-DQ6, and don't even know the model numbers for 790i boards from Foxconn and MSI. What we do know is that Asus will launch its Striker II NSE, which uses the non-Ultra chipset, at £30 less than the Extreme when it goes on sale later this month.
In appearance, it bears a passing resemblance to the Intel X38 Maximus Formula SE - reviewed here - with an extensive passive cooling system that covers the chipset and power regulation hardware. It comes complete with a Fusion cooler on the northbridge, which makes life very easy if you want to water-cool the Asus. The reference design from Nvidia uses a large active cooler on the northbridge, and judging by our experiences with the Asus this is probably a good idea.
PCMark05 Results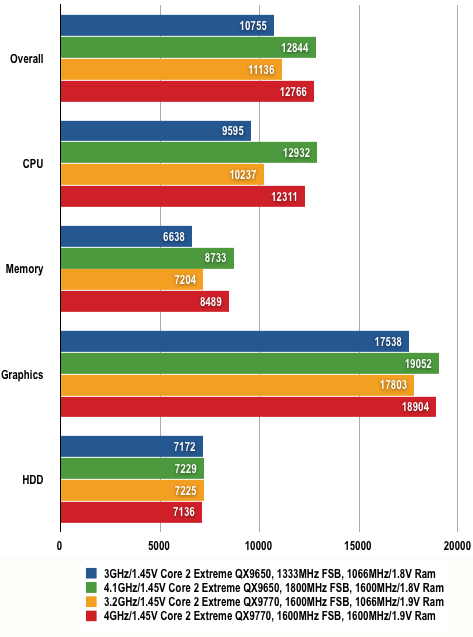 Longer bars are better
At first, our testing went smoothly, but as we cranked up the speed of the test rig's Intel Core 2 Extreme QX9650 and QX9770 processors, and that of the DDR 3 memory, the scores in our benchmark tests became erratic. After a time, the QX9650 system would freeze and require a restart, something we weren't anticipating as the chip we have here has always been well up for overclocking in past tests.
By contrast, the QX9770 was far less problematic, even though it's the CPU we'd have expected to fail had we been told one of our two CPUs wouldn't overclock. All this suggests to us, the source of the problem is Nvidia's support for different Intel CPUs, suggesting it needs to do some more work here, possibly in conjunction with Asus' driver writers.
Previous Nvidia 500 and 600 chipsets have got horribly hot even at standard speeds, but the 790i Ultra SLI seemed to behave satisfactorily with the tried and trusted Asus passive cooling system. Checking with a temperature probe showed that the chipset cooler was hitting 65-70°C, and that was the point when the system would lock.
PCMark Vantage Results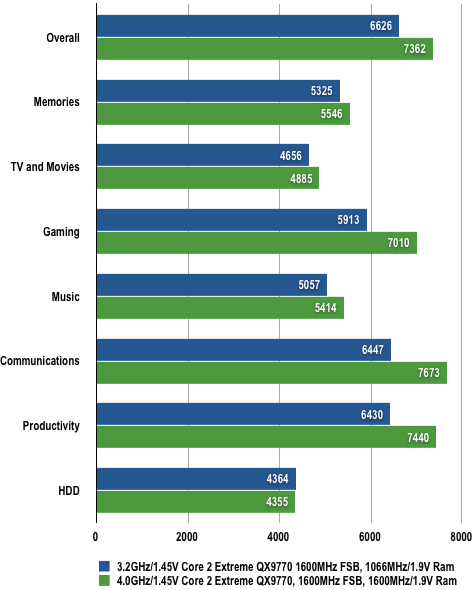 Longer bars are better
Tests did not complete with Core 2 Extreme QX9650 set-ups
Once a couple of case fans had been added to blow across the northbridge and memory, the Asus behaved itself perfectly, so on that score the 790i is better than previous Nvidia chipsets, but still has room for improvement. It's clear that Nvidia takes chipset cooling very seriously, as the reviewer's guide for 790i SLI gives a detailed description of the procedure to remove and replace the cooling system.
3DMark06 Results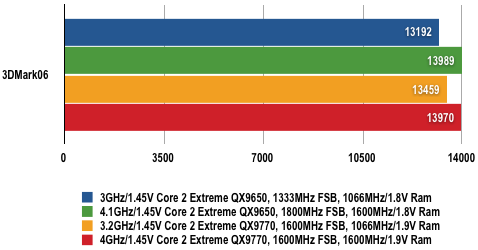 Longer bars are better
Tested with one Nvidia 8800 GT card
Asus' decision to use passive chipset cooling makes sense as a way of avoiding noisy active coolers, and it's not a problem if you run your system at stock settings. But who's going to buy a board like this and not want to use it in an overclocked system? As soon as you overclock, you run into trouble which can be eliminated with extra fans. So you may as well opt for a 790i board with active cooling in the first place.
Setting up the Asus for regular use could hardly be simpler. Plug in the processor and memory, add cooling, and let the BIOS sort everything out for you. Things get a bit more complicated when you start to overclock as you face a large number of decisions. You can set the memory speed with a multiplier based on the frontside bus (FSB) speed. The options are limited to 5:4, 3:2 and 1:1 but Nvidia also offers the option of unlinking the FSB and memory bus so you can fix the memory speed to any figure that you choose. If you want to take the memory speed beyond 1801MHz you must install two memory modules in the second and fourth slots.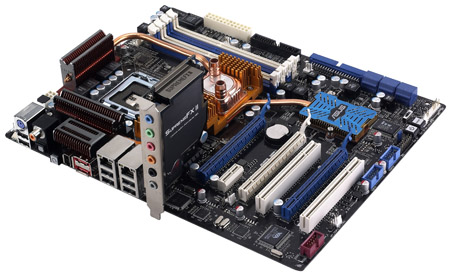 Asus' Striker II Extreme: not overclocker friendly
By that stage you'll be adjusting voltages and if you're used to setting the CPU core voltage, memory voltage and maybe the MCH/northbridge then you're in for a shock. Asus supplied a set-up sheet with details for E8400, Q9550, QX9650 and QX9770 processors. In addition to the usual voltage changes we had to set CPU LL and CPU VTT voltages as well as pumping plenty of juice into the southbridge. According to Asus, the CPU LL for the QX9650 needs to be set at 1.74V. For the QX9770, the figure is 1.70V, and there is surely no chance you'll find those figures by trial and error.
Verdict
At a basic level, if you want to combine an Intel processor with two or three Nvidia graphics cards then the nForce 790i SLI Ultra is the obvious – if expensive – choice. Those who like to tinker should be aware they will very likely drive themselves insane with the endless settings in the BIOS.