Original URL: https://www.theregister.co.uk/2008/04/03/ihome_ipod_dock_and_lamp/
Let there be light, and music
Shine on you crazy cats
Posted in Personal Tech, 3rd April 2008 16:11 GMT
Some people claim music lightens a gloomy mood, but the iHome iPod docking station lamp is guaranteed to shed some light on the subject – literally.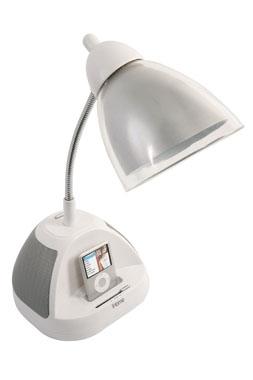 iHome: crank up the volume and the brightness
The iHome is an iPod docking station at heart, but a desktop lamp also sprouts out of the dock's top to help illuminate your iPod, working area or, just maybe, your mood.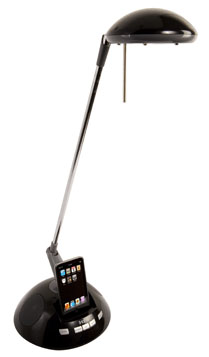 Speakers are built into the base
Several styles of iHome are available, but each docks most iPod models, including the Nano and Mini. The music player is also charged whilst sat in the dock.
Speakers are built into the base unit, so you'll be able to listen to Marilyn Manson in the dark or Girls Aloud with the lamp's halogen bulb glaring down.
iHome iPod docking station lamps are available online in the US from $50 (£25/€37). A UK price or release date hasn't been given yet.