Original URL: https://www.theregister.co.uk/2008/04/01/review_canon_ixus_960_is/
Canon Digital Ixus 960 IS compact camera
Plenty of pixels, but passable performance
Posted in Personal Tech, 1st April 2008 19:22 GMT
Review The latest offering from Canon, the Digital Ixus 960 IS offers no less than 12.1 megapixel performance. But, as we shall see, offering more pixels means paying a price when it comes to certain aspects of performance.
We have to say, the Ixus 960 is one of the nicest cameras we've seen, with a titanium body and sleek finish – you just want to caress it gently in your hands. It's also nicely balanced and most controls are intelligently set out. But on the other hand, it's not the most compact camera around, measuring 95.9 x 59.9 x 27.6mm and weighing 165 grams without battery.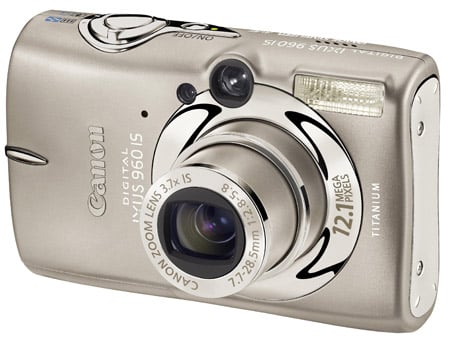 Ixus 960: one of the nicest cameras we've seen
Let's put it this way: the Ixus 960 is certainly pocket-sized, but it's more like walking around with 20 pound coins in your pocket.
The Ixus 960 comes with a fair sprinkling of accessories including battery pack, charger, and connecting leads, but once again Canon has skimped when it comes to the supplied SD memory card – you get a measly 32MB card, which can hold just five images at the highest resolution.
Canon seems to accept that it has been less than generous, because the instruction books apologetically states: "You may not be able to achieve the full performance of this camera with the included memory card." Duh.
Moving on, the Ixus 960 is very similar in design to the Ixus 860. At the front is the zoom lens and flash, while on top are a small power button and large shutter button. On the left side is a small cover for the AV out/mini USB out sockets, and this was a bit of a shock, as the cover is a plasticky affair that doesn't feel very robust.
Round the back is a nice, large 2.5in LCD screen with 230,000 pixels. You also get a tiny optical viewfinder, which is handy if you want to reserve battery power or are shooting under bright light conditions. That said, the viewfinder cuts out a lower portion of the scene.
There's also a rocker control for auto, manual, scene and movie modes, and underneath two small buttons for playback and printing. Beneath these is a circular function control for ISO, flash, macro, timer, and continuous shooting modes. Pressing a central function set button activates a menu for changing certain parameters (in the manual mode, this includes white balance, exposure compensation, metering and My Colours, which lets you adjust the colour mode for skin tones, as well as effects like sepia and black and white).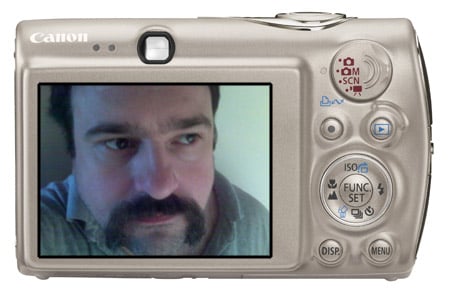 Round the back is a nice, large 2.5in, 230,000 pixel LCD screen
At the bottom are two more tiny buttons, one for altering the display mode (all icons/no icons or off) and a menu button. The latter is used for a variety of set-up adjustments plus setting up features such as Face Detection and Image Stabilisation – more on this later. Dig around the bottom and you find a spring-controlled flap for the battery and SD/SDHC card.
Enough of the aesthetics. What does the Ixus 960 offer apart from Face Detection, Image Stabilisation and a plethora of pixels arranged on a 1/1.7in CCD? Well, it's got a 3.7x 7.7-28.5mm optical zoom (equivalent to 36-133mm on a 35mm camera), ISO settings which run from 80-1600, plus Auto High, shutter speed range from 15-1/1600 sec, image resolution ranging from 4000 x 3000 to 640 x 480 pixels, video that can be shot in XGA (1024 x 768 at 15fps) and VGA resolution (640 x 480 at 30fps), and 18 shooting modes that include portrait, night snapshot, kids and pets (is there a difference?), foliage, snow, and ISO 3200.
Switch on is fast and you can get shooting in less than a couple of seconds. But this was not the friendliest of cameras to use in terms of operation. The image stabilisation setting, for example, is buried within a menu (it's third from last on a list of 14 functions and not even on the first menu page). No doubt Canon will argue that it's best left on most of the time, but we think it should be more easily accessible.
The menu button presents you with an L-shaped list of various icons although, thankfully, each one displays a text description as you scroll over it. Adjusting parameters like the ISO are easy – you just press the ISO text on the function control switch and a menu display instantly appears for you to make any changes.
The snag is that unless you're quick off the mark, the display also instantly disappears and you have to press the button again. You really notice the 12 megapixel effect when it comes to the continuous shooting mode – it takes about two seconds for the Ixus 960 to process the data before it's ready for the next shot. Plus, the autofocus was not the fastest on the block: you wouldn't want to use this camera for capturing a sequence of fast action shots.
Sample shots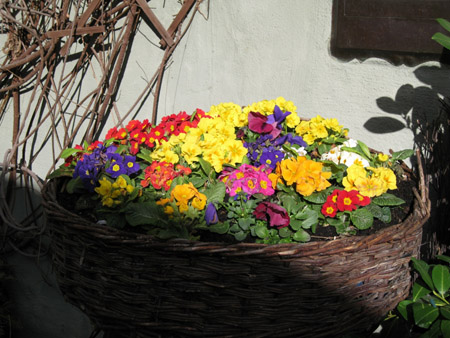 The Ixus 960 offers good colour reproduction, this was shot at 1/160sec shutter speed, F10.0, ISO 80 and 11.45mm focal length
Click for full-size image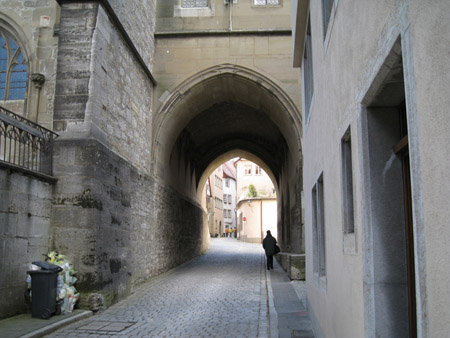 Notice how the fine texture on the building is revealed. This was shot at 1/100sec shutter speed, F2.8, ISO 80 and 7.7mm focal length
Click for full-size image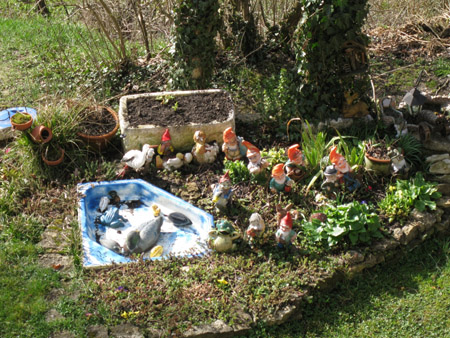 These garden gnomes were shot using the maximum 3.7x optical zoom setting from behind a wall that was high up above them
Click for full-size image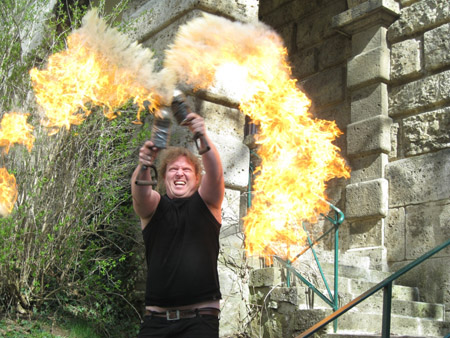 The 12 megapixel file size means it's not great for fast continuous shooting. However, as this shot shows, it can capture fast-moving action
Click for full-size image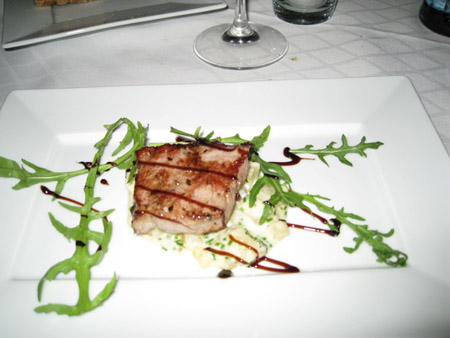 Shooting food on a white plate caused problems for the Ixus 960, with most of our shots over-exposed or fuzzy
Click for full-size image
In terms of overall performance, the Ixus 960 didn't disappoint – well, not too much anyway. Outdoor shots were crisp and sharp, and colour reproduction was very good. Skin tone reproduction was impressive and fine detail could easily be discerned when shooting brickwork.
However, there were a number of occasions when interior shots were less than impressive. Shooting food on a white plate caused the Ixus 960 problems and many of the shots we took were either over-exposed or just plain fuzzy. Red eye was a bit of problem too, although there is an in-camera correction system.
On a happier note, the battery performance was impressive and we shot well over 200 images, plus a few video clips and still had plenty of battery power left. Colour prints were impressive too, but we didn't notice much difference between prints produced by the Ixus 960 and those made by cameras with a less than two thirds the number of pixels.
Verdict
We're not sure that paying top dollar for a 12 megapixel camera is really worth it for most people. Interestingly, the recently launched Ixus 970 is a 10 megapixel model with a larger zoom. Don't get us wrong, the Ixus 960 is a very nice camera, but be sure to check out the opposition before handing over your hard-earned.