Original URL: http://www.theregister.co.uk/2008/03/28/review_archos_705_wi_fi_mobile_dvr/
Archos 705 Wi-Fi mobile DVR
Except it's not a DVR
Posted in Personal Tech, 28th March 2008 12:29 GMT
Review While Apple, Samsung, Creative and the like squabble over the mass market for MP3 players, Cowon and Archos have become engaged in a fight for the premium end of the market. The latest shot in this battle is from Archos: the fifth-generation 705 Wi-Fi.
On introduction to the 705 your first thought will almost certainly be 'wow, that's big', rapidly followed by 'wow, that's heavy'. At 182 x 128 x 20mm and a weight of 630g, the 705 is a man-sized box of tissues PMP and no mistake. The limitations of portability are tacitly acknowledged by Archos who have labelled the 705 a "mobile DVR" rather than a PMP.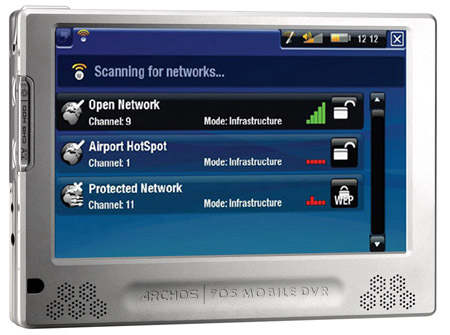 Archos 705: most controls are on the touchscreen
In the hand, the slab-sided 705 is a triumph of engineering over aesthetics. Exterior decoration is limited to the grilles covering the two speakers that sit below the screen. Tiny Philips screw heads abound. The brushed metal casing looks and feels robust while exterior controls are limited to a power on/off button and an LCD/TV switch, everything else being controlled through the touchscreen.
On the bottom of the unit are four ports: a mini USB to connect to your PC, a micro USB to connect to an external USB device, and two connectors that link to the optional DVR Station Gen 5. Around the back is a handy metal kickstand that props the 705 up for desktop viewing.
Let's start with the screen. At seven inches size is not an issue, nor is resolution which comes in at an Eee PC-size 800 x 480. Archos states the display will support video resolutions "up to DVD", which we take to mean 720 x 576 PAL - decent enough, if shy of the 1280 x 720 H that the Cowon A3 - reviewed here can manage.
Technical specification aside, the screen is a fine bit of engineering, being both bright and colourful. The matte finish does take away that last degree of crispness, but has the benefit of not showcasing too much the inevitable fingerprints you get with a touchscreen UI.
For a real world test of video playback we dumped a 700MB, MPEG 4 DivX movie with a resolution of 592 x 256 onto the 705, plugged a pair of Sennheiser HD25 SP-II earphones into the 3.5mm jack, and kicked back with a beer. The file transferred in a pretty swift one minute 50 seconds, and played with no hesitation. Both video and audio playback quality proved to be nothing short of excellent. You really can do so some serious movie watching on this thing.
As a music player, the 705 is equally up to the job, providing a sound every bit in keeping with its price tag, so long as you don't use the rather low-rent bundled earphones. We were, however, a little disappointed to find no Ogg or FLAC file support. In fact, out of the box the 705 will only play MP3, WMA and WAV audio files, and MPEG 4 and WMV video.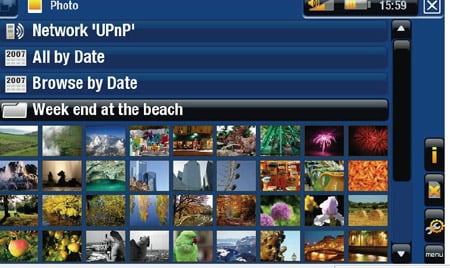 The slide show feature makes the 705 a fine digital picture frame
Purchase the Cinema plug-in for the princely sum of £14.95 and you can add MPEG 2 video and AC3 audio to the list of files supported. Cough up the same for the Video Podcast plug-in and you get H.264 video and AAC audio support. This is a bit steep when Cowon, for one, is loading its players with support for every video and audio file format under the sun as standard.
Still image reproduction - Jpeg, PNG and BMP files only - is excellent, both in thumbnail and full-screen format. The instant slide-show feature and rear kickstand makes the 705 a fine impromptu digital picture frame.
Archos' parsimony reaches new heights should you wish to take advantage of the 705's built in 802.11g Wi-Fi and surf the net - you'll need to shell out a further £20 for the optional video browser plug in. This, frankly, strikes us as taking the micturation when the 705 itself is a minimum £330 purchase. Our review copy came with the browser pre-loaded, but we couldn't ascertain if this was a one-off or a feature Joe Public can expect to find.
The browser itself is badged as "Opera-powered", and while it does a decent enough job of basic web navigation, and supports tabs, it's nothing out of the ordinary. It compares poorly with the Mozilla-developed browser Nokia have installed in the N810 tablet - reviewed here.
Nine free Opera widgets can be downloaded for the 705, and while one is an RSS reader it only has six built-in feeds and lacks the capacity to add more - though one feed is The Register, so we shouldn't perhaps complain too loudly. Other widgets available are a calender, a weather forecast application, a notepad, calculator, unit converter, currency converter, data vault and address book.
There's no streaming-media player, so internet radio stations are out. We also searched in vain for any sort of instant messaging support. We reckon these are both pretty major omissions in a wireless device that Archos needs to address pronto.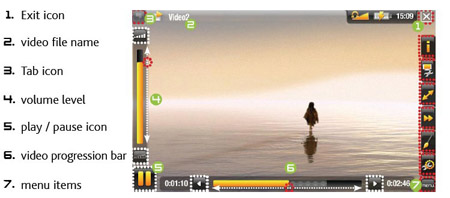 Navigation around the 705 is pretty straightforward
Navigation around the 705 is pretty straightforward. Fire it up and a home screen appears with eight large icons that take you to your video, music, photographs, files, the Archos content portal, web browser, recorder, and widgets and games. Just tap each icon twice to access the relevant sub-menu.
In video mode a tap on the bottom of the screen brings up the pause/start key and a play bar, which you drag across the screen to fast forward or rewind. A left-screen tap will bring up a volume bar, usable with the same drag motion, while a right-screen tap brings up the main menu bar. The icons are not that intuitive, so checking the manual to see what does what will be time well spent. Tap the top of the screen and all three UI areas show up along with the system status bar. As a UI it all works well enough, but frankly a hard volume control of some type would be a welcome addition.
One feature of the touchscreen that does start to irk after a while is that everything needs to be touched twice. If you open a list of albums by a particular artist you have to touch the album you want once to highlight it, then again to open it. To select a track you have tap once to highlight, twice to play. All a bit silly.
Add to this the fact that the screen surface has a fair amount of give in it, so that you push rather than tap, and rapid navigation can become a bit of a struggle. Not such a problem if media playback is your main intent, but something of a limitation if you want your 705 to be part PMP and part internet tablet.
Archos bundle with the 705 a dinky little 54-key remote control complete with a Qwerty keyboard, a tacit acknowledgment that the touchscreen UI can be a little lax as an emailing and URL-entry tool. The 705 also comes with a rather cheap plastic stylus, although with nowhere to house it inside the player it's likely to get lost early on.
Unusually for a device in the premium end of the market, the 705 doesn't come with any media management software, so loading content is simply a case of drag and drop. However, the player is compatible with Windows, Mac and Linux.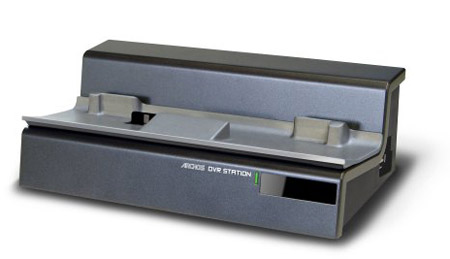 To connect to a TV you'll need the DVR Station 5
With such a large screen and a hard drive to power, battery life could have been an issue, but Archos has fitted the 705 with a big old removable 3.7V power pack that gave us 19 hours of continuous music playback and five of video. Both numbers are just a little shy of Archos' claims of 22 and 5.5, respectively, but are pretty impressive nonetheless.
To connect to a TV you need to cough up another £70 for the DVR Station 5, which changes the 705 into a full-fledged DVR that can be used to record direct from your TV and play back content the same way. Archos tells us the station will allow you to stream media to your TV from your PC as a UPnP device, but since it didn't send us one we couldn't test this.
And why should we? The 705 is clearly branded a "mobile DVR", yet without forking out for an optional extra, the machine is most definitely not a DVR. How many consumers are going to walk out of a shop with one of these PMPs, having seen the label on the front of the unit, only to find that it doesn't do what it says on the tin?
Verdict
There is no doubting the 705's competency. As a media player it is quite superb - size, weight and slightly clumsy touchscreen UI notwithstanding. As a web browsing device, though, it is less successful, and the inability to stream internet radio or access your favourite RSS feeds are major drawbacks.
But Archos deserves strong criticism for labelling the device as a DVR when there's no DVR functionality out of the box. You can't even connect the 705 to a TV without buying the £70 optional add-on. Badly done, Archos.