Original URL: https://www.theregister.co.uk/2008/03/27/baying_of_the_hounds_chapter_one/
The Baying of the Hounds
Headspace: How the state is leading us by the nose
Posted in Policy, 27th March 2008 16:19 GMT
Book extract Today marks the publication of Headspace - Reg contributor Amber Marks's exploration of how the state and private sectors are trying to exploit the science of smell to watch and control citizens.
Over the coming weeks, we will be publishing exclusive extracts from the book, which is published by Virgin Books and available here.
Today we present Chapter 1 "The Baying of the Hounds":
The first time I was sniffed by a dog I was seven. I entered a room full of grown ups and someone's dog headed straight for my crotch, stuck its nose up between my legs and sniffed. It then wrapped its paws around my leg and started to hump me so hard I fell to the floor. It was my first sexual experience. It was un-consensual and took me by surprise. I blamed myself.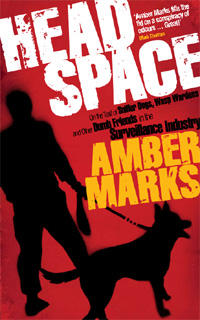 Smell has historical associations with sin, which may be why the experience of being sniffed is unnerving. Patrick Süskind sums up its invasiveness in his novel about a freak of nature called Grenouille who hunts down his victims by their scent and murders them to preserve their human essence for his personal perfume collection. The novel begins when Grenouille is a baby. A priest is cradling Grenouille in his arms, when he wrinkles his little nose:
It was establishing his scent! And all at once he felt as if he stank ... The child seemed to be smelling right through his skin, into his innards. His most tender emotions, his filthiest thoughts lay exposed to that greedy little nose...
The first time the police dog penetrated my consciousness was when I was working as a barrister in connection with a liquor licensing application. It was traditional for licensing sessions to begin with an address to the magistrates by a representative of the area's police force on its latest initiatives. I was sitting on the bench waiting for the officer to finish before I could make my application.
"We will be taking police sniffer dogs around pubs and clubs in the area to detect drug users on the premises," he stated proudly.
The announcement of this initiative surprised and unnerved me. The 'British Pub' would take on a different character with police dogs sniffing around the feet of those relaxing with friends after a night of debauchery. Had dope smokers lost the right to drink? I made a note to research this initiative.
I might have forgotten this incident had further encounters not swiftly followed.
Walking into Fulham Broadway underground station, I saw officers holding dogs on leashes, encouraging them to sniff the crotches of passing commuters. I approached one of the policemen and asked him what was the purpose of this operation.
"I can't say."
Luckily, I was wearing a suit and I apologised for my curiosity, explaining that I was a lawyer with a professional interest in crime. He looked at me with something approaching interest.
"Well, you know that most crime is caused by drugs?"
"Yes," I lied and nodded.
Artificial affinity had been achieved.
"Well, these dogs can smell the smallest trace of a drug on a person. A lot of people take drugs and once the dog has picked up a scent of drugs on them, we have the right to search them. If we find drugs on them we can then search their homes and in their homes we usually find all manner of incriminating articles."
Now I understood. Who needs a warrant when you've got a dog? Restrictions on police powers were being circumvented by a dog's bark. Man's best friend was a Judas. I nodded approvingly at him.
"The Muslims don't like it though," he added. "Or the Chinese." The officer didn't seem particularly upset by this. I thanked him and went on my way.
On my way back from court a few weeks later, I was walking through Clapham Junction station subway when I saw a group of officers with a black dog. The dog handler was tall and chubby with a dirty smile. The officers had stopped to chat amongst themselves just past one of the stairwells. A little black girl stood guarding a suitcase for her mother at the bottom of the steps. The dog kept going over to her case but the handler took no interest. I heard one of the nicer-looking officers ask the handler why it kept going over to her. The handler beamed and laughed. "He can smell she's black can't he?"
Somewhat revolted by this scene I told my mother about it. It didn't faze her at all. "Oh I know," she said. "I have read about it in The Daily Bulletin."
The Daily Bulletin is the local ex-pat paper in Majorca and often contains snippets from Reuters not picked up on elsewhere in the media.
"In fact there is a case going through the courts at the moment in which the police are being sued for training their dogs to go after black people."
Did different races emit distinct odours? It seemed unlikely to me but perhaps nothing could be dismissed as impossible in this strange new world of olfactory policing. There was something unnerving about the prospect of being sniffed by a police dog but I couldn't put my finger on what. Perhaps it was the deeply entrenched cultural association between sniffing and snooping. Inquisitive people have historically been derided for their nosiness. Fed up with the unpaid hours of work required to defend suspects properly, I decided to accept a well-paid office job as a government lawyer in the Court of Appeal. Tracy, a solicitor who had regularly instructed me when I'd worked as a barrister, called me one day out of the blue after I'd been working in the office for several months and we arranged to meet for coffee opposite the Royal Courts of Justice.
"So what are you up to?"
"Bit fed up with the day job – too much administration."
"That's office life."
"I'm thinking of undertaking some legal research into sniffer dogs."
"Really, that will be interesting." She pulled her Gucci sunglasses back over her heavily made up eyes and took a drag on a Benson and Hedges. "My client's wife had a run in with them only yesterday." She passed the packet of cigarettes over to me.
"Do tell," I begged, discarding my slice of cake and resolution to give up smoking and taking one of her Bensons.
"She went in to visit him in Belmarsh prison. She was sat in the waiting room when the guards walked a sniffer dog past the line of waiting visitors. The dog barked at her and another woman who were then taken into another room. They were told to wait there for female officers to arrive who could search them." She took a bite of quiche between drags. "Anyway, they were in there waiting for a while before the other woman turned to speak to her. "I'm worried," she said, "I don't have anything on me but I do have my period." "So do I," replied my client's wife. "Isn't it embarrassing?" Interesting huh? Neither of them had drugs on them but both were menstruating and the dog singled them out." "That is interesting. It hadn't occurred to me that the dogs weren't reliable. I've been too wound up about their use in the first place. I mean, since when do the police have a mandate to sniff around in the hope of finding something chargeable? And what about privacy? What's more personal than the way I smell?"
"Have you read Ana Funder's Stasiland?" she asked.
"No. What is it?"
"It's a book about the Stasi."
"Which is what?"
"The Stasi was the secret police in East Germany. Its objective was total control of the population and its means was to know everything about everyone. They turned the German Democratic Republic – I think that's what it was called – into a police state. Everyone living there was terrified of being spied on, informed upon or arrested. The police had a file on everyone." Tracy took another drag on her cigarette and exhaled pensively. "It was weird the information they collected. They used it to intimidate people. They scared the crap out of one girl by telling her that they knew her little sister wanted to study music at college. I think they implied they could put a stop to it or something. Anyway, I can't remember what there is on sniffing in her book, but there is something."
I purchased a copy the next day. In the first chapter, Ana Funder visits the Stasi museum, located in the former headquarters of the Stasi in Leipzig.
The Stasi had developed a quasi-scientific method, 'smell sampling', as a way to find criminals. The theory was that we all have our own identifying odour, which we leave on everything we touch. These smells can be captured and, with the help of trained sniffer dogs, compared to find a match. . .
Mostly, smell samples were collected surreptitiously. The Stasi might sneak into someone's apartment and take a piece of clothing worn close to the skin, often underwear. Alternatively a 'suspect' would be brought in under some pretext for questioning, and the vinyl seat he or she had sat on would be wiped afterward with a cloth. The pieces of stolen clothing, or cloth, would then be placed in a sealed jar. The containers looked like jam bottling jars. A label read: "Name: Herr [Name]. Time: 1 hour. Object: Worker's Underpants."
Leipzig Stasi had collected smell samples of the entire political opposition in this part of Saxony. No-one knows who has these scraps of material and old socks now, nor what they might be keeping them for.
If nothing else, this was material for a viable conspiracy theory on the common problem of disappearing socks. I wondered if the UK authorities had been aware of the Stasi work and whether the increasing number of dogs on our streets was somehow related. I also wondered who had the missing Stasi samples.
I did an internet search on the Stasi. Rumours abounded about its former head being hired by the US Homeland Security Department. The Homeland Security Department is the US equivalent of the UK's Home Office. The Department's activities since its establishment shortly after 9/11 have been controversial and it has been criticised for attempting to turn the US population into a network of spies. I had a vague recollection of Wernher von Braun, the Nazi rocket scientist subsequently taken on by the US to develop weapons of war. Perhaps they were recruiting experts in controlling internal populations for the war on terror.
I started talking to everyone I met about sniffer dogs. Almost everyone had their own story. The topic was so absurd it even worked, I thought, as a method for chatting up men. I started to chase a ridiculously handsome civil liberties campaigner called Tom, with whom I had shared an animated pub conversation about police dogs. We met for a drink and weren't able to re-capture the energy of our first conversation. I got very drunk and the date, if that's what it was, ended with him carrying me home while I vomited over his shoulder. I was too embarrassed for a long time after that to contact him again. I wouldn't hear anything from him and then out of the blue my phone would ping and a text from him would read: "Guardian. Page 5. Good doggy story xxx". It slowly dawned on me that I had trained this man to think of me every time he saw a dog; not the best pick-up trick in the book.
A barrister friend of mine was representing a man charged under the Cruelty to Animals Act of 1874 for allegedly hitting a sniffer dog on the nose. Proof that the dog had been injured was the dog handler's evidence that the dog had yelped. There was scope for some decent cross-examination there.
A man I met in a club was leaning against the wall of WHSmith in Victoria station when a dog came and sat next to him. The dog's owner, a policeman, approached him and told him he was lucky his dog was still in training for passive drug detection duties, otherwise he would have had to search him. Passive drug detection, I was later to learn, was the latest fashion in dog training. Instead of barking at its suspect, the dog was trained to sit down next to them.
A Big Issue vendor told me his life was destroyed by a sniffer dog. Homeless and fleeing drug addiction in London, he was boarding a train to his parents' house when a sniffer dog barked loudly at him. The police came running over and asked him for his details. They looked him up, found out he had outstanding warrants, hauled him off the train and locked him up. He was unable to fathom the scent that had alerted the dog to him.
A friend and heavy cannabis smoker had been stopped every morning on his way to work by barking dogs and dog handlers asserting a right to search him at Seven Sisters station. On the twelfth occasion he objected, complaining they made him late for work and they should know by now that he never had anything on him. The dogs continued to bark and the officers persisted in searching him on a daily basis. Eventually he contacted a solicitor. The solicitor wrote to the police and the searches stopped.
Friends, aware of my interest, started to send me articles they came across.
One was about a headmaster who had told his pupils to line their bags up outside and congregate in the assembly room. While he talked, police officers, who had been invited on to the school grounds, had their dogs sniff the children's bags for drugs.
I thought I'd phone the Home Office to find the official policy on sniffer dogs.
"Hello. Can you tell me if you have any guidance on sniffer dogs?"
The man on the end of the telephone sniggered.
"On what?"
"Sniffer dogs."
"No, I don't think so."
"Well, do you have any publications on sniffer dogs at all?"
"No, I don't think so," he laughed again.
"Well that is odd, because a large number of police forces seem to have started using them. Are you sure the Home Office doesn't have any information on them?"
"Not that I have come across. I suggest you try the police."
I phoned up a friend and former head of the drug squad.
"What do you know about sniffer dogs?"
"Nothing, never had anything to do with them."
"But it must have been when you were in charge that the police started to use them for finding drugs?"
"As I say, I don't remember having anything to do with them. A friend of mine runs a dog training school though. I'll have a word. I'm sure he won't mind you making a visit."
"Fantastic," I said. "Thanks very much."
Over Christmas in Majorca I had coffee with an exboyfriend who now works as a policeman. I told him about my research. He told me that they were setting up a canine unit on the island. He was sure it was for explosive detection only. I had my doubts given the ever-increasing demands put upon law enforcement by the War on Drugs. I met up with a local legalise cannabis activist, and tried to alarm him with stories of whom the dogs were being used against in the UK and the news that a canine unit was planned for Majorca.
"Tranquila Ambar. They won't do that here. Not in Majorca. I tell you why. We had a protest recently. It was stopped by the police who beat the protestors with sticks. The next day, one of these policemen goes round to his uncle's house and sits down at the kitchen table. 'Get out,' shouts his uncle. 'You can't beat me with a stick one day and expect a meal the next.' Majorcans would never allow the state to sniff our balls. If they start trying to behave here like that with those dogs, the dogs will be killed.
"'Who killed my dog?' the officer will ask. 'What dog?' they will reply." He shook his head and walked across the room. "No, the Majorcans won't stand for it, even less so if the dog is not a Majorcan breed."
I contacted the civil liberties organisation where Tom worked and got put through to him. I hadn't talked to him since a brief conversation the day after our disastrous date.
"Hello, it's Amber."
"Hello, how are you?"
"Good. Good. Much better thanks. Still very embarrassed and grateful."
"Honestly, Amber, it happens to everyone. It was no trouble at all. How have you been?"
"Busy, busy. You know how it is." I haven't been thinking of you day in day out. I am not phoning you on the pretext of work just to talk to you. This dog-sniffing thing is serious. "I was wondering if you had carried out any research into the civil liberties implications of the increasing use of sniffer dogs."
He laughed. "Animal rights you mean?"
As far as I was aware, his organisation didn't campaign for the rights of animals.
"No. I think the use of police dogs in an increasing range of public settings has implications for all of us."
"Well, you can write something on it for our website if you want. We could probably fit it in during our silly season. No offence but it does have comedy value."
"OK, I'll be in touch."
Was I wrong to take this dog thing seriously? Was my obsession with dogs a sophisticated twist on my crush on this man? Was I barking up the wrong tree?
Then the Abu Ghraib story broke. The papers and television news were filled with photos of Arab prisoners being tortured by American soldiers. Journalists ranted about the hoods, knickers and nudity. I noticed the large Alsatian dogs in the photos, and remembered what the officer had told me in Fulham Broadway station about Muslims not liking them. Historians researching the mythology of the dog in Anglo-Saxon, Viking and medieval times claimed that its use by marauding invaders had cemented it in the popular psyche as a 'potent embodiment' of the threat to an existing social order. An article in the Observer described the police dog as "the public face of the War on Terror". I was sure there were dark forces afoot in this dog business and I decided it was time for some serious research.
Extracted from Headspace by Amber Marks, published by Virgin Books at £11.99. Copyright © Amber Marks 2008.
Get more information and buy Headspace here
Amber Marks is a criminal lawyer and freelance writer. She is presently undertaking doctoral research into new surveillance technologies at King's College, London.