Original URL: https://www.theregister.co.uk/2008/03/25/review_vupoint_solutions_fs_c1_vp/
VuPoint Solutions FS-C1-VP slide scanner
Bring your old snaps out of the analogue era
Posted in Personal Tech, 25th March 2008 13:12 GMT
Review If the 1980s revival has you itching to show how cool you were 20 years ago and the only evidence is on strips of celluloid, VuPoint's slide converter can bring your past into the present.
If you're of a certain age, photography still means F-stops, shutter speeds and a 'click' that isn't just an amusing option. It also probably means you've got boxes of slides that you know you're going to have to digitise one day. Oh, where to start?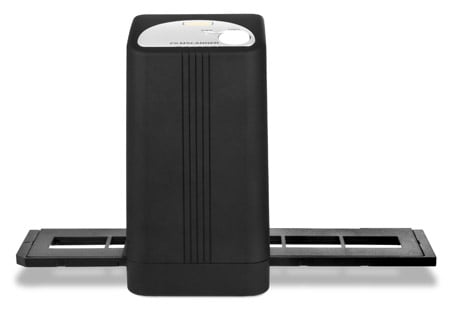 VuPoint Solutions' FS-C1-VP: 5Mp sensor for up to 1800dpi scans
You might consider VuPoint Solutions' basic slide/negative scanner. It's clearly not one of the professional-level jobs pushed by the same companies who actually make pro-camera kit. Neither is it an add-on to your already stretched absolutely-everything-in-one printer.
For your 50 quid, you get the scanner, holders for slides and black-and-white fill and negative film, and a disc with the drivers and Arcsoft's Photoimpression 6 software.
The scanner itself is about 20cm high, with a black matte coating. It feels kind of sexy, if you like that sort of thing. The guts of the machine include a five-megapixel sensor, which will give you 1800dpi scans, or 3600dpi with interpolation. The light source is a trio of white LEDs. And there's a four-element glass lens, forever stuck at F2.0.
The scanner carries nothing in the way of controls except a power lead and an inch-wide Copy button. Exposure and colour balance are entirely automatic.
The manual is even more basic – but not in a good way. You may well come unstuck trying to match it to what's happening on your screen while you're installing the software. Once the software's installed, simply plug in the USB plug, and you're on the way. Kind of.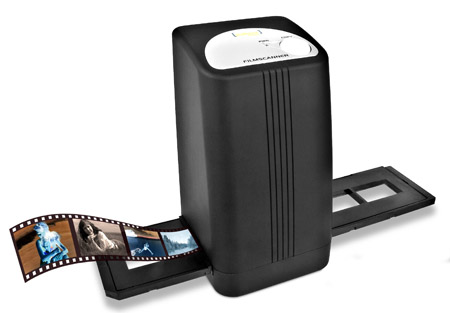 Keep the slide holder right side up with the trimmed corner going in first
You first have to load the film or slides into the appropriate holders, and then slide the holder into the device itself. You choose the resolution, colour depth and file format in the software, 24- or 48-bit colour depth; up to 3600 dpi; and TIFF or JPEG.
You can see what's potentially being scanned on the viewing window in the software. Lining it up seems to be an imprecise science until you realise that as long as the slide holder is the right-side up, with the trimmed corner going into the machine first. It actually clicks into place each time you move it on a slide. There's no mention of this in the manual, though, which can leave the uninitiated faffing around through a couple of dodgy blurred grabs. Remember, this is the generation that grew up on the box brownie.
Once the image is lined up, and you've allowed the white balance to settle. You then either hit the Copy button on the scanner or the 'snapshot' button in the software to capture the image. Next, hit the software's transfer button to save the image on your computer. You can then either stick with the Arcsoft software to view and edit the captured pic, or fire up an alternative app.
And this is where you realise that scanning your memories is not a one-button process. Some initial scans looked a little washed out, others had a greenish tinge. OK, these are wedding pics or from that long sabbatical you took in the mid-1980s, and it's entirely possible that you remember the day through a rosey or golden hue.
But the fact is, what you see on screen is not what you'd see if you popped the slide on a lightbox. Welcome to the digital world. The bundled software goes some way to correcting this accident of memory, and of course if you're a Photoshop jockey you'll have just the sort of memory you want before too long. A slightly murky grab of a night at a night club did scrub up nicely.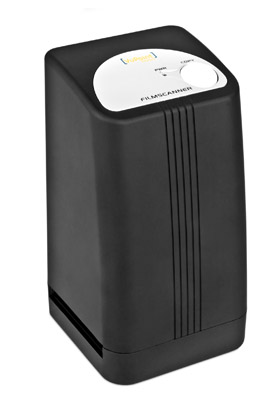 20cm high with a nice matte black finish
But with some pics, try as we might, we just couldn't capture the detail we know is in there. And we do know it's in there because we've still got copies of the wedding pics stuck up in the house, and you can indeed see the pattern on that rather fetching blue and gold tie. Perhaps packing all that light into such a small package is inevitably going to mean a touch of overexposure here and there.
How much of a problem this is going to be depends on what you're looking to achieve. If you're a pro with a career's worth of quality pics you need to preserve, you're going to be wasting your time – literally, as you push the five-pic slide holder through, one snap at a time.
If you've got boxes of negative film, you were probably never that serious about photography in the first place, and might be better off scanning your existing prints. If you were an enthusiastic amateur who used colour slide film and black and white, it just might be a start. But if you really want to see the detail on that tie, you might have to look in the wardrobe, not on your screen.
Verdict
If you're old enough to remember saying "ooo d'ya think yoo are, David Bailey?", this could help you re-envision your past, providing you don't mind losing some of the detail on the way