Original URL: https://www.theregister.co.uk/2008/03/19/review_roberts_wm_201/
Roberts WM-201 Wi-Fi internet radio
Internet radio goes mainstream
Posted in Personal Tech, 19th March 2008 12:32 GMT
Review For a manufacturer of radios like Roberts to produce a Wi-Fi-enabled device shows just how far internet radio has come. About 6000 stations are now available, and radios are becoming increasingly adept at presenting this vast selection in an easy-to-access way.
As soon as the product comes out of the box you get the feeling that it's well made and robust. It isn't going to win any beauty competitions - some might even go as far as to say it has something of the appearance of a breeze block - but it's been designed to blend in rather than stand out with its black-gloss cabinet and grille-dominated front.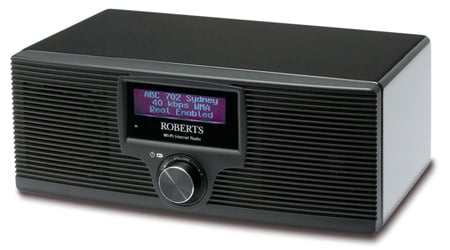 Roberts' WM-201: block-like but still stylish
The WM-201's screen does look a little small at first, but in use actually provides all the information you need in a very readable way. The brightness of the screen can be adjusted to match the amount of ambient light.
The product has a good level of useful connections, including an Ethernet cable - not all homes have Wi-Fi. There's also a line-in for playback direct from personal digital players, as well as a line-out so the unit can act as part of a much beefier Hi-Fi set-up.
Still, it's primarily designed to take advantage of the convenience of Wi-Fi, and it does this pretty well. Armed with your WEP or WPA code, the box can be configured quite simply - although we did take a bit of time working out the navigation system accessed via the unit's central knob. However, once we had got the hang of this, the quoted range of 10-20 metres was accurate, and its signal strength was robust.
Once the box is up and running, the control system makes more sense. The knob has a smooth, accurate action. Many products that use a controller of this type work fine until you have to push the thing in to make a selection. A lot of products don't have the weight or the build quality to make this easy - the knob requires more pressure to make the selection than it takes to push the unit across the surface it's sitting on.
This means you end up holding the unit around with both hands in order to make a selection: one to depress the knob, the other to hold the unit still. We're please to report this is not a problem you'll experience with the WM-201.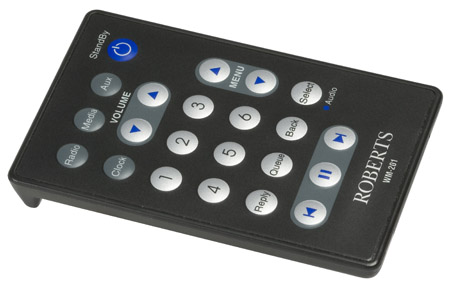 The remote offers all the functions of the main control plus a few more
The unit does have its own compact remote, which provides access to all the functions offered by the central knob with a few more for good measure.
Roberts is proud of its tradition of providing good sound quality, and this aspect has been afforded as much attention as the more cutting-edge technology on board. The radio uses all of its 2 x 5W output, and the speakers are set at an angle to provide a wide soundstage. The unit is ported to add extra depth to the sound.
Once you start to wade through the stations, the difference in sound quality from station to station becomes very apparent. Fortunately, the unit has a neat trick here, with one-touch access to bass and treble controls, which allow you to smooth out most audio hiccups.
All this attention to detail really comes out in the WM-201's sonic performance, with a rich and detailed sound stage - no easy feat when dealing with internet stations. It's not going too far to say that this is probably the best internet radio we've yet heard.
Searching for content is straightforward and intuitive. You're able to look for stations alphabetically, by genre, or by country. The real joy here is that radio choice has traditionally been quite limited, even since the introduction of DAB. This has meant that radio listening can be quite sedentary, with listeners tending to stick to a few favorite stations. But with the easy access to the vast array of content out there that the Roberts provides, you really do feel like a whole new world of music is open to you.
Twelve station presets isn't overly generous, but the joy of internet radio is not repeatedly sticking to the same stations. So, in use, 12 actually feels like enough and access to features like the BBC's listen again service are welcome additions.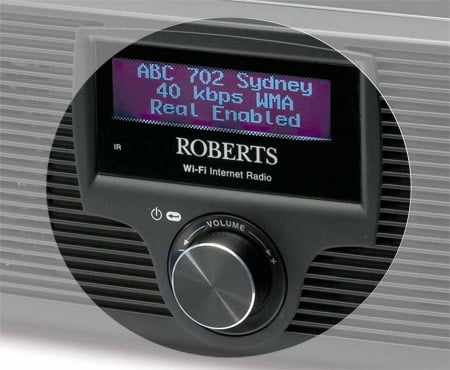 Control and screen work well
The WM-201's talents don't end with internet radio as it can also access and play any digital music files stored on a shared network or computer - including MP3, WMA, AAC, WAV, FLAC, AIFF and Real Audio files. But the unit won't play anything with DRM protection, and extra software patches are necessary if you want to connect to a server using UPnP rather than Windows Share.
Using Windows shares allows the player to search by artist, album and track. Over a UpnP link, the options are controlled by the server. Of course, playback quality of stored content is to a large extent controlled by the file itself, but again the sound quality here was clear, un-muddied and open.
Verdict
A little difficult to get going, but once up and running this is a top quality radio, with the sound outstripping most of the market. Its £200 price tag is not the cheapest, but then this does come down to priorities. If sound quality is important to you, the WM-201 is decent value and you can really hear where the development money was spent.