Original URL: https://www.theregister.co.uk/2008/03/19/emc_oems_brocade_backbone/
EMC spoons Brocade's Backbone
OEMs big switch and sprinkles IntelliMagic
Posted in The Channel, 19th March 2008 20:37 GMT
EMC has run its finger down Brocade's Backbone and likes what it feels. The storage vendor today said it's primed to resell the Brocade DCX Backbone switch as the Connectrix ED-DCX-B.
Because nobody enjoys trudging through old stories to find hardware specs, we'll oblige:
The director holds two to eight Fibre Channel blades in 16-port, 32-port, and 48-port configurations, totaling a maximum of 384 connections in a single domain. Two chassis can also be connected while preserving the front ends for 768 ports total.
Blades can be configured to support 2-, 4- and 8Gb/s Fibre Channel for a maximum of 6.5Tb/s of total aggregate bandwidth per chassis. Combined with multi-protocol integration, Brocade and its OEM partners say that's sweet medicine for consolidating a lot of virtual and physical servers and storage pools.
The DCX Backbone switch (or in this case, the DCX-B) is the core hardware for Brocade's new generation of virtualization-focused networking merchandise. It's also a marketing rival to Cisco's "Data Center 3.0" push, which centers around the new Nexus 7000 switch.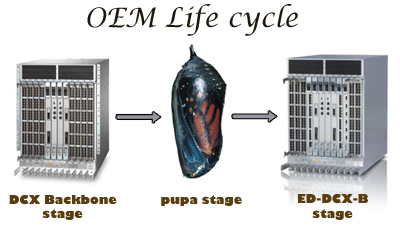 The ED-DCX-B director is available now from EMC. Just like Brocade, the vendor doesn't divulge the switch's price to those not holding a checkbook and bracing for impact. In January, however, Sun said they'd be selling the DCX starting around $180,000.
Brocade making new friends
Brocade also said today it's making corporate nice with SAN analytics and reporting firm, IntelliMagic.
IntelliMagic crafts software for optimizing disk and tape storage by monitoring I/O performance and correcting potential bottlenecking issues.
Via its new strategic partnership, Brocade will bundle IntelliMagic software with its own SAN HealthCheck and FICON HealthCheck tools into the Brocade Storage Performance offering. ®